SALEM, Ore. — State Sen. Jeff Kruse not only subjected two female senators to unwanted touching, he groped or gave lingering hugs to many other women working at the Oregon Capitol, according to a report released Tuesday by an independent investigator.
Dian Rubanoff, the investigator and an employment law attorney in private practice, said in the report that Kruse's actions created a hostile workplace, The Oregonian/OregonLive reported.
Two Democratic Oregon senators, Sara Gelser of Corvallis and Elizabeth Steiner Hayward of Portland, publicly accused Kruse last fall of sexual misconduct, saying he subjected them to unwanted touching and inappropriate close contact. A formal complaint filed by Gelser in November triggered a requirement that a legislative committee arrange for an outside investigation of her claims.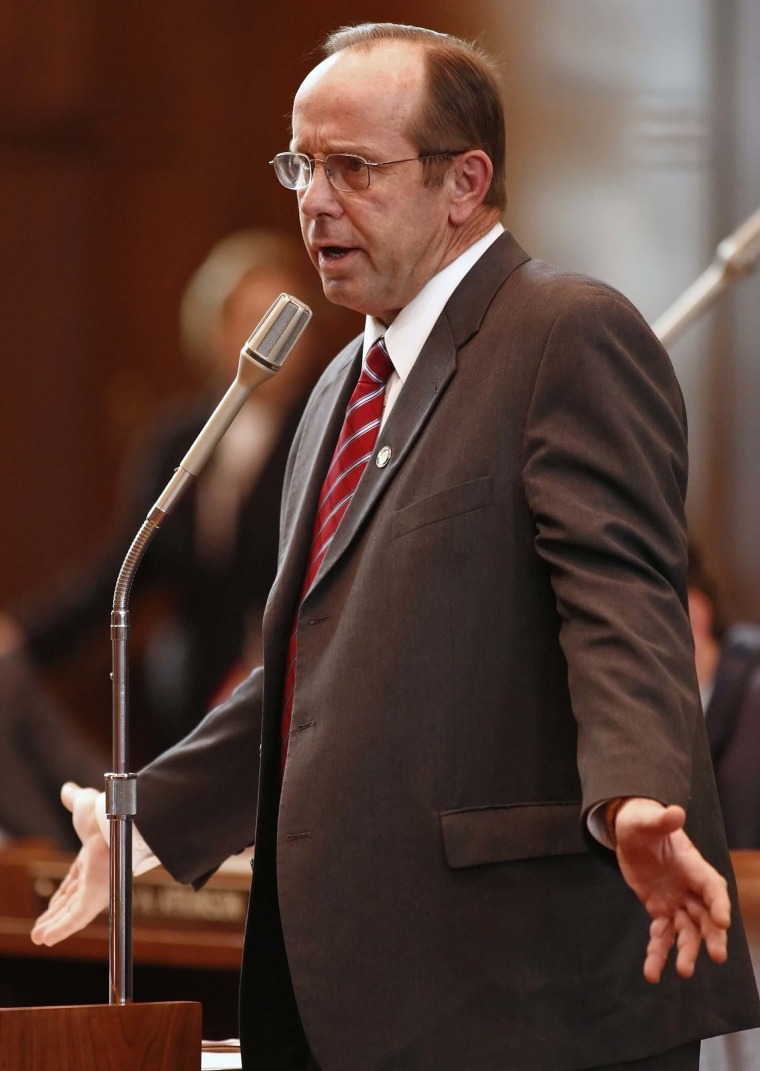 Rubanoff found that Kruse engaged in a "longstanding pattern of unwelcome physical contact" with women at the Capitol and that he was, until 2017, "oblivious" to the effects of his actions.
Rubanoff wrote in her report that Kruse told her he had "no recollection" of most of the alleged misdeeds.
Kruse told the investigator that he believed his behavior was "instinctual" and that although he wanted to change, "It's not easy to change when you have been doing something for 67 years."
Kruse last fall said he had never done anything he believed "anybody could portray as sexual" and said he would not resign.
The Republican from Roseburg didn't immediately return an email from The Associated Press late Tuesday night seeking comment about the report.
The report revealed new instances of what it said was misconduct by Kruse against a House member, a third female senator, two law students who used to work for him, Republican and non-partisan staffers, a former legislative aide and a lobbyist. Those women weren't named in the report.
One of the law students told the investigator that Kruse would call her "little girl" and tell her she was "sexy" while at work in the Capitol. She also told the investigator that Kruse subjected her to "a lot of hugging" and would grab her and pull her into a tight hug at least twice per week.
The law student used normal social cues to tell Kruse she did not accept his conduct, the report said, but Kruse didn't pick up on it. The student told investigators she didn't speak up about it because she was "terrified" how it might affect her career.
Multiple staffers in the Senate Republicans caucus office told Rubanoff that Kruse had grabbed them and pulled them in or wrapped his arms around them.
A few instances of Kruse's contact with female lawmakers were recorded on official Legislative videos of Senate floor sessions and committee meetings.
Kruse's unwanted behaviors "escalated" after legislative officials warned him to stop, the investigator concluded. The fact that his conduct was widely known yet went unchecked left less powerful women to suffer, certain their complaints would go nowhere, she wrote.
The investigation in Oregon is one of many in statehouses nationwide following a tidal wave of sexual misconduct allegations against men in power since an October expose of movie mogul Harvey Weinstein by the New York Times.
After the sexual misconduct allegations against Weinstein were publicized, Oregon's Senate Republican spokesman Jonathan Lockwood said on Twitter that Gov. Kate Brown and Gelser had received cash linked to the Hollywood producer, and asked if they were going to return the money.
Weinstein donated $5,000 to the Democratic Party of Oregon during the 1995-1996 election cycle, a decade before Gelser was elected to the Legislature.
Gelser denied receiving any Weinstein money. She then named Kruse as the colleague she had previously complained about, saying "the culture needs to change."
Gelser was later included in Time Magazine's Person of the Year feature, which focused on "silence breakers" who spoke out about sexual harassment.
Brown in a statement Tuesday night called for Kruse to resign, saying his behavior is not acceptable in the Capitol or any workplace. Democratic House Speaker Tina Kotek of Portland also called for him to step down.
Senate Republican Leader Jackie Winters of Salem declined to comment to the newspaper. Winters' spokeswoman, Tayleranne Gillespie, said in a statement, "At this time, we are reviewing the report. The process is still ongoing, and will continue with the Senate Conduct Committee meeting."
Tuesday's report is scheduled for consideration by the Senate Conduct Committee Feb. 22.