John Lasseter, co-founder of Pixar studios and chief creative officer of Disney Animation, is taking a six-month leave of absence for what he called "missteps" that had made employees feel "disrespected or uncomfortable," he told company employees on Tuesday.
Lasseter didn't go into specifics in an internal memo provided by Pixar, but he wrote: "I especially want to apologize to anyone who has ever been on the receiving end of an unwanted hug or any other gesture they felt crossed the line in any way, shape, or form."
He added: "I've recently had a number of difficult conversations that have been very painful for me. It's never easy to face your missteps, but it's the only way to learn from them."
Lasseter, 60, has been chief creative officer for both Pixar Animation Studios, which he co-founded, and Walt Disney Animation Studios since 2006, when Disney bought Pixar, the company behind such groundbreaking films as "Toy Story," "A Bug's Life," "Finding Nemo" and "Up." Its latest feature, "Coco," is scheduled for release in the United States and Canada on Wednesday.
Related: Here are the men accused of sexual misconduct since Harvey Weinstein
An industry publication first reported that Lasseter had been accused of an "unwanted advance" toward the actress and writer Rashida Jones, who is credited as a co-writer of "Toy Story 4," which is scheduled to be released next year.
Jones and her writing partner, Will McCormack, told The New York Times later Tuesday night that they left because of "philosophical differences" with the company, not because Jones had been the subject of an "unwanted advance."
"There is so much talent at Pixar, and we remain enormous fans of their films," they said in a statement, The Times reported.
"However, it is also a culture where women and people of color do not have an equal creative voice," they wrote. "We encourage Pixar to be leaders in bolstering, hiring and promoting more diverse and female storytellers and leaders. We hope we can encourage all those who have felt like their voices could not be heard in the past to feel empowered."
Lasseter announced in July that he was stepping aside as co-director of "Toy Story 4," without offering an explanation.
Neither Lasseter nor Jones could immediately be reached for comment. A spokesperson for Pixar told NBC News: "We are committed to maintaining an environment in which all employees are respected and empowered to do their best work. We appreciate John's candor and sincere apology and fully support his sabbatical."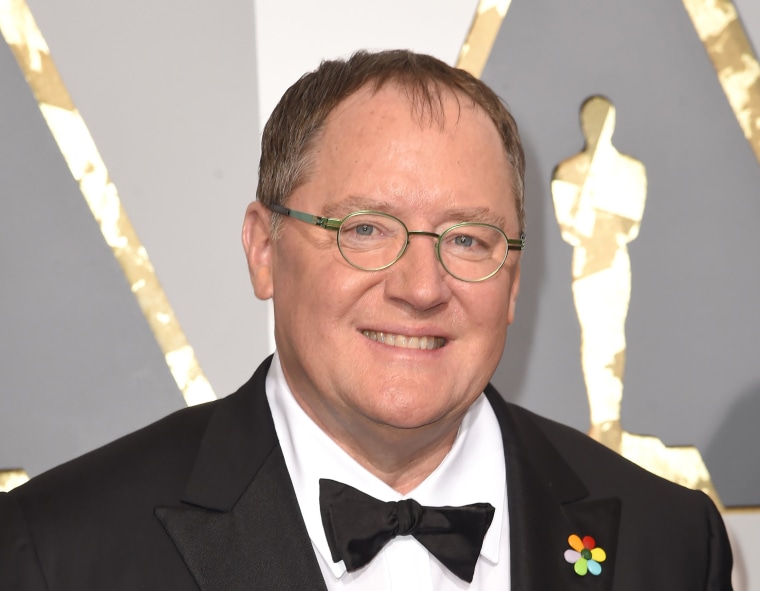 Lasseter joins a long list of powerful men who have been accused of sexual harassment, sexual assault or both since allegations surfaced in early October that movie mogul Harvey Weinstein had sexually harassed or assaulted multiple women over decades. Weinstein has denied all allegations that he engaged in non-consensual sex with women.
CBS News, PBS and Bloomberg all fired TV host Charlie Rose earlier Tuesday after The Washington Post reported that eight women had accused him of sexual harassment and unwanted advances.