Nine women have come forward to accuse playwright Israel Horovitz of a pattern of sexual assault and misconduct from a man who they considered a mentor, according to a explosive report Thursday in The New York Times.
The women's allegations including groping, forced kissing, rape and other inappropriate sexual conduct while they worked with Horotvitz in their teens or early 20s.
They span from the 1980s to as recently as last year. Horovitz, 78, has written more than 70 plays and was the founding director of the Gloucester Stage regional theater in Massachusetts.
Horovitz denied the allegations to The New York Times but a rep for the award-winning playwright did not immediately respond to NBC News requests for comment.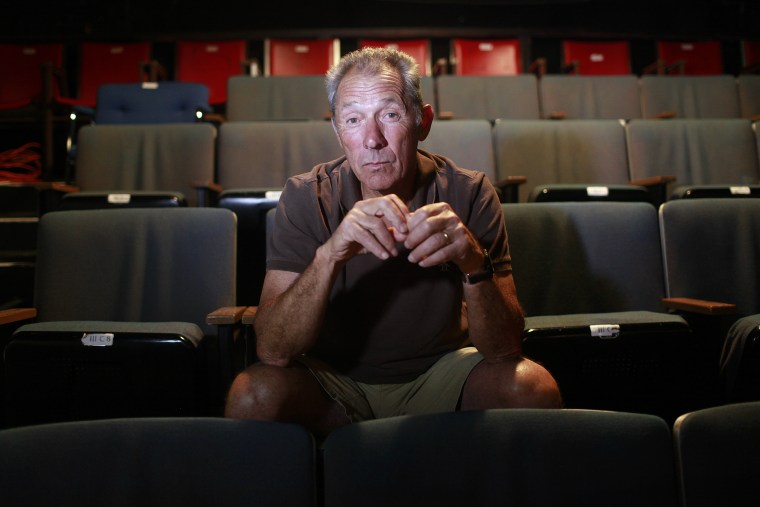 Horovitz, told the paper that although he has "a different memory of some of these events, I apologize with all my heart to any woman who has ever felt compromised by my actions, and to my family and friends who have put their trust in me. To hear that I have caused pain is profoundly upsetting, as is the idea that I might have crossed a line with anyone who considered me a mentor."
And the Gloucester Stage Company said in a statement to NBC News that it cut ties with the playwright after learning of a sexual assault allegation against him.
Horovitz's son is Adam Horovitz — also known as Ad-Rock of the infamous rap group The Beastie Boys — who said in a statement that he believed the allegations and supported the women.
"I believe the allegations against my father are true, and I stand behind the women that made them." A representative for Adam Horovitz he had no further comment at this time.
Related: Since Weinstein, here's the list of men accused of sexual misconduct
One of the women, Jana Mestecky, told the Times that Horovitz would ask her to drop off scripts at his house and then answer the door naked. He would also grope and kiss her as she worked, she said. Mestecky worked for Horovitz as an assistant and stage manager between 1994 and 1996, when she was in her 20s.
Mestecky said in an email to NBC News that she "confirmed the truth as stated in the article."
Kim Senko, who worked as a technical director in a Horowitz production in 1990, said in the report that Horovitz pushed her against a wall and shoved his hand down her pants while pressing his mouth on hers. Senko said she and two other young women created a "buddy system" to avoid being alone with Horovitz. Senko also confirmed the details in the report to NBC News.
And Maia Ermansons told the newspaper that Horovitz kissed her and cupped her breasts, remarking how "large and beautiful" they had become last year when she was 21. Horovitz had known her since she was a girl, she said. Ermansons said in an email to NBC News that she "confirmed everything" in the report.
The other women also told stories of sexual misconduct while working with the playwright. The Times said in its report that it independently corroborated each woman's account with people they had confided in. NBC News has not independently confirmed the allegations.
The women were inspired by the cascade of allegations against powerful men such as Harvey Weinstein, Louis C.K. and others, according to The Times.
Horovitz was also the subject of a report in The Boston Phoenix in 1993 that detailed allegations from multiple unnamed women of sexual harassment and assault. The theater company board president at the time, Barry Weiner, dismissed the claims as overreactions.
Liz Neumeier, the current president of the theater company, said she the company regretted the way those complaints "were mishandled" and apologized to the women.
"We deeply regret that past complaints were mishandled. On behalf of the Board I apologize to the brave women who came forward in 1992 and 1993 but were not heard," she said. "We are individually and collectively appalled by the allegations, both old and new. Such behavior cannot be tolerated and our thoughts are with the women who were victimized."