Three women have accused hip-hop mogul Russell Simmons of rape, The New York Times reported on Wednesday — allegations that the Def Jam Records co-founder vehemently denies.
All of the women went on the record and allowed The Times to use their names.
One accuser, a former executive at the Def Jam music label, claims he raped her in 1995, The Times reported. A second, a performer who Simmons once managed, alleges Simmons raped her in the early 1990s. And a third, a music journalist who briefly dated Simmons, accuses him of raping her in the fall of 1988.
Simmons, 60, denied the allegations, saying in a statement provided to NBC News on Wednesday: "These horrific accusations have shocked me to my core and all of my relations have been consensual."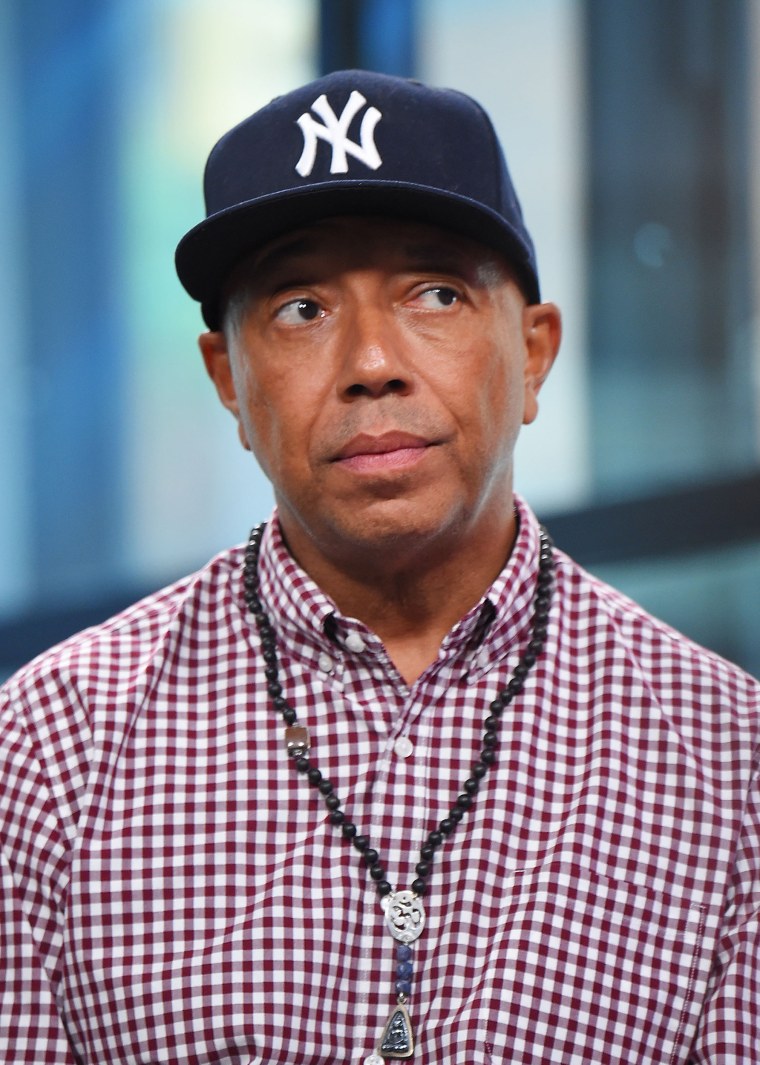 "I have enormous respect for the women's movement worldwide and their struggle for respect, dignity, equality and power," he added.
The successful producer and businessman had previously announced he would step down from his companies following two other accusations of sexual misconduct.
Related: Since Weinstein, here's the list of men accused of sexual misconduct
Jenny Lumet, a former actress and screenwriter of the film "Rachel Getting Married," wrote in The Hollywood Reporter last month that Simmons forced her into a sexual encounter in the early 1990s, when she was 24.
Keri Claussen Khalighi, a model, told The Los Angeles Times last month that Simmons made aggressive sexual advances on her in 1991, when she was 17. He coerced her to have oral sex and penetrated her in a shower without her consent, she claims.
"I have already apologized for the instances of thoughtlessness in my consensual relations. I have separated myself from my businesses and charities in order to not become a distraction," Simmons said in his statement Wednesday.
Drew Dixon, the former Def Jam executive, told The Times that Simmons would talk graphically about how she aroused him, asked her to sit on his lap at a staff meeting, regularly exposed his erect penis, and raped her in his Manhattan apartment.
In a statement given to NBC News, Dixon said: "For the first time in 22 years, I am waking up to a world where the abuse I suffered during my career is finally in my past," adding that she hoped sharing her story would inspire other women in the music industry to come forward.
Tina Baker, the singer who Simmons managed in the early 1990s, alleges he invited her back to his apartment to discuss her career, only to then pour her drinks, try to kiss her, get on top of her, "pushing me down and him saying, 'Don't fight me.'"
Toni Sallie, a journalist for the trade publication Black Radio Exclusive, met Simmons while on assignment in 1987 and went on a few dates with him, before she decided to stop seeing him. A few months later, she said, Simmons invited her to his apartment for a party. But once there, Sallie found Simmons alone, and he then allegedly pushed her on a bed, jumped on her and "physically attacked" her.
The three women who spoke to The Times said they decided to come forward with their accusations after Hollywood mogul Harvey Weinstein was accused of serial sexual harassment and assault over decades.
"I still cry," Sallie told the newspaper. "I'm happy that the truth is coming out. I'm ready."