For decades, Hollywood producer Bob Weinstein appeared to live in the outsize shadow of his older brother, Harvey. Harvey Weinstein was the public face of the studios they co-founded, a fixture on the Oscar circuit and a major player in Democratic political circles. Bob Weinstein, by contrast, seemed to shy away from the glare of fame.
"My style is more low-key. Outside of the movie business I tend to be known as the 'quiet brother,' which is fine by me," Bob Weinstein wrote in an essay for Vanity Fair in 2003. "It actually works out for the best that only one of us likes the spotlight. There wouldn't physically be enough room in it for both."
But this month, following bombshell reports alleging that Harvey Weinstein sexually harassed and assaulted dozens of women over decades, Bob Weinstein has been forced into the center of a roiling scandal, emerging as a vehement critic of his embattled brother even as he also faces an allegation of sexual misconduct.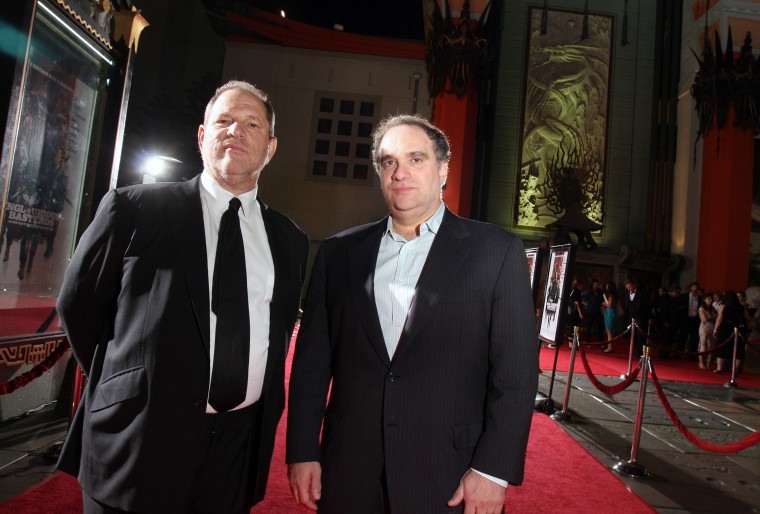 Bob Weinstein, 63, blasted Harvey Weinstein, 65, last Thursday as a "very sick man" and a "world class liar" whose remorse rings "hollow." Just five days later, Variety reported that Amanda Segel, a former executive producer of the sci-fi series "The Mist," claimed that Bob Weinstein made repeated romantic overtures to her and would not take no for an answer.
"Bob kept referring to me that he wanted to have a friendship," Segel told Variety. "He didn't want a friendship. He wanted more than that. My hope is that 'no' is enough from now on."
Bert Fields, a lawyer for Bob Weinstein, denied the allegations.
"Variety's story about Bob Weinstein is riddled with false and misleading assertions by Ms. Segel and we have the emails to prove it," he said in part, adding: "There is no way in the world that Bob Weinstein is guilty of sexual harassment."
A representative for Harvey Weinstein has said "any allegations of non-consensual sex are unequivocally denied by Mr. Weinstein."
Both brothers have also come under fresh scrutiny for their brash tactics, which some have called abusive, at their firms, Miramax and The Weinstein Company. The brothers' behavior is recounted in "Down and Dirty Pictures," a 2004 book by veteran entertainment journalist Peter Biskind.
Movie mogul Jeffrey Katzenberg, who condemned Harvey Weinstein following explosive reports in The New York Times and The New Yorker, leveled harsh words this week at Bob Weinstein, saying he had significant "issues" with him when they worked together in the 1990s.
"Bob Weinstein was genuinely abusive with people in my company," Katzenberg, the former chairman of Walt Disney Studios, said in an interview with The Wall Street Journal on Tuesday. (Disney acquired Miramax in 1993.)
"There's the fascinating thing about this," Katzenberg said, apparently referring to the overall scandal. "The one person who did reveal himself in an unacceptable way to me was, in fact, Bob."
Bob and Harvey Weinstein rose through the ranks of independent film as a united front, blazing a path to critical glory with era-defining projects like "Sex, Lies and Videotape" and "Pulp Fiction." But when they achieved real financial clout with Miramax, they began to go down separate creative paths — Harvey as the Oscar-savvy tastemaker with a fondness for historical dramas, Bob as the money-minded populist with a taste for horror flicks.
"My brother and I now choose and market our own films separately," Bob Weinstein wrote in Vanity Fair more than a decade ago. "Despite our different focuses, not a day goes by that we don't speak to each other at least five times, to offer suggestions, ask advice, deal with business matters, and generally watch each other's back."
Bob Weinstein oversaw Dimension Films, a specialty label that churned out what he described as "mainstream, commercial movies" — popcorn fare like "Scream" and the "Spy Kids" franchise. (Rose McGowan, who has accused Harvey Weinstein of rape, appeared in "Scream" and another Dimension film, the 1970s exploitation throwback "Grindhouse.")
The brothers were both kingmakers in their own right, raking in awards and millions at the box office. And yet Harvey Weinstein, by all accounts, typically called the shots.
The sexual harassment scandal upended that dynamic in dramatic fashion. Harvey Weinstein was ousted from the company that bears his name, leaving Bob Weinstein to try to salvage the business and putting him in an unusual position: the center of attention.
"If Harvey was the outside guy, Bob was the inside guy. He was quieter, preferred to stay in the shadows," Biskind writes in his book on the Weinsteins. "It didn't matter to Bob if he were liked or not."