LOS ANGELES — A sex crime allegation involving Sylvester Stallone dating back to the 1990s is being reviewed by the Los Angeles County prosecutors' sex crimes task force, authorities said Wednesday.
They gave no details about the case, which was forwarded by Santa Monica police, and would not comment on whether it would be disqualified for filing because the statute of limitations has passed. They also provided no timetable for the review.
Stallone through his lawyer has publicly denied committing any sex crime after previous media reports.
Martin Singer, an attorney for the 71-year-old actor, first confirmed in December that a woman had filed a police report alleging a rape that occurred 27 years ago.
"My client categorically disputes the claim," Singer said in a statement at the time.
Santa Monica police said in December that they were investigating a complaint against Stallone that was made in November 2017 of alleged sexual misconduct in the 1990s.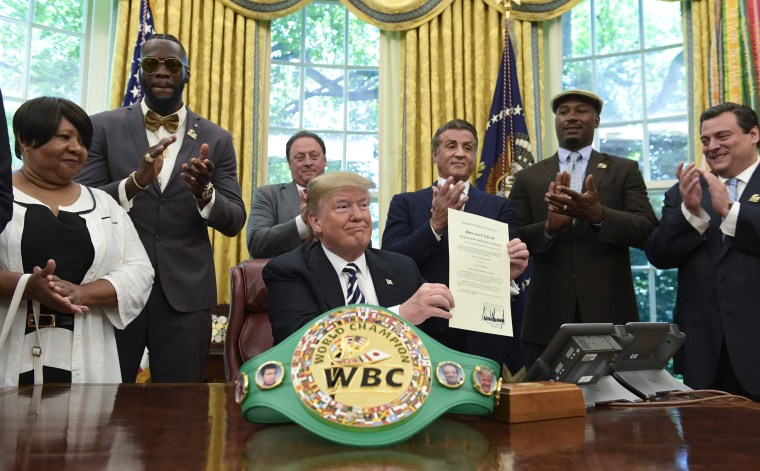 Stallone, who has starred in the "Rocky" film franchise, earning Academy Award nominations for his role as the underdog boxer, has most recently been filming the sequel to "Creed."
He was also in the spotlight last month after bringing attention to the case of the late black boxing champion Jack Johnson, who was convicted by an all-white jury more than 100 years ago for having an interracial relationship.
President Donald Trump pardoned Jackson posthumously during a White House ceremony attended by Stallone.
The actor's case is one of 15 pending under Los Angeles County's group of veteran sex crimes prosecutors formed last fall in the wake of sexual assault allegations against former movie mogul Harvey Weinstein.
Weinstein, who has denied the allegations against him, turned himself in to police in New York last month and pleaded not guilty last week to rape and criminal sex act charges. He is free on $1 million bail, but must wear an ankle bracelet.
Andrew Blankstein reported from Los Angeles, and Erik Ortiz from New York.