"The Silence Breakers" of the #MeToo movement, who gave a voice to sexual assault and harassment survivors — and showed them that they are not alone — are Time's 2017 Person of the Year, the magazine revealed exclusively Wednesday morning on "Today."
While the concept of #MeToo was started in 2006 by activist Tarana Burke, its use became part of the national conversation in October after celebrities on social media used it to share their own sexual abuse stories in the wake of the Harvey Weinstein scandal. The wave of stories prompted people from all walks of life to add their voice to the movement.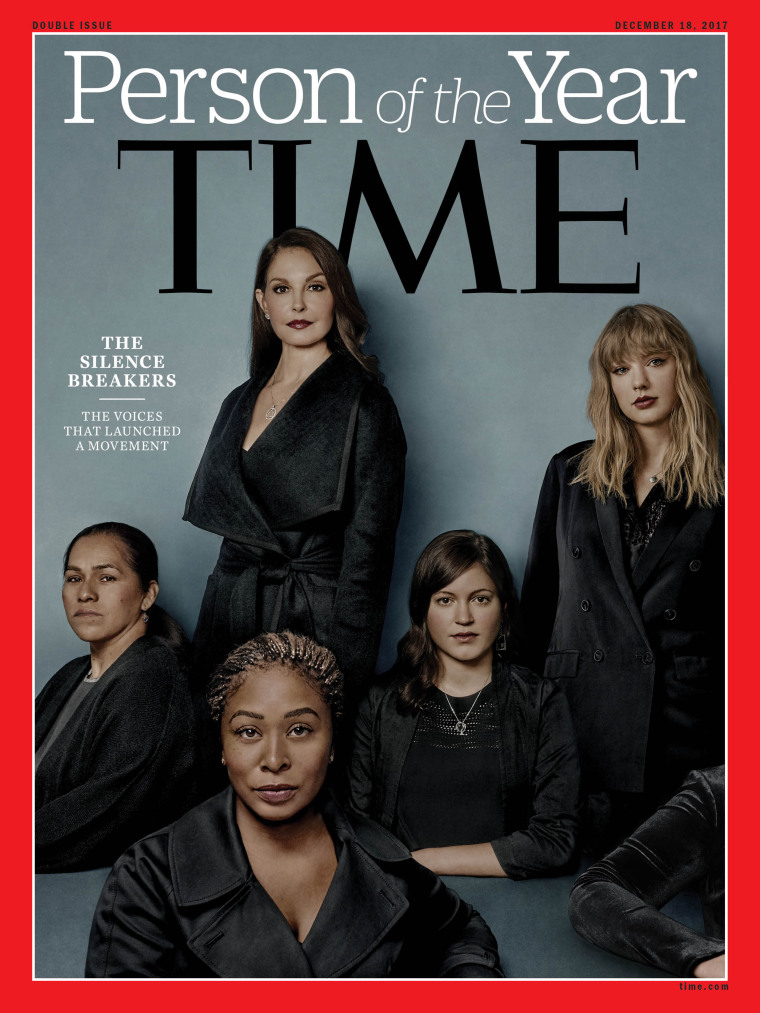 "I could never imagine this, I could never have envisioned something that could change the world," Burke told "Today" alongside actress Alyssa Milano, who says she was also sexually harassed and helped bring the #MeToo hashtag to a wider audience.
"As women we have to support each other and stand up and say, 'No more,'" Milano said.
Time's cover story features some of the women who spoke out against Weinstein, the former Hollywood movie producer who resigned from his studio in October and faces more than 80 sexual misconduct allegations dating back to the 1970s.
Related: Since Weinstein, here's the list of men accused of sexual misconduct
Actress Rose McGowan, who settled with Weinstein in 1997 after accusing him of rape, has said she wanted to expose how Hollywood propagates a culture of silence in order to protect the powerful. And it's not just Hollywood, but assault occurs in boardrooms and the corridors of Washington and at meet-and-greets.
Actress Ashley Judd, who was featured on the magazine's cover along with several other women, also recounted her experience with Weinstein in the magazine.
But she told NBC News that the "country is different" now and that "things will be different going forward" with this movement.
"It's going to be a process. It may be messy and at times a little unruly," she said. "It won't please everybody, some folks are going to stop getting something which they have taken which wasn't theirs," she said.
Pop star Taylor Swift spoke for the first time to Time about being sued by a Denver radio personality after she complained that he groped her in 2013 at a fan event. A civil jury sided with Swift, awarding her a symbolic $1.
"To this day he has not paid me that dollar, and I think that act of defiance is symbolic in itself," Swift said.
The other interviews in Time ranged from high-powered executives to women who work as hotel housekeepers or pick strawberries in fields.
"The number of people sharing their stories with me is so intense, especially since all of this is incredibly triggering for me as well," McGowan told Time. "People forget a lot that there's a human behind this, someone who is very hurt."
Weinstein has denied all allegations that he engaged in non-consensual sex with women, and no criminal charges have been brought against him.
Burke told Time that the stigma for sexual assault victims has long been a badge of disgrace, but now the tide has shifted.
"Sexual harassment does bring shame," Burke said. "And I think it's really powerful that this transfer is happening, that these women are able not just to share their shame but to put the shame where it belongs: on the perpetrator."
The women who broke their silence were selected for Time's annual honor, ahead of last year's Person of the Year, President Donald Trump, and Chinese President Xi Jinping.