The top House Democrat has called on Rep. Ruben Kihuen of Nevada to resign from Congress after a former aide accused the lawmaker of making repeated sexual advances toward her during his 2016 campaign.
House Minority Leader Nancy Pelosi said in a statement Saturday that she thought the young woman's account — originally reported by BuzzFeed News — was convincing.
The woman, who was identified only as Samantha, told the outlet that Kihuen had repeatedly propositioned her for dates and sex despite her rejections.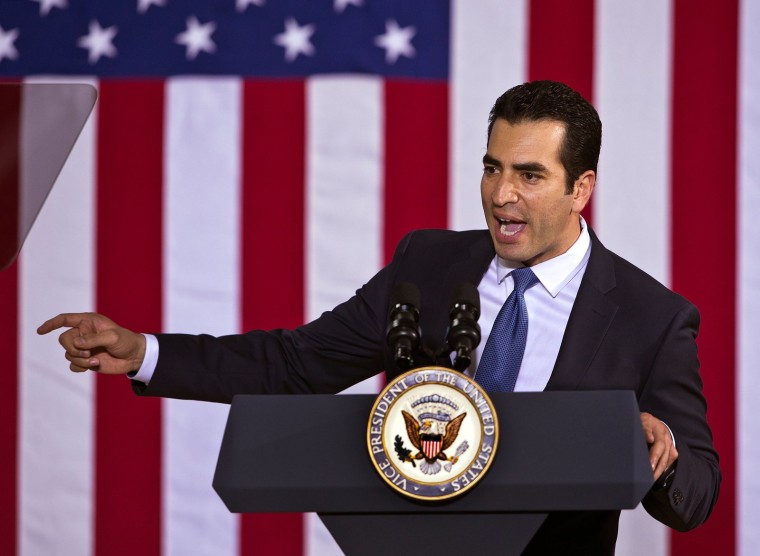 On two occasions, she said, he touched her thighs without consent.
"In light of these upsetting allegations, Congressman Kihuen should resign," Pelosi said in the statement. "In Congress, no one should face sexual harassment in order to work in an office or in a campaign."
Kihuen, 37, said he didn't remember the incidents with the aide, whom he described as a "valued member" of his team. Kihuen is a former state lawmaker and was sworn in in January as the first Latino to represent Nevada in the U.S. House of Representatives.
"I sincerely apologize for anything that I may have said or done that made her feel uncomfortable," he told BuzzFeed News. He added that he wanted to "make it clear that I don't recall any of the circumstances" described by Samantha.
Kihuen could not immediately be reached for comment Saturday.
Related: Here are the men accused of sexual misconduct since Weinstein
Pelosi's call for the congressman's resignation came hours after Rep. Ben Ray Lujan, chairman of the Democratic Congressional Campaign Committee, also pressed for Kihuen to step down.
"Members and candidates must be held to the highest standard. If anyone is guilty of sexual harassment or sexual assault, they should not hold elected office," he told the publication. "Congressman Kihuen should resign."
"In Congress, no one should face sexual harassment in order to work in an office or in a campaign."
Congressional leaders have been under mounting pressure to respond to the national outcry against sexual harassment that in recent months has taken down powerful men in politics as well as Hollywood and media.
The allegations against Kihuen come after Rep. John Conyers, D-Mich., was accused of sexually harassing members of his staff and Sen. Al Franken, D-Minn., was accused of inappropriate touching.
NBC News reported Friday that Rep. Blake Farenthold, R-Texas, settled a 2014 sexual harassment claim lodged by a former employee, according to two sources, making it the first taxpayer-funded settlement of its kind that has so far been made public.