LOS ANGELES — Fifty-nine women in two weeks on two continents — those were the latest reported numbers Friday as the list of actresses, models and studio workers who have accused Hollywood mogul Harvey Weinstein of everything from sexual harassment to rape continued to grow.
One of the latest accusers is an Italian model and actress whose claim that Weinstein raped her four years ago in her room at the Mr. C Beverly Hills hotel is now under investigation by the Los Angeles Police Department, NBC News has confirmed.
"Her greatest regret was opening that door," her lawyer, Dave Ring, said. "She did not know what was coming."
That revelation came as Oscar-winner actress Lupita Nyong'o recounted in an article for The New York Times how Weinstein tried to cajole her for a massage in his home.
Also on Friday, another woman, Heather Kerr, at a press conference accused Weinstein of exposing himself and putting her hand on his genitals in Westwood in 1989. She said that Weinstein said he wanted to have sex with her and offered to take her to parties where he would tell her who she needed to sleep with.
"I was frozen with fear, trying to remain calm, trying not to freak out because, after all, there was nobody else in the office," Kerr said. She made an excuse and left and said she quit acting not long afterwards. "He told me that this was how things worked in Hollywood," she said.
Weinstein has never been criminally charged and his spokesperson has denied any nonconsensual sex.
"Any allegations of nonconsensual sex are unequivocally denied by Mr. Weinstein," his spokesperson has stated repeatedly as women at a rate of about four-per-day have come forward with tawdry new tales.
Related: Weinstein Threatened amfAR Board Over 'Sex Life'
But the 38-year-old Italian woman who alleged sexual assault in Beverly Hills is now the sixth to accuse Weinstein of rape. And because her allegation falls within California's 10-year statute of limitations for rape cases, it raises the possibility that the powerful producer could be prosecuted if police conclude there is enough probable cause to proceed.
"I can presume the LAPD is coordinating with investigations in New York and London," Ring said.
The Italian woman who accused Weinstein of rape, who contacted the police on Tuesday, told investigators she was attacked in 2013 and that the producer "bullied his way in my hotel room, saying 'I'm not going to [have sex with] you, I just want to talk."
But once inside, Weinstein "forced me to do something I did not want to do," she told detectives. "He then dragged me to the bathroom and forcibly raped me."
Related: For Some Sex Assault Survivors, Weinstein News Can Be Triggering
Weinstein allegedly assaulted the woman even after she tried to show him pictures of her children and mother, who was undergoing chemotherapy at the time, she told police.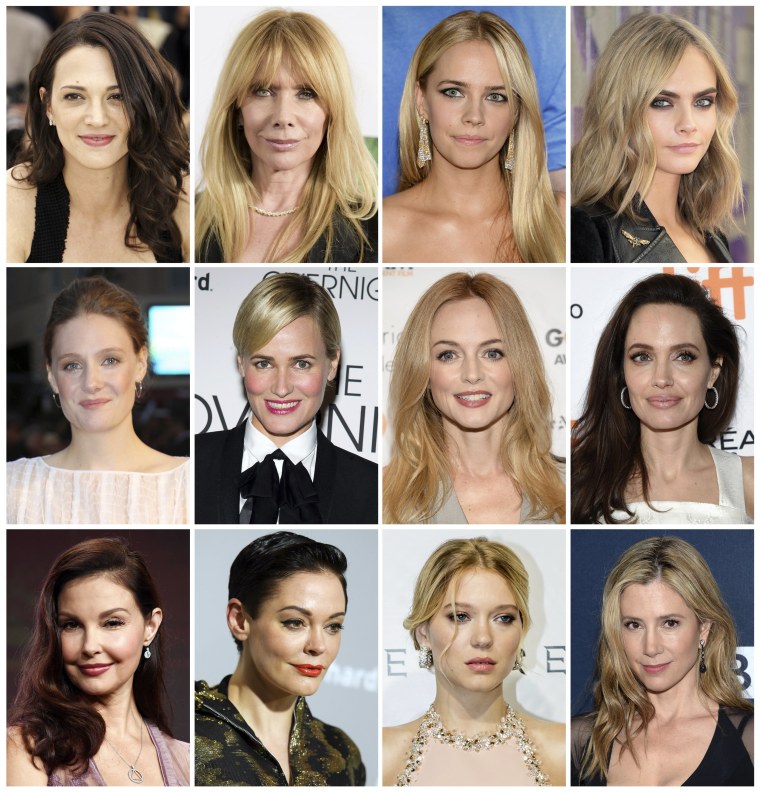 Asked why she didn't report the alleged attack to police at the time, Ring said "she was scared."
"She did not know what to do," he said. "She's not from here."
Ring added that the woman has not approached Weinstein for a settlement. "The last time she had communications with Mr. Weinstein was the night it happened," he said.
Her account, which was first reported by The Los Angeles Times and confirmed by NBC News, is similar to that of actress Lucia Evans, who told The New Yorker magazine that Weinstein raped her in 2004.
Actresses Lysette Anthony, Asia Argento and Rose McGowan have all publicly claimed that they were either raped or forced to perform a sex act by Weinstein. A sixth unnamed women told The New Yorker she too was raped by Weinstein.
The announcement by the LAPD comes days after it was revealed that the NYPD is investigating two credible allegations of sexual assault against Weinstein.
The New York Times has also reported that eight women have been paid civil settlements by Weinstein or his companies.
Weinstein resigned this week from the board of Weinstein Co., which is best known for Oscar-winning movies such as "The Hateful Eight," and "The King's Speech."
Regarding Nyong'o's claims in the New York Times, a spokesperson for Weinstein said in a statement Saturday "Weinstein has a different recollection of the events, but believes Lupita is a brilliant actress and a major force for the industry."
Andrew Blankstein reported from Los Angeles, and Corky Siemaszko from New York.