LONDON — Shock waves from the Harvey Weinstein scandal have crossed the Atlantic, rocking British politics with sexual misconduct allegations that shine a light on its boozy "locker room culture" and have triggered a Cabinet resignation that could fatally weaken the government.
Just as in Hollywood, several people associated with the U.K. political system have come forward in recent weeks to say they've been the victims of sexual misconduct stretching back decades. The allegations have ranged from inappropriate remarks to rape.
The first big resignation came Wednesday.
Sir Michael Fallon, the British defense secretary and a key ally to Prime Minister Theresa May, resigned after conceding his past behavior had "fallen short of the high standards" expected of the military.
He admitting touching a journalist's knee 15 years ago.
"The culture has changed over the years," he told the BBC after stepping down. "What might have been acceptable 10, 15 years ago is clearly not acceptable now."
The defense secretary is far from the only senior lawmaker accused of impropriety.
Earlier Wednesday, the prime minister ordered an investigation into allegations her de facto deputy, Damian Green, made inappropriate advances towards a young party activist.
"We don't know is how widespread these allegations are going to be"
Green has denied he touched her leg and sent her inappropriate text messages, calling the allegations "untrue" and "deeply hurtful."
This came days after it was announced that the government's international trade minister, Mark Garnier, was under investigation after he admitted asking his former assistant to buy sex toys.
Dozens more lawmakers from the ruling Conservative Party are named on an unverified spreadsheet that has been circulating around the Westminster Parliament and on social media.
Several of those on the list have denied its salacious but unproven claims, including an accusation that one member of Parliament is "handsy in taxis" and another is "perpetually intoxicated and very inappropriate with women."
And it's not just the Conservatives. Labour, its main opponent, has launched another inquiry after claims an activist was discouraged from reporting that she was raped at a party event in 2011 because it might damage her political career.
While there have been sporadic allegations before, the Weinstein fallout has sparked an unprecedented flood of stories about sexual misconduct in British politics.
"Since the Weinstein story, people in Westminster have felt more comfortable about raising these sorts of issues," according to Rosie Campbell, a professor at Birkbeck, University of London.
"The rules of the game have changed," she added. "Politicians who thought this behavior was acceptable 10, 20 years ago are now being confronted by people who are saying they won't put up with it — that's what the Weinstein story has done."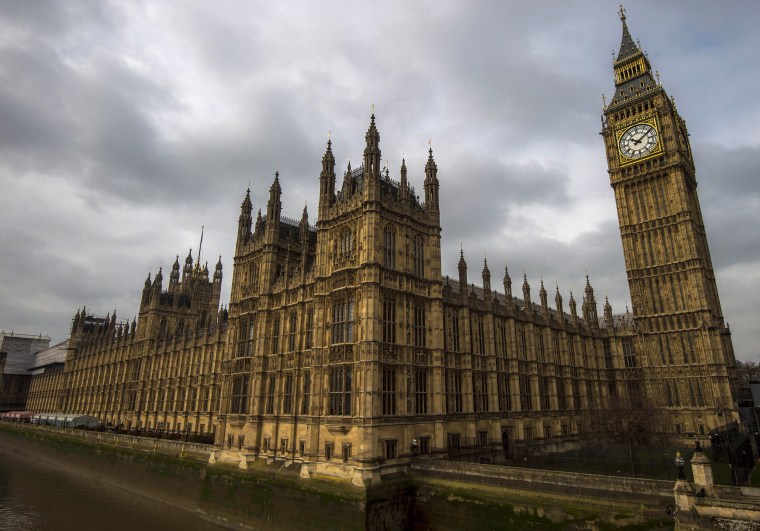 Several commentators criticized Fallon's explanation — pointing out that inappropriate behavior has never been "acceptable" for the victims, even if society permitted it "10, 15 years ago," as he claimed.
But his statement hinted at the wider culture of Westminster politics, one that involves lawmakers, staffers and journalists conducting informal meetings in the taxpayer-subsidized bars nestled within the historic Parliament.
A relatively small number of reporters known as "The Lobby" are given access to certain areas, free to report politicians' comments under agreed rules ensuring anonymity.
There are 11 bars, restaurants and cafes in Parliament that serve alcohol. It was in one of these, the Strangers' bar, where the then-Labour lawmaker Eric Joyce sparked a drunken brawl in February 2012, headbutting another politician and punching several people who tried to restrain him.
Just weeks earlier, the same pub was criticized for serving an ale called "Top Totty," which featured a woman in her underwear and bunny ears on the label. Today, a pint of beer in the publicly funded boozer costs just £3.20 (around $4.20) — far cheaper than in most London pubs.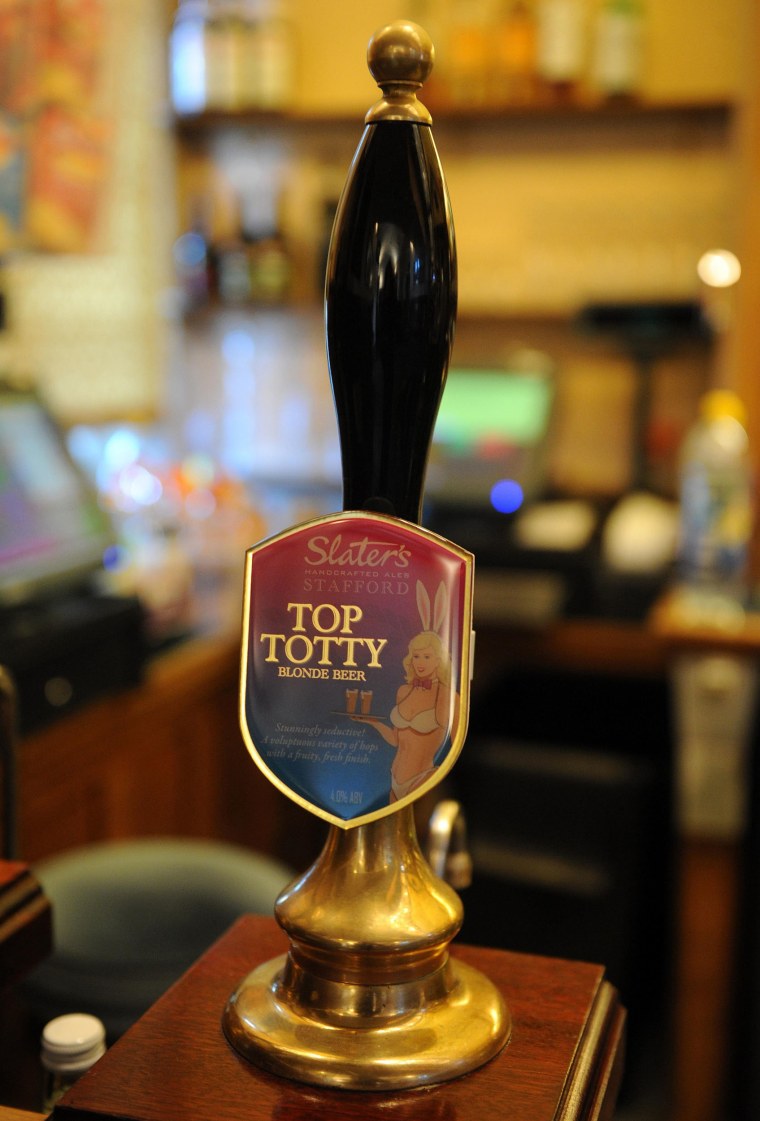 These venues are hotbeds of political gossip and intrigue, defended by some as the spaces where the real machinations of government are allowed to function.
But the current scandal has highlighted a darker side.
"It's quite a boozy culture and there are very senior people and very junior people cheek-by-jowl," said Anand Menon, a politics professor at King's College London. "That's a breeding ground for inappropriate behavior."
Ruth Davidson, leader of the Scottish Conservatives, said Thursday that Fallon's resignation should signal an overhaul of the entire political culture.
"The dam has broken and these male-dominated professions, where the boy's own locker room culture has prevailed and it's all been a bit of a laugh, has got to stop," she told BBC radio.
Not everyone is so concerned. Julia Hartley-Brewer, the journalist whose leg Fallon touched, said that if his decision to quit was based on that alone, it was "the most insane, absurd and ridiculous resignation of a Cabinet minister ever."
Nevertheless, many have cheered the prospect that this culture could be reformed. And the timing couldn't be worse for the British government.
It comes just months after Prime Minister May inadvertently weakened her position by calling a snap election she thought she would win.
Early opinion polls suggested she would increase her majority in Parliament but instead she lost ground to Jeremy Corbyn, Labour's socialist leader who has painted himself as something of an anti-establishment figure.
Left-wing columnist Polly Toynbee wrote in The Guardian that May "was only a scandal or two away from losing power."
Campbell, the Birkbeck professor, agreed.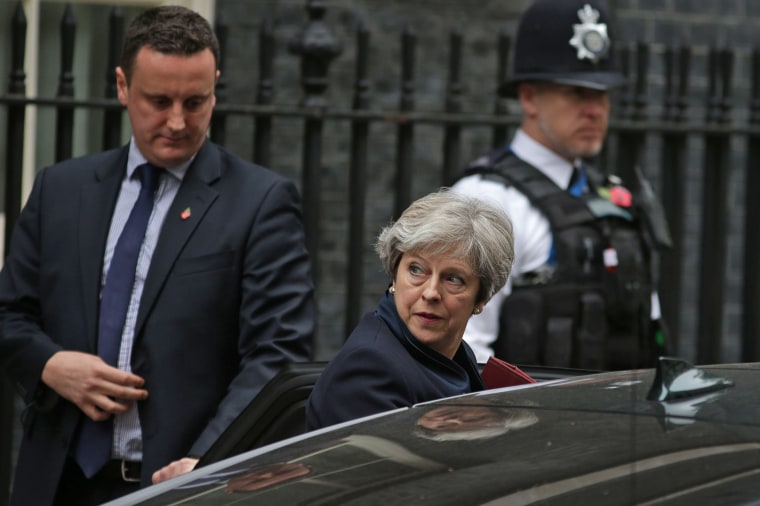 "The government is one anything away from collapse: one lost vote, one resigning MP," she said. "The tower is wobbling and it would not take much to knock it over."
Compounding her enfeebled position, May is also trying to steer her government through the uncharted territory of Brexit negotiations with the U.K. set to leave the European Union by March 2019.
Lawmakers within her own party have a wide range of opinions about what the Brexit deal should look like, and her debilitated stature means pleasing all of them is an increasingly delicate balancing act.
She has lost one ally in Fallon and is investigating another in Green. Any more high-profile resignations could spark a leadership contest or even another snap election.
"The government is too weak and divided to be losing ministers," according to Menon at Kings College. "The only thing we don't know is how widespread these allegations are going to be."