A raging Harvey Weinstein threatened the board of the world-famous AIDS charity amfAR last year because he believed a lawyer working for the organization was digging into his sex life, according to a document obtained by NBC News.
Minutes of an October 2016 amfAR board meeting, obtained Wednesday, include an update from board chairman and shoe designer Kenneth Cole about his dealings with the movie mogul.
The charity had retained an attorney, Tom Ajamie, to investigate a controversial deal Weinstein made with Cole over auction proceeds, and Weinstein was incensed that the information gathered went beyond finances.
"He called furious and said how dare you after 25 years, tens of millions I've raised, all I've done for amfAR, how dare you stick your lawyers on me to do what they're doing," the minutes, summarizing Cole's comments, said.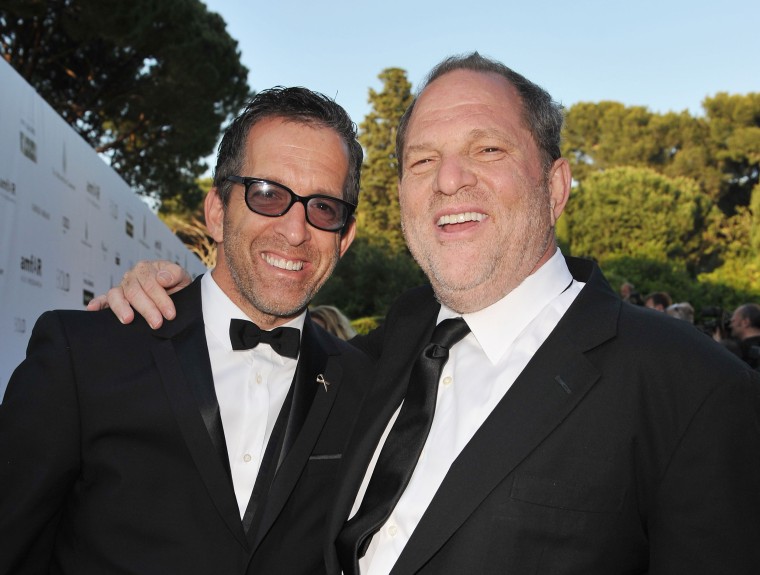 Weinstein told Cole he had a letter that said Ajamie "was representing a famous nonprofit to investigate Harvey's financial irregularities as well as his sex life," according to the minutes.
"Harvey reiterated that it was inappropriate and slanderous and that he would personally investigate each person on the amfAR board and the committee," the minutes said.
Cole confirmed to NBC that Weinstein was angry because he believed the board's review of the auction proceeds had "turned into something far more."
"In typical Weinstein fashion — he exploded with threats," Cole said in an email to NBC News. "I don't believe we understood what was really behind his anger at the time and I for one did not know of his predatory activities until they were revealed in media reports. We thought it was Weinstein with his typical angry, litigious response."
"In typical Weinstein fashion — he exploded with threats."
Ajamie, who submitted a lengthy report to the board about the auction, denied sending the letter referred to in the minutes. He said in a statement to NBC News that "during the course of my internal investigation, I received reports of sexual misconduct by Mr. Weinstein. I passed those along to the amFAR chairman."
Cole told NBC News he has "absolutely no recollection" of such a conversation with Ajamie.
Weinstein's fury over Ajamie came nearly a year before the powerhouse producer was hit with a cascade of allegations by dozens of women — including top Hollywood actresses — who say he sexually harassed, abused or assaulted them.
While Weinstein has apologized for his treatment of women and said he plans to seek treatment for sex addiction, his representatives said "any allegations of non-consensual sex are unequivocally denied by Mr. Weinstein."
Before his fall, Weinstein had raised money for amfAR for many years and helped attract boldface names to the charity's events, although he was never a board member or official of the organization.
It was his involvement in a 2015 benefit auction in Cannes — to which he donated sittings with a top photographer and access to Hollywood events and parties — that stirred concern among some amfAR board members and ultimately came under scrutiny by New York's top prosecutor.
According to a letter of complaint sent to New York's attorney general by a lawyer representing four dissident amfAR board members who alleged a "coverup," Weinstein and Cole negotiated a deal days before the May 21 auction to split the proceeds between amfAR and the American Repertory Theater (ART).
Weinstein had staged "Finding Neverland" at ART in 2014 before the show moved to Broadway. According to the New York Times, ART had agreed to reimburse Weinstein and other investors money they sank into the show if they got third parties to donate those sums to the theater. ART told NBC News it would not "disclose the specific terms of our agreements."
Under the arrangement with Cole, proceeds from Weinstein's auction lots up to $1.2 million would be divided between ART and amfAR, with each getting $600,000; revenues above $1.2 million would go to amfAR, according to the report Ajamie submitted to the board.
The Weinstein lots raised a total of $900,000, according to the complaint letter, out of a total auction take of $30 million. A week later, two Weinstein employees asked amfAR to wire $600,000 to ART by June 1, 2015, according to emails reviewed by NBC News.
Cole ordered the transaction to go through, without required support or approval from the board and over the objection of amfAR CEO Kevin Frost, who expressed deep reservations, according to emails reviewed by NBC News.
"Nothing about this deal feels right to me," Frost wrote to amfAR CFO Brad Jensen. When a senior amfAR staffer pressed Cole about what the payment to ART was for, he responded, "We don't want to know," according to the complaint letter.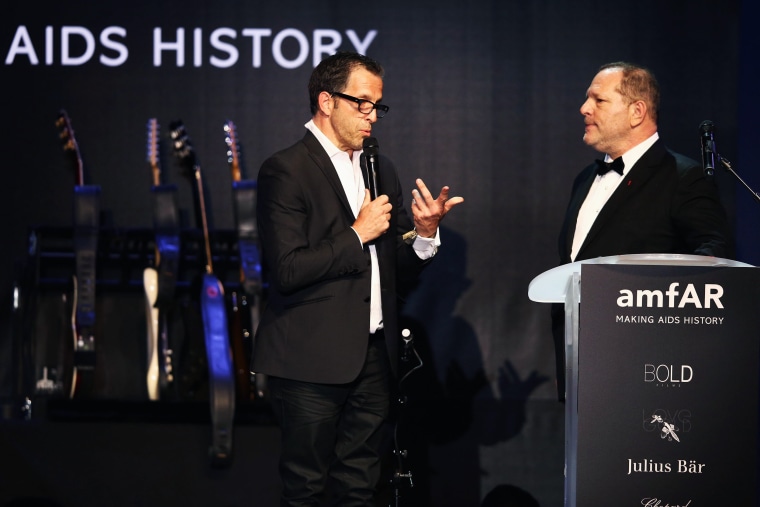 With the deadline looming, Weinstein agreed to loan amfAR the money to pay ART, and three months later, amfAR paid Weinstein back, according to Ajamie's report.
The transaction made waves at amfAR and two board members demanded an investigation. By March 2016, an ad-hoc committee convened by the board had hired Ajamie to conduct a probe.
He delivered his report that September, criticizing the lack of transparency in the fund transfer and alleging the organization's policies and procedures were bypassed or overridden.
"Mr. Weinstein used amfAR as a conduit to channel $600,000 to ART," and by doing so exposed the charity to financial and legal liability, Ajamie wrote. He said it was a "fraud on the bidders" who had purchased certain items believing amfAR would get the money because the funds were actually sent to ART.
Not everyone at amfAR appreciated Ajamie's work. Cole called the report "a complete waste of time," according to the complaint letter to the attorney general. Board member Patricia Matson called it "prosecutorial in tone" in a letter, noting Weinstein's longtime support of amfAR and Cole's budget-enhancing leadership.
On Oct. 17, 2016, Cole organized a special board meeting by telephone in which he related the call he had received from an angry Weinstein about Ajamie's alleged inquiries about his sexual behavior. (HuffPost was the first to report details of the October 2016 board meeting and that Weinstein threatened to investigate board members).
"Nothing about this deal feels right to me."
Some board members expressed concern that Ajamie might have gone beyond the scope of the amfAR probe, which was limited to the financial issues. Five days later, Ajamie was told the board had decided to retain a new attorney for the matter.
The new lawyer, Orin Snyder, said his firm, Gibson Dunn, reviewed the amfAR-ART transaction and "reported to the board that this contribution was a lawful charitable donation to ART." However, Snyder would not release that report to NBC News.
Five months after Snyder was brought on, Cole urged board members to sign non-disclosure agreements (NDAs) that would "promise…that we won't involve ourselves in Harvey's affairs in the future," as long as Weinstein also signed an agreement, according to an email attached to the letter of complaint.
Cole told NBC News he proposed the non-disclosures as "a way to get this behind us" and return to the mission of raising money with the help of one of amfAR's largest donors.
Four amfAR board members refused to sign the non-disclosure agreements and filed a complaint with the New York attorney general, alleging misconduct, followed by "delay, obstruction, cover up, and now retaliation."
Those board members repeated their allegations last month in a letter to the amfAR board that was reviewed by NBC News.
AmfAR's board sent its own letter to the Charities Bureau at the AG's office in September, asking for assistance in instituting changes to its governance.
In a letter to an amfAR attorney, the AG's office said it agreed with the charity's plan to hire outside counsel to reform its governance, but also said its review raised questions about whether money raised at the Cannes auction "resulted in benefits to private interests." The AG also identified "several issues of concern" at the charity, including the conduct of "certain trustees and amfAR agents."
"The Attorney General believes that it is crucial to restore stability to amfAR so that it may concentrate its efforts on its mission," James G. Sheehan, chief of the Charities Bureau, wrote in a Sept. 21 letter reviewed by NBC News.
The AG's office recommended changes including greater transparency, term-limits for trustees, protections for whistle-blowers, and training for issues related to conflicts of interest. Snyder said the AG's office declined to open an investigation.
Eric Soufer, a spokesman for the attorney general, said the AG conducted a review that "raised significant concerns about the governance of amfAR, which is why we recently directed the organization to undertake a series of deep and meaningful reforms. We have discussed these changes with the Board, and we will not hesitate to take further action if these reforms are not implemented swiftly and in full."
A representative for Weinstein did not respond to a request for comment on the alleged threats against the board. In a statement, the representative noted that he had raised $50 million for amfAR over 23 years. "Anyone associated with the Cannes event knows how powerful his contribution has been. As previously reported in various news outlets, Mr. Weinstein had across the board support from all the major organizers and stars," their statement said.
In regard to the auction deal, Cole said in a statement that "in the spirit of being diligent as well as transparent, we had independent legal counsel review the contribution in question, and they concluded that nothing illegal or inappropriate had occurred."
One of the dissident board members, Dr. Mervyn Silverman, said it was "appalling ... that Mr. Cole claims he has done nothing wrong."
"He entered into a suspicious, highly unusual financial agreement with Harvey Weinstein on behalf of amfAR without board approval and over the clear objections of amfAR's executives," said Silverman. "This is not the type of leadership this organization and its loyal donors deserve."
In an earlier statement to NBC News, Cole said he was honored to lead amfAR for over a decade and that "in the spirit of being diligent as well as transparent, we had independent legal counsel review the contribution in question, and they concluded that nothing illegal or inappropriate had occurred."
He added, "There is now a comprehensive document from the New York State Attorney General's Office which provides us with a direction going forward."
Snyder called the 2015 auction "a tremendous success." He added, "It's unfortunate that a handful of people are exploiting the recent news about Harvey Weinstein to smear amfAR for their own purposes."
Since the 2015 transaction, five members have resigned from the 19-member amfAR board, with at least one of them citing the turmoil over the amfAR-ART transaction.
"Despite my effort to help bring transparency and remediation to recent events, deep divisions on the Board remain," Ryan Greenawalt wrote in his August resignation letter. And, he added, "I hereby rescind the NDA I signed, as I do not believe it was ever fully executed. After consulting with counsel, I no longer believe it was appropriate. In any event, I do not believe the NDA prevents my cooperation with law enforcement, and I presume the drafters did not intend that."
Jay Ellis, the star of HBO's "Insecure," said in his resignation letter that he would remain available for the attorney general's inquiry.
"There has been nothing but gridlock, selfishness and finger-pointing since my first call as a trustee in January," he wrote in August. "Like any organization problems, differences and challenges will arise but I imagine the 30 million people worldwide living with HIV/AIDS and the millions of lives lost to the virus would be heartbroken to know that a group of people whose sole purpose is to help has come to this."