A man is suing "X-Men" director Bryan Singer for allegedly sexually abusing him on a yacht when he was 17 years old, a claim Singer "categorically denies."
Cesar Sanchez-Guzman says Singer abused him in 2003 during a party on a yacht owned by Lester Waters, "a wealthy tech investor who frequently hosted parties for young gay males in the Seattle area," according to a suit filed in Washington state superior court.
The suit alleges that Singer "lured Cesar into a room, shut the door and demanded that Cesar perform oral sex. When Plaintiff refused, Bryan Singer forced him into acts of oral and anal sex."
It adds that Singer later informed Sanchez-Guzman that he could help Sanchez-Guzman get into acting if he didn't tell anyone about the incident.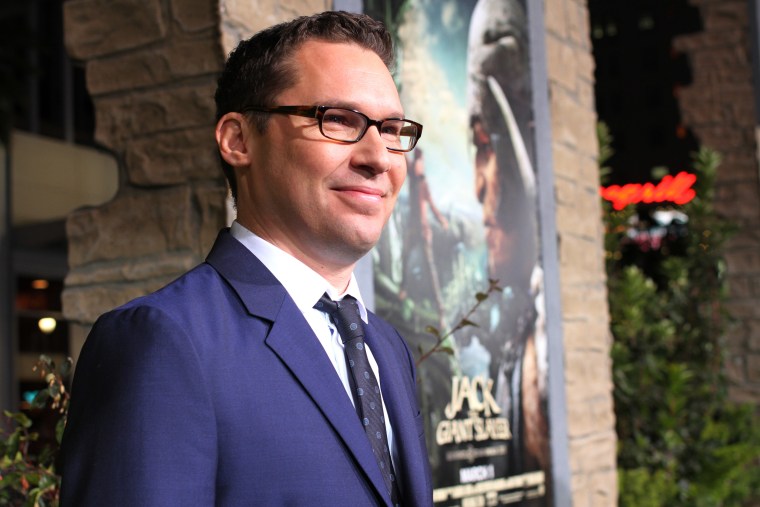 "He then told Cesar that no one would believe him if he ever reported the incident, and that he could hire people who are capable of ruining someone's reputation," the suit says.
Sanchez-Guzman told NBC News he's "very upset with Bryan" and said he's glad to have gone public with his story.
"I feel a bit of relief that I've been able to come forward and that I have the support of people," he said.
A representative for Singer said the director "will vehemently defend this lawsuit to the very end" and questioned why Sanchez-Guzman waited to file the lawsuit.
"Significantly, when Sanchez-Guzman filed for bankruptcy only a few years ago, he failed to disclose this alleged claim when he was supposed to identify all of his assets, but conveniently, now that the bankruptcy court discharged all of his debts, he is able to recall the alleged events," the statement from the representative said.
The attorney for Sanchez-Guzman, Jeff Herman, has represented sexual abuse survivors across the country. In 2014, he represented aspiring actor Michael Egan, who accused Singer and others in the film industry of sexual assault, only to later withdraw the claims.
Singer's representative mentioned Egan in his statement and said, "Notwithstanding his track record, this same lawyer is coming after Bryan again. We are confident that this case will turn out the same way the Egan case did."
Herman's law firm confirmed it had represented Egan in 2014 but did not provide any other comments on that case.
Dan Ellis, an attorney at Herman Law, said he hoped Sanchez-Guzman's lawsuit would "encourages other victims of sexual abuse to come forward."
"We're extremely proud of Cesar for having the strength to come forward and being a representative for victims of powerful men across the country," Ellis said. "We think he's a really brave man for coming forward and putting his name out there and being a voice for victims who are suffering in silence."
Singer has directed four "X-Men" movies and other films including "The Usual Suspects," and was recently fired from directing "Bohemian Rhapsody," a biopic about Queen frontman Freddie Mercury.
The Hollywood Reporter broke the news of his firing on Dec. 1 and said it was due to tension between Singer and actor Rami Malek, stemming from Singer not showing up enough on the set.
In a statement to The Hollywood Reporter, Singer said he was caring for an ill parent and denied he had acted unprofessionally.
"I wanted nothing more than to be able to finish this project and help honor the legacy of Freddie Mercury and Queen," he said, "but Fox would not permit me to do so because I needed to temporarily put my health, and the health of my loved ones, first."