Tens of millions of sharks are killed every year — mostly for the sake of a bowl of soup — but conservationists hope that that the multibillion-dollar trade in shark fins will soon be more endangered than the sharks.
Several trends are coming together — including high-profile pledges in China to swear off the traditional soup, to laws banning shark fins from menus, to new international export regulations that are due to take effect in September.
Sign up for Science news delivered to your inbox
"We've found a great deal of interest, even enthusiasm in many countries, to do this well," Imogen Zethoven, director of the Pew Charitable Trust's global shark conservation campaign, told NBC News. "It's inspiring, really."
Zethoven and other conservationists have been working for years to raise awareness about the threat that shark finning poses to oceangoing species. They estimate that roughly 100 million sharks, maybe more, are killed each year — a toll that's "unsustainable."
Many of these sharks are killed for just one part of the anatomy — their fins, which are dried and used in a watery soup that Chinese communities traditionally serve at wedding parties, New Year's celebrations and other big occasions.
To some ears, linking an environmental threat to a bowl of soup may sound strange. But the fins can sell for hundreds of dollars per pound, and the soup can go for $30 to upwards of $100 per bowl. Multiply those figures by 100 million or so, and you get a sense of how much money is at stake.
Shark finning introduces an even weirder twist: Fishing operators often just remove the shark's fin and throw the rest of the fish back into the water to die. "It's very cruel," Zethoven said.
Dampening demand
Making the connection between that cruelty and the shark fin trade is one of the top tasks for conservation groups.
"The demand part of the equation is key," said Taylor Jones, endangered-species advocate at WildEarth Guardians. "If people didn't want to eat shark fin soup, there would be no incentive to capture the sharks and take their fins."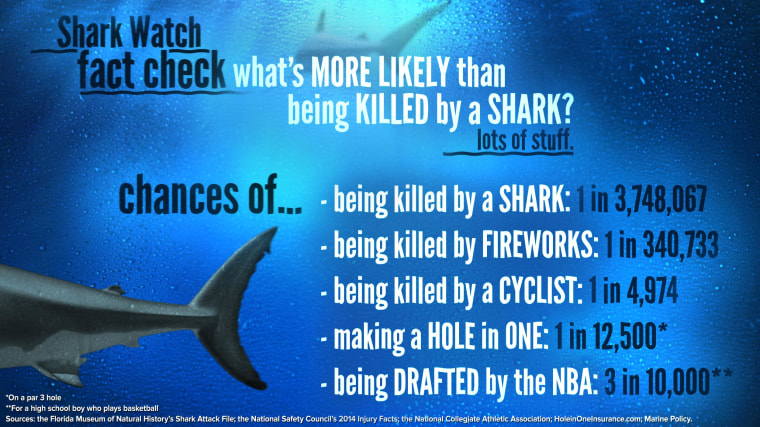 That's why China's ban on serving shark fin at official functions, phased in over the past couple of years, is so important. "There are no black-and-white estimates about how much shark fin is consumed where, but we've heard that roughly 50 to 60 percent of shark fin is consumed at official functions," Zethoven said.
Several airlines, including Cathay Pacific, Cebu Pacific, Singapore Airlines and Korean Air, have banned cargo shipments of the fins — and there's even been a campaign in Hong Kong to give away free honeymoon vacations to newlyweds who swear off the soup.
Suffocating supply
Hong Kong has been the global nexus of the shark fin trade, but that may be changing: WWF-Hong Kong reported in April that trafficking has declined dramatically over the past year due to the Chinese government's crackdown as well as pressure from environmental groups.
Over the past year, fin import prices in Hong Kong have fallen by 60 percent, and business has dropped by roughly 20 to 30 percent, a spokesman for the Hong Kong Marine Products Industry told the South China Morning Post.
The fishing industry says it follows international regulations set by the Convention on International Trade in Endangered Species of Wild Fauna and Flora, or CITES — but Zethoven said "a lot of sharks are caught through either outright illegal fishing, or unregulated or unreported fishing." She pointed out that 83 countries export shark fins to Hong Kong and other Asian markets.
"It's not all about focusing the spotlight on China," Zethoven said. "It's about focusing on the countries that export as well."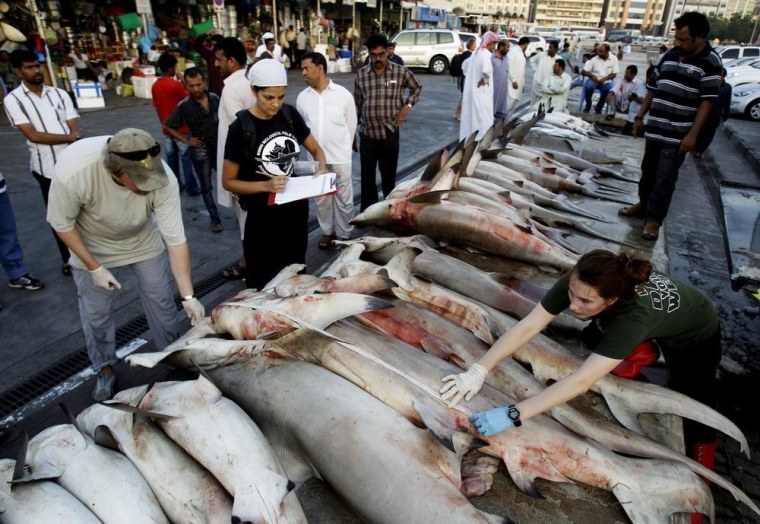 New CITES regulations, due to take effect in September, could make a big dent in the shark fin trade. Five shark species have been added to CITES' control list: the oceanic whitetip, the porbeagle shark and three kinds of hammerheads. It'll be up to export officials to determine which fin shipments should be allowed, on a case-by-case basis.
Zethoven said the Pew Charitable Trust and other groups are ramping up training sessions around the globe for those officials. "For some species, such as the oceanic whitetip, we believe it will be impossible to show that it can be traded without detriment to species in the wild," she said.
Close to home
Although the shark fin trade focuses on Asia and the Pacific, the conservation campaign extends to the Americas and the Caribbean as well. "We want to establish shark and ray protections across all of the Caribbean," Zethoven said. Sanctuaries are being created around the British Virgin Islands, the Bahamas, Honduras and other countries in the Caribbean region.
The United States is getting in on the act as well: This month, the scalloped hammerhead shark — one of the species targeted by the fin trade — won protection under the Endangered Species Act. Michael Harris, director of the Wildlife Law Program at the Friends of Animals, said his group wants two other hammerhead species covered by similar protections.
"That would give us our hammerhead trifecta," he told NBC News. "These three species have definitely been exploited by shark finning as well as sport fishing."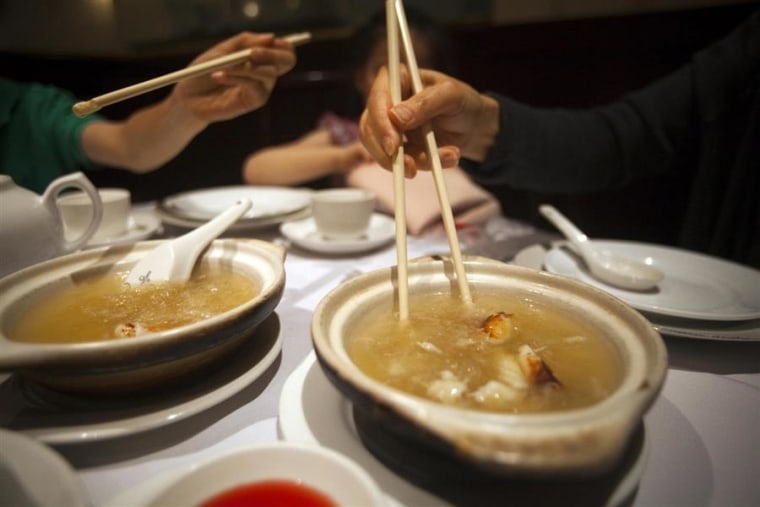 Eight states — Hawaii, Oregon, Washington, Illinois, California, Maryland, New York and Delaware — have enacted laws prohibiting the sale of shark fins and food containing the fins. Still more states are considering bans. Even though the laws are hard to enforce and subject to interpretation, conservationists say the attention helps raise awareness among consumers.
"We want people to think of sharks as an important part of the ecosystem that sustains our planet, and not just as a bowl of soup," Jones said. "Some people consider sharks to be a 'resource,' but really, it's more important to think of them as part of the ocean ecosystem. It's similar to wolves. Once you remove the top carnivore, that changes the ecosystem from the top down."
In the end, the campaign is about much more than soup, or even just the sharks.
"If you take sharks out of the ecosystem, it's going to have cascading effects," Zethoven said. "Even if someone may not be concerned about sharks, almost everyone standing is concerned about coral reefs ... and if you're concerned about coral reefs, you need to keep the sharks healthy."