The Internet can be a weird place.
A vicious stabbing brought the Internet meme Slender Man to the attention of parents across the country – but the digital boogeyman is just one of many online creations popular among kids, but mostly unknown to their parents -- and therefore frighteningly mysterious. Like Slender Man, these online characters and communities aren't dangerous for young minds. But it's always good for parents to keep connected with their kids online. Here are a few.
PewDiePie
Juvenile, profane and gut-bustingly hilarious, PewDiePie (real name Felix Arvid Ulf Kjellberg) is a Swedish video game commentator who, with more than 27 million subscribers, hosts the most popular channel on YouTube. And frankly, Mom and Dad, if this sweetly ridiculous 24-year-old is the worst thing your kids are obsessively re-watching on the video-sharing channel, breathe a sigh of relief.
In a community where potentially dangerous dares like the spice-chugging cinnamon challenge go viral, PewDiePie is an oasis of adolescent innocence. His shtick includes narrating video game play, either mocking the action or ad-libbing the interior thoughts of video game characters. PewDiePie's pugs Maya and Edgar often appear as the long-suffering foils of his live-action skits.
With great Internet fame, PewDiePie's taken on great responsibility, engaging his "25 Million Bros Strong Bro Army" to raise money for charities including St. Jude Children's Research Hospital, the World Wildlife Fund and Save the Children.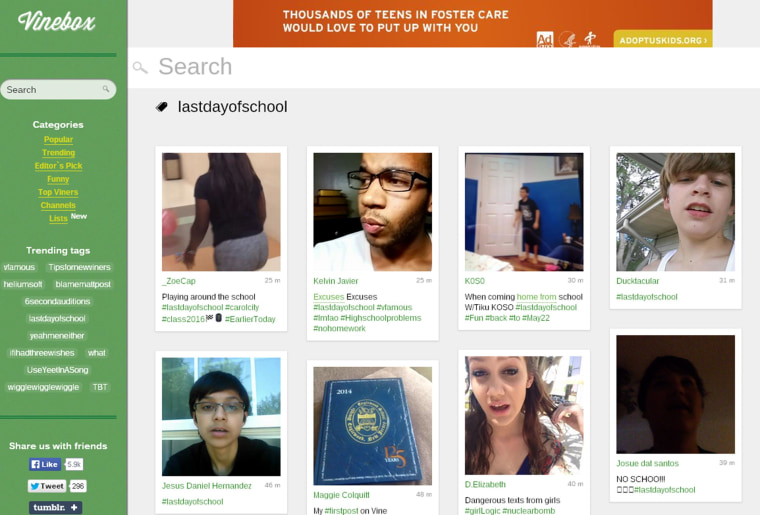 Vine #Hashtags
For a real-time Cliff Notes version of what's going on in the pop culture cortex of the digitally connected adolescent, look no further than whatever's trending on Twitter's video app service, Vine.
Like the #hashtag games that inspire call and response creativity -- for example, the recent #ElderlyNBA -- Vine also inspires community projects. These six-second loops are perhaps more popular with kids who grasp visual comedy before some of the sophisticated hashtag wordplay on Twitter.
Trending hashtags, such as #6secondauditions and #lastdayofschool, attract an international cross-section of creativity. The best mini-skits often come from older teens or young adults, which are mimicked by younger users (often with awkward results).
Minecraft "Griefing"
Any parent with a kid into the sandbox game "Minecraft" probably knows that kid is really into "Minecraft" … maybe even really really into "Minecraft."
There's a whole side industry of "Minecraft"-branded tchotchkes –- pixelated "Minecraft" Halloween costumes and foam pickaxes, Creeper backpacks, Light-Up Diamond Ore -- for which such parents have been begged to surrender their cash.
But like anything that exists in the Universe, there's a dark side -- and it's not so much the potentially-destructive mobs of zombies skeletons and Endermen. Destruction can come from other players in the form of "griefing" -- destruction of buildings, offensive pixel art and other forms of trolling either out of malice or just to prank other players.
It's a burden on "Minecraft" server administrators and it can grow to epic proportions. Most recently, a virtual replica of Denmark, built to educate kids in spatial data, became the target of in-game explosions, and the vandals left the site scattered with United States flags.
That's just bad Internet citizenship.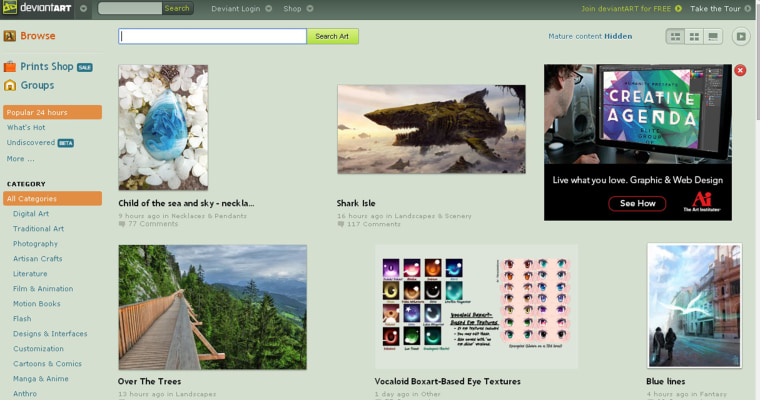 deviantArt
If your kid is in anyway creative, precocious or attracted to the strange and unusual, eventually he or she is going to discover deviantArt, an online community showcasing user-made artwork of all forms. And that's not necessarily a bad thing. In fact, it could be a very good thing. With more than 25 million members and 246 million submissions, this international community can provide inspiration and support to growing imaginations. People get awards for stuff they've posted on deviantArt, and some get careers as well. But parental discretion is advised.