The attorney for one of the 12-year-old girls accused of brutally stabbing a classmate in the Wisconsin woods will ask for a mental health evaluation during Wednesday's court hearing.
The judge would then appoint an examiner who would have 15 days to file a report and advise whether the girl is mentally competent to exercise her rights, attorney Tony Cotton told NBC News.
Sign up for breaking news alerts from NBC News
Both suspects, whom NBC News is not identifying because of their age, are being tried as adults.
Prosecutors say the near-fatal stabbing in the Milwaukee suburb of Waukesha was inspired by an eerie online meme known as Slender Man. The alleged attackers reportedly told investigators they were trying to pay homage to the faceless ghoul they discovered on a horror-themed website by stabbing their 12-year-old victim 19 times.
The girls face one count each of first-degree "attempted homicide with a knife enhancer" and could get up to 65 years in the state prison system.
Wisconsin laws dictate anyone over 10 years old charged with homicide is automatically considered an adult. Four states set the age threshold at 13 years old.
Cotton has said he believed the two alleged attackers may be the youngest ever charged as adults in Waukesha County.
The alleged stabbers are set to appear in court Wednesday for a general status hearing before Waukesha County Circuit Judge Michael O. Bohren, according to the Milwaukee Journal Sentinel.
The prosecution of either or both of the girls could be ordered to children's court — a move their lawyers are expected to pursue, the newspaper reported.
Waukesha County District Attorney Brad Schimel told the Journal Sentinel that he would resist such a move.
"It's troubling when a person lashes out in anger," Schimel said. "It's more troubling when they lash out in cold blood. Isn't that the worst kind of killer, the cold-blooded killer?"
Meanwhile, the young victim investigators say was lured to the woods by two supposed friends under the guise of a game of hide-and-seek is slowly recovering after being released from the hospital.
She is "happy to be home," but every day is a struggle, according to family friend and spokeswoman Dana Hoffmann.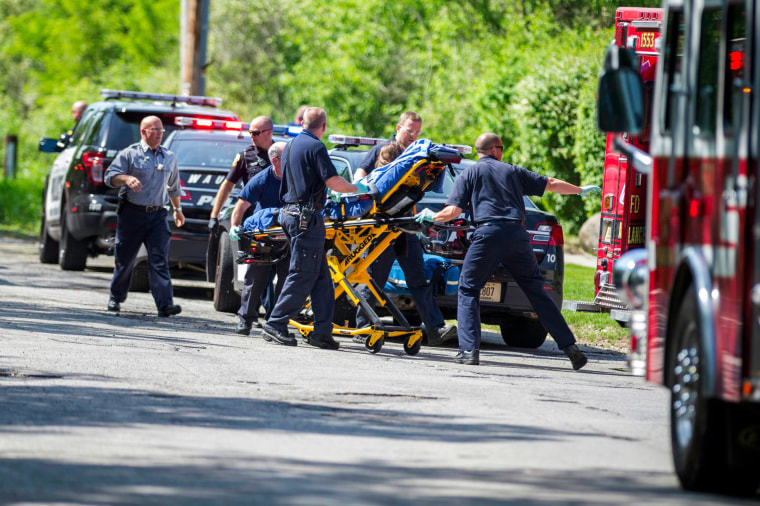 "Like any girl who comes out of the hospital, she has good days and bad days," Hoffmann told NBC News. "Overall, she's doing incredible compared to what she was last week and compared to how bad her injuries could have been given the severity of the incident."
As she adjusts to the new normal, the girl has taken comfort in her pet cats, the family dog and reruns of the sitcom "Full House," Hoffmann said.
Investigators say she was held down by one of the alleged attackers and brutally stabbed on her arms, legs and torso by the other girls in a wooded area of Waukesha.
The girl was having trouble breathing and was covered in dried blood when a bicyclist who found her called 911. Police arrived and she gave them the name of one of the girls who allegedly attacked her.
The bizarre nature of the attack has stunned the community of 70,000. Many are showing their love and support by wearing purple, the girl's favorite color, per the family's request.
"Our daughter has already received dozens of purple hearts, along with other care packages, letters and well wishes, and for this, we can't thank the community enough," the girl's family said in a statement, according to NBC Chicago.
"Our focus moving forward is to relax, bond and establish a 'new normal' together as a family. We know that we have a long road ahead but will recover from this in time."
The girl's family has launched a Facebook page where users can leave messages of encouragement.
NBC News' Alan Cohen and The Associated Press contributed to this report.