Gaunt and faceless in a black suit, the Slender Man is a fiend made to stalk the dreams of the Internet era.
When two 12-year-old girls were asked why they allegedly lured a third girl into the Wisconsin woods and stabbed her 19 times, they gave the police a name: Slender Man. The suspects appeared in court on Monday.
He might be a mystery to adults, but to many kids, Slender Man is as recognizable as Dracula. He is often found lurking, an eerie Where's Waldo?, in the back of blurry photos online. He has long, spider-like limbs, no face, and stories say he can hypnotize children into walking into his embrace.
From fake "archival photos" and "police recordings" to an elaborate background story and faux documentaries about the spectral figure, Slender Man is a crowd-sourced creation that, in another century, could have numbered among Grimms' fairy tales.
Slender Man, sometimes written as "Slenderman," has only been around since 2009, when someone created him as part of a Photoshop contest for the humor site SomethingAwful.com. Since then, he has become the subject of fan art, elaborate stories and YouTube videos.
The girls claimed that they aspired to be "proxies" of Slender Man when they allegedly lured the victim out to the woods for a game of hide-and-seek the morning after a sleepover. Using a knife with a five-inch blade, they allegedly stabbed the 12-year-old victim and fled, leaving her to crawl away and be discovered by bicyclists, according to the criminal complaint.
Origins
In June 2009, a person using the online moniker "Victor Surge," possibly a reference to Russian revolutionary writer Victor Serge, submitted two photos to a thread called "create paranormal images" on SomethingAwful.com. Each contained an abnormally tall, faceless man lurking behind children, one with the caption:
"We didn't want to go, we didn't want to kill them, but its persistent silence and outstretched arms horrified and comforted us at the same time…" – 1983, photographer unknown, presumed dead.
"Victor Surge" is actually Eric Knudsen, who said he was seeking a copyright on the character as recently as January of this year.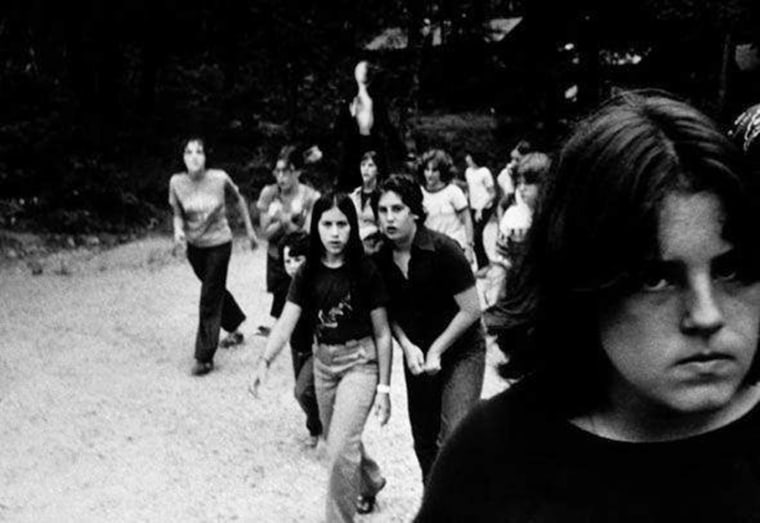 In an interview with On the Media's TLDR podcast, Knudsen said that some people had become so invested in the online character, they point to "historical" evidence of Slender Man to try and prove the mythical figure existed before Knudsen had first drawn him — even though the evidence was always created after June 2009.
"Certain people just don't want to believe that it's fiction, because it's obviously much scarier that way," he said.
The Slender Man Legend Grows
The two suspects in the stabbing were reportedly obsessed with stories about Slender Man on Creepypasta Wiki, a site where people post scary stories, often written as first-hand accounts.
Depictions of Slender Man are different everywhere. In some stories, he is 15-feet tall, in others he is the size of a normal man. Sometimes, he has tentacles growing out of his back. He is always wearing a black suit.
As with many monstrous beings of urban legend, Slender Man is usually said to live in the woods, often near the suburbs.
"It is often thought as well that he enjoys stalking people who become overly paranoid about his existence, purposefully giving them glimpses of himself in order to further frighten them," reads a description of Slender Man on Creepypasta Wiki, noting that "his main intentions appear to be kidnapping children."
Other haunting stories on Creepypasta run the gamut from tales of homicidal characters like Jeff the Killer, who wakes people up with an evil grin before stabbing them, to computer-age twists on old urban legends, like a JPG image on a floppy disk that causes anyone who looks at it to go insane. More than 11,800 stories have been posted on Creepypasta since it went up in 2010.
Slender Man's powers seem to shift from story to story, but he is sometimes able to convince people to kill for him. The two girls told police that they were trying to impress Slender Man by stabbing the third girl, according to the criminal complaint.
Aside from fan art and stories, plenty of YouTube videos have appeared with "Blair Witch"-style footage of Slender Man. One video, posted by amateur filmmaker Troy Wagner, has more than 4.76 million views.
After 2009, on Coast to Coast, a radio show where people call in about supernatural occurrences, people started calling in about Slender Man. In 2011, the Minneapolis Star-Tribune reported on "a mythical predator and Internet sensation whose greatest skill is the ability to strike terror in the hearts of teens." It named Slender Man as one of the "iconic boogeymen" alongside Dracula and Freddy Krueger.
Even if most kids realize Slender Man is fiction, Creepypasta felt like it had to clarify this after the stabbing with a blog post titled, "Fiction, Reality, and You."
"There is a line of between fiction and reality, and it is up to you to realize where the line is," read the statement. "We are a literature site, not a crazy satanic cult."