The two Wisconsin girls charged with trying to kill a friend to appease the fictional horror character "Slender Man" return to court Friday to ask to be released pending trial.
The girls, now 13 and 14, could face up to 65 years in prison if they're convicted as adults of attempted first-degree intentional homicide.
But in new court filings reported by The Associated Press, attorneys for the girls say they should be returned to their families under a closely supervised schedule of therapy and electronic monitoring.
NBC News is not naming the girls, who were 12 at the time of the incident in May 2014 in Waukesha, because their case could still be moved to juvenile court, where their identities would be sealed.
An attorney for one of the girls said in court documents that his client was sexually assaulted last year at the detention center where she is being held, according to the AP.
Prosecutors say the girls lured their friend to the woods and repeatedly stabbed her 19 times as a sacrifice to Slender Man. The victim, whom NBC News also isn't naming, survived and has returned to school.
In interrogation tapes played at a preliminary hearing in February 2015, the two girls, who were arrested while walking along a highway, told authorities they were headed to Nicolet National Forest in northern Wisconsin, where they thought they would meet up with Slender Man, the online meme turned creepy urban legend.
Related: Slender Man's Seductive Power for Kids: It's in the Brain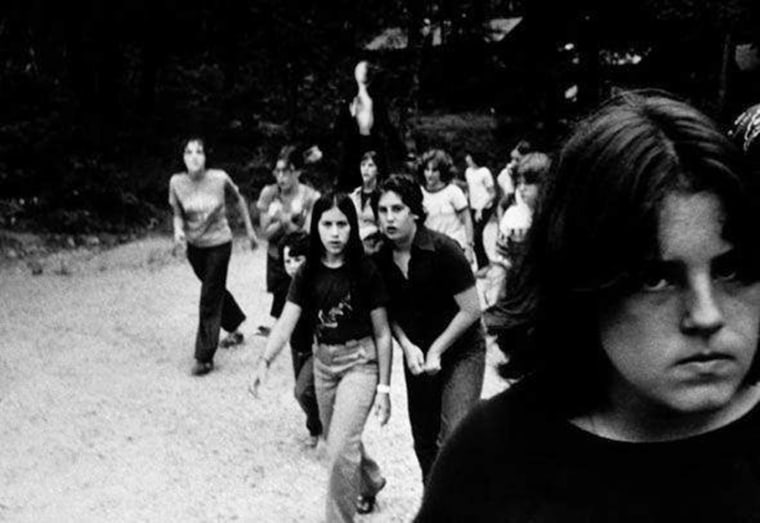 Both girls blamed the other for coming up with the idea. But one of the pair appeared to have been more obsessed with the fictional character than the other — investigators said she stashed dozens of drawings of the bogeyman and the mutilated bodies of Barbie dolls in her bedroom.
Slender Man, who looks something like pop culture depictions of an interstellar alien with long, octopus-like tentacles — and oddly wears a business suit — was created by Eric Knudsen in 2009 for a Photoshop contest on a comedy website.
Since then, he's become a powerful Internet meme. He's often inserted into photos — usually near the edge, as though he is stalking the subjects. Mythology surrounding says he can hypnotize children into walking into his embrace.
Knudsen said shortly after the horrific attack that he was "deeply saddened" but wouldn't make any other public comments.