WikiLeaks is a whistleblowing platform founded by Julian Assange. It was established to obtain and disseminate classified documents and data sets from anonymous sources and leakers.
"They started out saying they're an open source intelligence agency, or an intelligence agency for the people," said James Ball, an ex-WikiLeaks staffer-turned-critic who is also the author of "Post Truth."
He added: "Same as the CIA or [Britain's] GCHQ find secrets for their governments, the idea was WikiLeaks would get them for everyone."
Who is Julian Assange?
The Australian-born Assange is a computer programmer and activist who set up WikiLeaks in 2006.
"In any meaningful sense, WikiLeaks is Julian Assange," Ball said.
Assange has been assisted by others, including longtime associate Sarah Harrison.
However, according to Ball, "the only person whose opinions matter … the person who calls the shots ... is Julian Assange."
Why is Assange in London's Ecuadorean Embassy?
Assange was accused of rape and sexual assault by two women in Sweden in 2010. He denies the accusations, but sought political asylum in the embassy to avoid extradition to Sweden in 2012, and he remains there.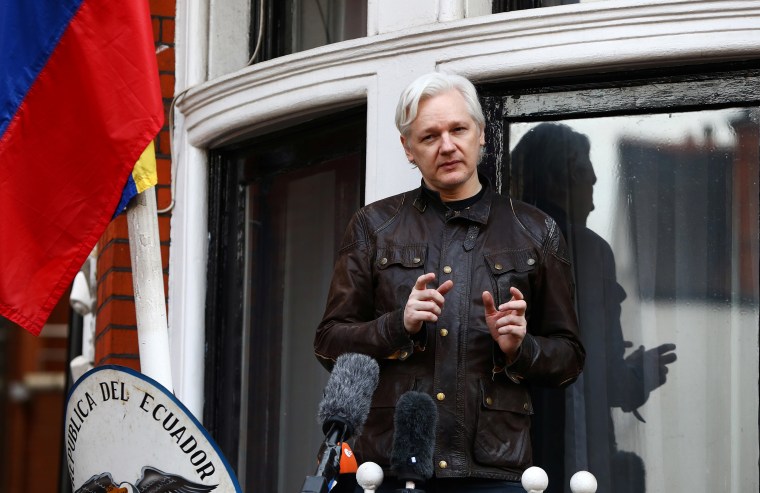 He has said that he fears being eventually extradited to the U.S. because of the fallout from WikiLeaks' release of classified U.S. documents.
Sweden dropped the rape investigation, saying there was no hope of getting Assange to answer questions, but he still faces arrest in Britain if he leaves the embassy because of his refusal to appear in court.
What are WikiLeaks' biggest leaks?
WikiLeaks released hundreds of thousands of U.S. military documents and videos from the Afghan and Iraq wars, including the so-called Collateral Murder footage and "Iraq War logs."
They also released a trove of more than 250,000 State Department diplomatic cables in 2010. Former U.S. soldier Chelsea Manning was convictedof leaking the documents.
What was WikiLeaks' role in the 2016 presidential election?
"The main thing they did was leak two sets of emails: first from the Democratic National Committee, and second from a very close Hillary Clinton aide, John Podesta," Ball said. "The media covered them for weeks, and it even helped spawn conspiracy theories."
Ball said the emails proved to be "very, very damaging for Clinton" because some voters believed they showed that the "DNC had conspired against Bernie Sanders to install Clinton as candidate."
That helped Donald Trump, the Republican nominee, in the general election.
"Of course, we've now had good evidence that this was an act by the Russian state," Ball added.
Does WikiLeaks have connections to Russia?
"Intelligence agencies in the U.S. and outside have all said with a high degree of confidence that Russia was involved [in the 2016 email leaks]," Ball said. "But that's not the same as saying Julian deliberately met up with [Russian President Vladimir] Putin in the embassy, and Putin said, 'Leak this for me ...' and he said 'yes.'"
Ball said it's more likely that Russia approached Assange with leaks via proxies claiming to be independent, unrelated hacking groups.
"And then he just doesn't ask the awkward question, because he wants the stuff," Ball hypothesized.
Are Wikipedia and WikiLeaks related?
No. The online encyclopedia Wikipedia, which is run by the nonprofit Wikimedia Foundation, has always been keen to distance itself from WikiLeaks.
The term "wiki" refers to a webpage where users can collaborate on edits and modify content directly on the site.
"The reason the 'wiki' is in there is that everyone would be able to report on it and look into them and actually edit WikiLeaks' site," Ball said. "They dropped that bit, so essentially it became a place that could publish leaks that other outlets wouldn't, and let everyone access the raw documents."