Congratulations! You've won the gold medal! Stand still while the photo flashes pop and the TV interviewer asks how it feels, and thousands of new Twitter followers glom onto your feed wanting to know what you have to say.
Then prepare for a different kind of downhill.
Diann Roffe knows the experience well. Then competing as Diann Roffe-Steinrotter, she won the gold medal in Super G during the 1994 Lillehammer winter Olympics after winning a silver in giant slalom in the '92 Albertville games. She immediately announced her retirement. She was 26, an age when most people have just begun a career.
"You have to matriculate into society," Roffe told NBC News.
Joining society at 26 can be tough. An elite athlete's life is by necessity remarkably self-centered. You wake up taking your heart rate. You think of your own workout goals. You log what you eat.
And then, after years of self-focus, if everything works out just right, you win. Most people will never experience a high that high. But there's a downside.
"It was like being taken up to the highest mountain peak to see the view, and then being brought down, never to be there again."
Dan Gould, a kinesiology professor who consults with the U.S. Olympic Committee on athlete training and directs Michigan State University's Institute for the study of youth sports, recalls meeting Australian swimming great Shane Gould and bonding over their shared last name. Shane won five medals, three gold in the 1972 Munich games. She was a national hero in Australia.
"And you know what she said?" Gould began. "She said it was like being taken up to the highest mountain peak to see the view, and then being brought down, never to be there again."
As Roffe told NBC News, "there is a big bucket of melancholy athletes can fall into. ... I really missed being exceptional at something." In the first years after her win, she thought "here I am struggling with the masses to make ends meet, get school done, seeking that exceptional feeling again. I really struggled."
This can be true for athletes who become media darlings and field lots of lucrative offers — the Bode Millers — just as it can be for those in more obscure sports whose moment of fame lasts only days.
Swimmer Ian Thorpe, the winningest Australian Olympic athlete of all time and a national hero, has battled depression and alcohol abuse during his post-Olympics years. Another Australian swimmer, Scott Miller, a silver medalist in the 1996 Atlanta games, was recently arrested for drug possession. "I've failed miserably" since his swimming career ended, he told Australian media. U.S. skier Jeret "Speedy" Peterson, who was racked by depression and alcohol abuse, won silver during the 2010 Vancouver games, but killed himself the next year.
Speed skater Cathy Turner was a darling after she won gold in short-track speed skating at the 1992 Albertville games.
"I had a manager and I woke up every day with an itinerary," Turner recalled. "It was like, what speech am I giving? What company am I going to address?"
She skated in the Ice Capades. She'd long been a student of computer science, but that future took a back seat. "It wasn't like I even had time to reflect," Turner explained. "It was a whirlwind. I was Cathy the skater, the Olympian. Then I was Cathy the motivational speaker, and it didn't leave lots of time for me to figure out, 'Is this what I'm supposed to be doing?'"
California sports psychologist Doug Gardner, who runs his own practice called ThinkSport Consulting Services and works with the NFL Players Association, has worked with many athletes in this situation.
"It is extremely daunting," he said. Even winning athletes grieve over career endings, Gardner said. "What ends up happening is that an athlete's self-worth, and self-concept is connected to what they do. Take that away and there is a huge void. The task of the athlete is to have a successful transition out of the sport and that's a difficult process."
"There is a big bucket of melancholy athletes can fall into. ... I really missed being exceptional at something."
Turner found it difficult to make the break. When the Ice Capades did not renew her contract, she decided to come out of retirement to compete in the 1994 Lillehammer games, where she won another gold. She retired again, turned her attention to computers, but soon found herself with marital troubles, partly, she thinks, because she fell in love during the crucible of her competitive years.
As Roffe explained, that can be bad timing. "When the music's playing, it's all good, but when it's over you become different people who need to grow in different ways, and we grew apart," Roffe said of her own first marriage.
Turner escaped her troubles the only way she knew. She started competing again. "That is what I knew how to make happen," she said. Training for the 1998 games was "a refuge," but she didn't medal.
If their stories illustrate how difficult post-gold years can be, Roffe and Turner also illustrate why winning athletes often eventually succeed.
"Think of what these people develop!" Gardner said. "Tenacity in dealing with failure, setbacks, perseverance. These skills are very transferrable in other aspects of life."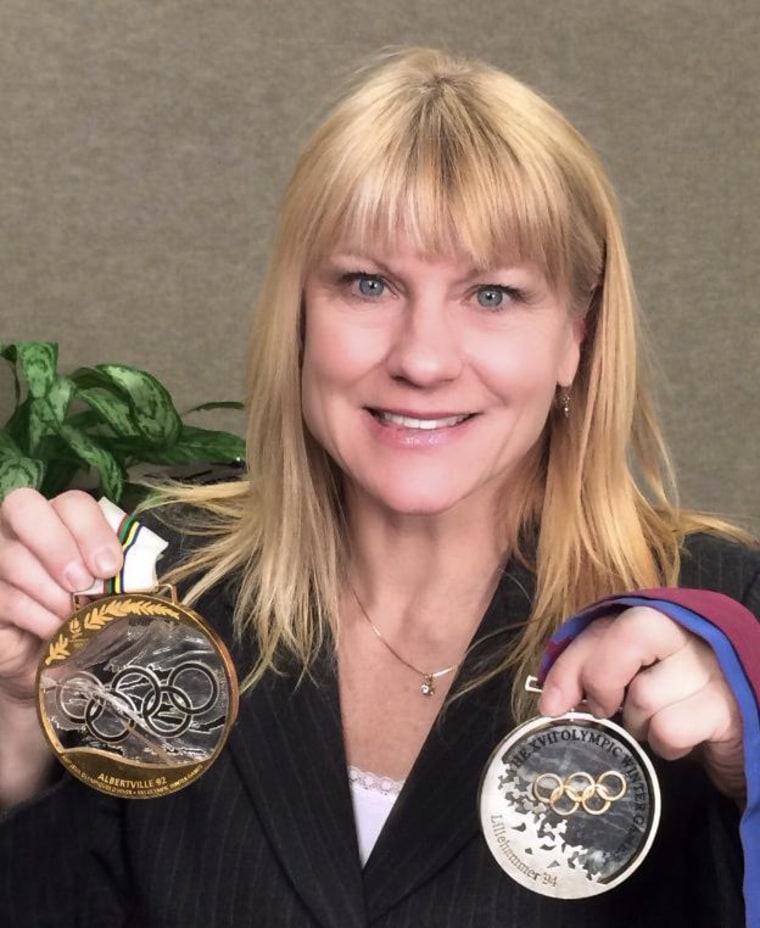 Turner combined her tenacity with her love of computer technology to become a database manager at Paychex, the payroll and human resources company in Rochester, N.Y., where she's a valued leader. Roffe lives in Camp Hill, Pa. She's remarried, a mother, and she runs a successful business called ALPINEOne which makes North American-made steel locker systems for team locker rooms, resorts and gyms.
"So, here I am 20 years later, and I am finally at a point where I have a great family, a good business, but it took me 20 years."
She spoke to NBC News soon after returning from Sochi. It was thrilling, she said, but not for the reason most people might think. When she's attended other Olympics, she felt "the anguish, the emotion, the melancholy return. You wish you could be in that moment again."
This time, though, "it was the first Olympics I was able to go and not wish I was competing. I was so happy."