SOCHI, Russia — The best American hopes for figure skating gold at the Sochi Olympics will rest on a connection that was forged more than 16 years ago in Michigan, when a girl met a boy on the ice.
Charlie White remembers being impatient back then, when his coach paired him with Meryl Davis for ice dancing. They were compatible sizes, with similar skating ability, the coach figured. But she had never danced.
While she was an older woman of 9 (White was just 8), he was — maybe — just a little bossy.
"We were trying to do some dances," recalled White, now 26. "And I was just, like, very impatient. Because she had no idea what she was doing. And I was like, 'Oh, I've been doing this forever, like, come on.'"
"Such a pro," Davis said with a laugh.
It's hard to say exactly when the awkwardness faded. But in a sport in which partners can be discarded as quickly as costumes, and skaters regularly move far from home to train, White and Davis, 27, have stayed together and forged an enduring bond.
Today it's six hours a day on the ice, plus an hour and a half together in the gym, plus classes — both at the University of Michigan, where Davis studies anthropology and White studies political science. They have both taken a pause in their studies during their Olympic training.
And on Sunday and Monday night, they will take to the ice in Sochi in search of the first American gold in ice dancing, a sport almost entirely dominated by Soviets and Russians since it was introduced at the Olympics in 1976.
The sport is a difficult-to-judge hybrid between traditional figure skating and ballroom dance that has been touched by scandal at previous Olympics, and whose very legitimacy is questioned by some purists.
"Charlie and I can certainly remember the days, when, you know, the stands were pretty sparse at ice dancing events, even at U.S. Championships," Davis said. "And I think the best is yet to come."
White and Davis represent by far the best American hopes for gold of any kind in figure skating. The Americans took the bronze in the new team event but failed to medal in pairs or men's singles, and are a long shot to medal when the women skate later.
So it's up to White and Davis to topple their rivals, Tessa Virtue and Scott Moir of Canada, who won the gold on home ice at the Vancouver Games of 2010, while the Americans had to settle for silver.
The two pairs share a coach, and they have passed the world title back and forth in the years since Vancouver. The Americans won it in 2011, the Canadians took it back in 2012, and the Americans recaptured it last year.
In the meantime, White and Davis have gotten some high-profile help — lessons from Derek Hough, the dancer and choreographer best known for his work on ABC's "Dancing with the Stars."
In a way, it was a natural fit: White and Davis' sport can resemble a reality-dancing competition on ice.
"We really wanted to try to think a little bit outside the box," White said. "And, you know, just invite someone who could give, like, just a little bit of freshness, and sort of put us over the top for the Olympics."
Hough told NBC News that White and Davis make a fluid and flawless transition from the ballroom floor to the ice rink.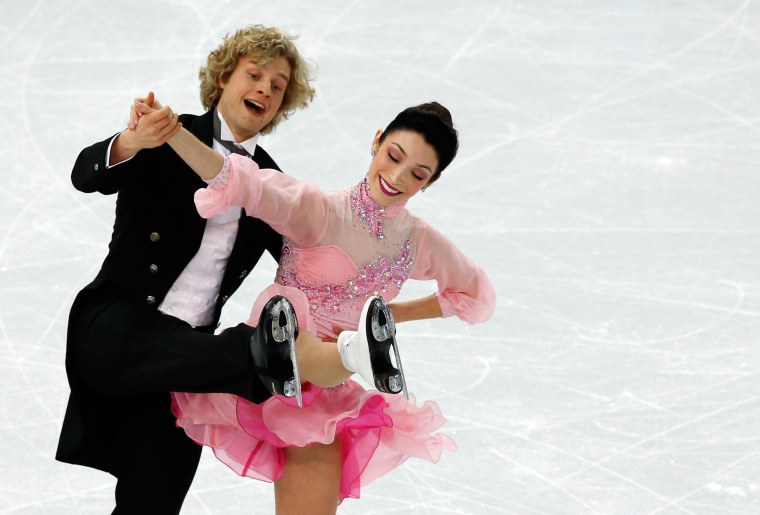 "There's a big difference as far as technique goes," he said "But the emotion is still the same. The connection is still the same. And I feel that whatever we worked on in the studio, it translated really well onto the ice, and they just really make it come to life."
Their partnership goes beyond the usual for ice dancers: Davis keeps the pair organized. But she is dyslexic, and sometimes White helps with depth perception — an important component in routines that include lifts and spins and have her twirling around his neck.
Davis said that struggling with dyslexia as a child ultimately helped her.
"From an early age, I realized that if I wanted to achieve things and if I wanted to be successful, I had to put in the work," she said. "And I think that's really translated onto the ice as well."
Their mothers, Cheryl Davis and Jacqui White, think back to all those years ago — it didn't take long until the children refused to skate with anyone else. And today, at competitions, the moms have something of a ritual.
They meet their daughter and son first for a hug. After that, it's to the stands. They sit together, just the two of them, not with the other skating parents. They may say an occasional word to each other, evaluating this or that move, but no one else.
"I have to really say," Jacqui White said, "our relatives and our friends have become very respectful of how we feel."