SOCHI, Russia — Sochi Olympic Park, a ring connecting six venues for the Winter Games and surrounding the cauldron, has been called sterile, and it can resemble a dystopian Disneyland — asphalt all around, tinny loudspeakers blaring pop music.
Now that the games are underway, though, it's bubbling to life.
Thousands of people milled around on Saturday, exchanging coveted Sochi 2014 pins and crowding in for the must-get smartphone shot — clambering aboard a giant installation of the Olympic rings as though they were monkey bars.
The mood was decidedly celebratory — little thought given to the persistent terrorism warnings that shadowed the run-up to the games.
"You can't let fear run your life," said Stephen Prince, 25, who came from Pinehurst, N.C., for his first Olympics, and had an American flag draped around his back as he headed for a U.S.-Finland women's hockey match.
The ticket was 500 rubles, or a little less than $15. He also has a ticket to see the luge later in the games, because it, too, was inexpensive. He's staying with a friend's family in Sochi, "trying to do it on a budget."
Around him were the buildings where some of the biggest moments of these games will unfold: The Bolshoy Ice Dome, whose shape and blue-gray tint give it the look of a 1990s iMac hockey-puck mouse. The sleek Fisht Olympic Stadium, which looks a little like the spaceship from "Flight of the Navigator." The Ice Cube, where curlers will ply their curious craft.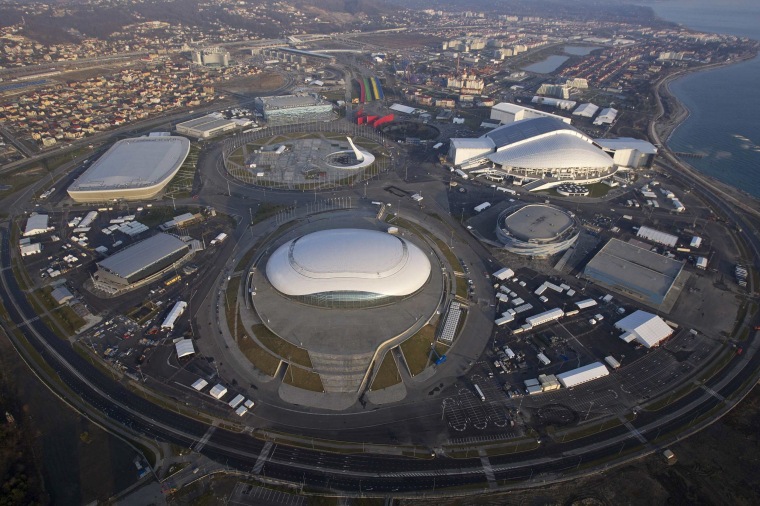 The concept — all of the indoor venues for the Winter Games, plus the medals stand, in one central place — is unique to Sochi. It sits just off the coast of the Black Sea, amid swaying palm trees.
At the center of it all is the Olympic cauldron, star of constant smartphone picture snaps, its flame so intense that you can hear it. It was set ablaze Friday night at the opening ceremony and is shaped something like a wide-based decanter, the flame atop a soaring, slanted tower.
It was about 50 degrees in the park on Saturday, appropriate for the first subtropical Winter Games. Olympic volunteers, clad in garish multicolor uniforms heavy on teal and, well, just about every other color, were all about — many taking breaks to get their own photos.
And the music in Olympic Park? Not exactly the Tchaikovsky and Stravinsky that were heavily featured at the opening ceremony. Think Ke$ha's "C'mon" and Lady Gaga's "Born This Way."
Shannon Furlan, who came to Sochi from Chicago to watch her sister, Jessica Jerome, compete in the first women's Olympic ski jump, said she loved the atmosphere. All those terror warnings had some of her friends were worried when she told them she was making the trip.
"I got two reactions: 'Oh, my gosh, that's incredible,' and, 'Oh, my gosh, be careful," she said. "We didn't really know what to expect. But we feel secure and safe. I'm not going to let that ruin my games experience."
Olympic organizers say they want to make sure the park becomes a year-round sports destination. In October, a Formula One race will start at the park's northern edge and circle the Ice Dome. Fisht Stadium will be converted to a soccer arena when Russia hosts the 2018 World Cup.
"There will be no white elephants," Dmitry Chernyshenko, head of the Sochi 2014 organizing committee, told reporters on Saturday. "It's a huge interest from both the authorities and from the business to work on these venues."
For the next two weeks, though, it's a destination point.
Mark Putnam and his wife, Adaire, came all the way from Saugatuck, Mich., to fulfill a 20-year dream of attending a Winter Olympics. It took stops in Detroit, Newark, N.J., Germany and Moscow to get here. They said they liked what they saw.
"The space is wide and open," Mark Putnam said. "Everything is easy to get to."
As for the security fears, they said they had been impressed at every step — guards on the airport tarmac in Sochi and "every 50 yards" since, he said.
The 1,500 square miles around Sochi are being protected by a so-called ring of steel, fortified by 40,000 Russian troops and guaranteed by Russian authorities to defend the games.
This, the Putnams figured, would be its center.
Adaire Putnam said: "It's got to be the safest place in the world right now."