WEIFANG, China -- When one of the five Olympic rings malfunctioned during Sochi 2014's Opening Ceremony, it was seen as an unfortunate and embarrassing technical glitch.
But hospital administrator Zhang Zhen recognized it as a great business opportunity.
"I thought, 'since everyone thinks this is funny, why don't I make some T-shirts out of it' – turn it into something memorable," he said.
Zhang and partner Yan Wenjuan took time out from their day jobs and transformed his spartan apartment into a workshop.
His design was simple – four rings and a snowflake, which on that fateful night was supposed to have transformed itself into the fifth ring.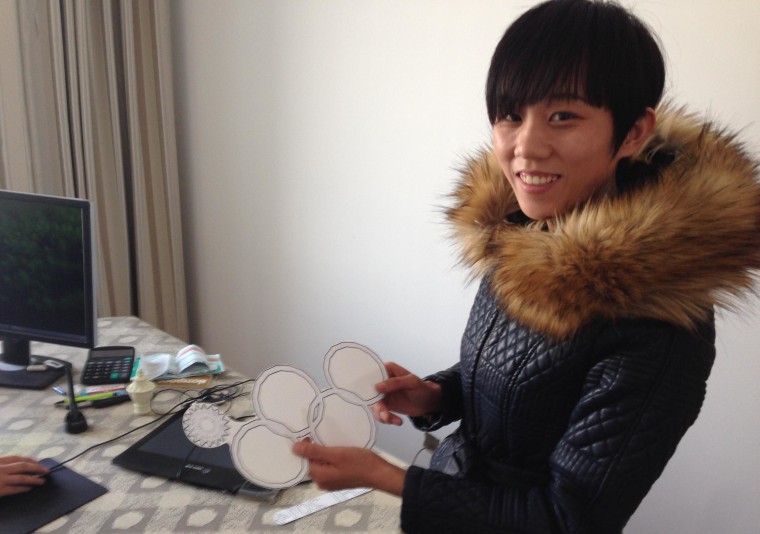 Zhang already had an online shop, doing sluggish business in T-shirts and bags. But it was immediately transformed when the new "Sochi Problem" garments hit the store, selling for about $6.50 each.
Within hours the orders were pouring in, and he quickly sold well over 100.
"It now accounts for 90 percent of our business, and its helped draw attention to other stuff in the store," he said.
The T-shirts are printed to order on a small press with Zhang methodically stamping his design, and Yan keeping up a constant supply of clean white shirts.
The online store has always been a bit of a hobby on the side, but Zhang thinks Sochi's problem could be their breakthrough.
He's not much of a winter sports fan, but says: "It's been good, because this Winter Olympics have brought me some extra income."
Those creative spirits run deep in Weifang, in China's Shandong Province, which also claims to be the world's kite capital.
But Zhang and Yan are not the only ones looking to cash in on the malfunctioning ring. There are now hundreds of online stores in China offering variations of the glitch, which are among the hottest items online and are fast becoming a must-have piece of memorabilia. Some appeared just hours after the Opening Ceremony.
But with that entrepreneurial zeal comes the thorny issue of legality, not always a primary concern in the wild world of the Chinese Internet.
No less an authority than the China Daily has weighed into that debate, quoting experts saying the T-shirts may be on the margins of legality.
The International Olympic Committee is very protective of its five rings and the newspaper quoted Wang Li, professor of Olympic Study at Beijing Sports University as saying: "Marketing an image that is suggestive of an official symbol without a permit is still (copyright) infringement.
For their part online sellers say is just a bit of fun, and that their image is different – just four rings and a malfunctioning snowflake.