SOCHI, Russia — Where is everybody?
Swaths of empty seats are visible at the early events of the Sochi Olympics, even at some of the traditional glamour events, frustrating organizers who want to sell the excitement of the Winter Games.
A women's ice hockey match between Sweden and Japan drew fewer than 3,000 people on Sunday at Shayba Arena, which holds 7,000. The United States beat Finland a day earlier in front of a little more than 4,000, still well short of capacity.
Dots of empty-seat orange, yellow and white speckled the stands for speedskating over the weekend at Adler Arena. Even the skiers in the men's slopestyle final, an extreme-sports event debuting in Sochi, flipped and twisted and corked before hundreds of no-shows.
Blame the "Russian mentality," Olympic organizers say.
"Russians like to come to the event not prior but as close as possible, and that is why, indeed, we had an issue of a lot of spectators being late for the games," said Aleksandra Kosterina, a spokeswoman for the Sochi 2014 organizing committee.
She said that 92 percent of tickets available for the first full day of competition had been sold — but that the actual turnout was 81 percent.
"People are really working out the timing, how long it actually takes them to get to the venues, how long it takes them to cross the security barrier, so it is not an issue of security, per se, but of logistics," she said.
"We are trying to inspire our local fans to come longer in advance."
Organizers say they're trying to get the word out that spectators need to show up earlier. But for Russians who were trying to get to the games on Sunday, it wasn't that simple.
You can't get into the Sochi Olympics with just a ticket, even if you bought it long ahead of time. Because of the extra security surrounding the games, it also takes a spectator card — a picture ID encased in plastic, known locally as "the fan's passport."
Actually getting the card takes just a few minutes — but there aren't many places to do it, resulting in long lines. On Sunday, people reported waiting four hours or more at an accreditation center near the main railway station in downtown Sochi.
"What do I do now?" asked a woman who gave her name as Marina, who said she had made a five-hour drive from the city of Krasnodar, with a ticket for luge in hand, and then waited four and a half hours at the accreditation center.
One man simply gave up, waving his tickets in the air and saying: "Anybody here interested in skiing?"
Ticket prices for Sochi vary widely. The most expensive seat for the closing ceremony costs 37,000 rubles, or more than $1,000. Russians can get into dress rehearsals for speedskating for $14, and into the pairs figure skating competition for $57 to about $500.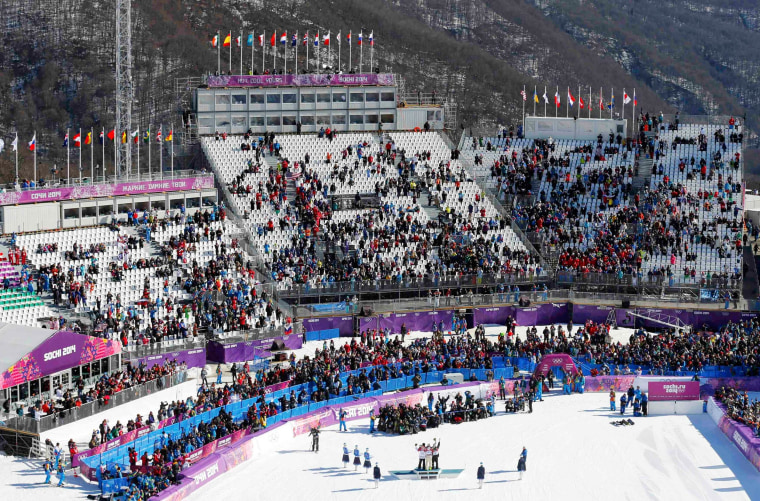 There's no doubting the enthusiasm of the Russians who make it to the venues. They stream through Sochi Olympic Park during the day, decked out in the white, blue and red of the national flag.
And on Saturday night, when 15-year-old Yulia Lipnitskaya finished an electrifying routine at the team figure skating event, the crowd at the Iceberg arena stomped, cheered and chanted, "ROSS-I-YA!"
"I like the Olympics," said Olga Klipov, who had plans to see luge and women's hockey. "It united us, and it's great to see so many faces together."
But the attendance figures are less than ideal for organizers, and some athletes notice, too. Marco Sullivan, an American downhill skier, called the atmosphere at the Rosa Khutor course "subdued" on Sunday.
It's not uncommon for seats to be left empty, particularly toward the beginning of an Olympics, during preliminary rounds of competition — although the vacancies at slopestyle over the weekend were for gold-medal finals.
Some of the empty seats are reserved for relatives of athletes and for Olympic sponsors. And those tend to be in prime locations, which makes the problem look worse on television around the world.
Empty seats turned into a huge headache for the organizers of the Summer Olympics two years ago in London. British fans who lost a lottery for tickets were infuriated when they saw rows and rows of no-shows at tennis, swimming and other marquee events.
London planners brought in members of the military to fill the stands — and quickly put tens of thousands of additional tickets up for sale to the public.
Russian organizers have also let volunteers in to fill the stands. But Dmitry Chernyshenko, head of the Sochi 2014 organizing committee, said he hoped it would be fans packing the seats later in the games.
"We are trying to inspire our local fans to come longer in advance," he said.