SOCHI, Russia — Soupy fog settled over the outdoor Olympic venues on Monday, making it impossible for athletes to see shooting targets in biathlon or navigate the high-banking turns of the course in snowboard cross.
Both events were called off for the day. For the athletes, who have already spent a week dealing with unusually mild weather that has turned snow to slush here, the sentiment was clear: Enough is enough with the weather.
"Time to go race in the Olympics," snowboarder Alex Deibold tweeted in the morning. A few hours later, it was clear that wasn't going to happen:
Snowboard cross, originally set for Monday morning, was delayed, then moved to Tuesday. Preliminary runs to determine seeding for the finals were canceled. Snowboarders will now be seeded for the finals according to their world rankings.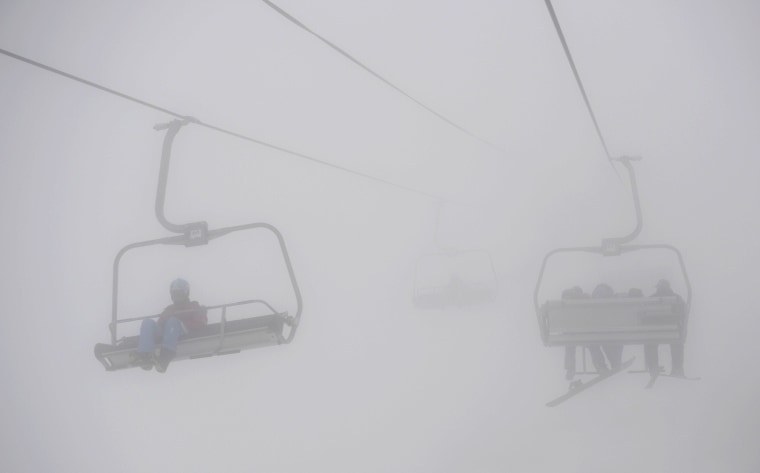 The men's biathlon mass-start race was rescheduled for Tuesday. It had already been moved from Sunday, the first time the Olympic biathlon has been moved because of weather since 1998 and only the third time ever.
The fog lifted enough for a women's biathlon event, the 12½-kilometer mass start, to start as scheduled Monday night. Earlier in the day it looked less certain:
Down on the Black Sea coast, the fog burned off by midday, and Olympic Park was busy with people, but all the events in the so-called coastal cluster, like curling and figure skating, are indoors anyway.
The Sochi Games have been bedeviled by weather. Last week, the concern was mild temperatures that softened the Alpine course and turned the bottom of the halfpipe into a bumpy, grainy mess.
On a soft course, Lindsey Jacobellis took a tumble during the semifinals of the women's snowboard cross on Sunday and told reporters later that it was "kind of like landing on mashed potatoes."
Olympic organizers spent a fair amount of their daily press conference on Monday defending themselves against questions about whether the mild temperatures were making courses unsafe and contributing to an unusual number of injuries.
"I think it is actually quite ironic that the biggest issue we've had so far is due to winter fog and that led to the biggest postponement we've had," said Mark Adams, a spokesman for the International Olympic Committee.
Sergey Belikov, manager of the Rosa Khutor resort, which is hosting Alpine events, insisted that there was no risk that the snow would melt there for remaining events. Natural and artificial snow have provided a 5-foot-thick cushion, he said, and that would be enough.
"We don't need any snow. We don't need to produce any snow," he said. "We are not afraid of the sun."