American figure skater Ashley Wagner dubbed herself "The Almost Girl" after she didn't make the U.S. team in 2010, but she was determined not to be "The Never Girl."
She decided the loss would inspire her to work harder to reach her goal of becoming an Olympian.
"I want to be on that podium. I want to be an Olympic medalist," Wagner, 22, said in August, before she even competed in the U.S. championships.
The U.S. has high hopes for Wagner, too, as it hasn't seen a female figure skater take home a medal since Sasha Cohen won the silver in 2006.
Wagner spent 17 years conquering challenges on and off the ice, and on Saturday her efforts came to fruition as she skated for the first time in the Olympic Games.
The 22-year-old started ice skating at 5 years old. She was a military kid who moved often, and she and her mother, Melissa James, both credit skating with helping her adjust to new places.
"It's been her passion. It's been her consistent best friend," James said.
Wagner was even training when she found out her father was in the Pentagon during the terrorist attack of Sept. 11, 2001. Fortunately, he was safe, and to this day, she credits her father's military strictness with her resolve and discipline.
That resolve gave Wagner the courage to move from Delaware to California so she could work with the coach who she believed would be the ticket to her second shot at making the Olympic team.
In California, Wagner wasn't just perfecting her sport. She was also in school and working at a clothing store to pay her rent in a more expensive environment than she was used to.
"It wasn't exactly the glamorous lifestyle," Wagner admitted. For a while, she ate only peanut butter and jelly sandwiches so she could train more than she worked and still support herself.
The coach Wagner moved cross country for, John Nicks, said her independence is one of the things that helps her craft.
"You don't have a dozen or more teammates to support you," Nicks said. "You're out there by yourself. And there's a lot of pressure involved with that, and Ashley is somebody that reacts to that — very well."
James agreed that her daughter has an independent spirit — that her fierce drive is innate.
"She was a competitor from the day she was born," said James.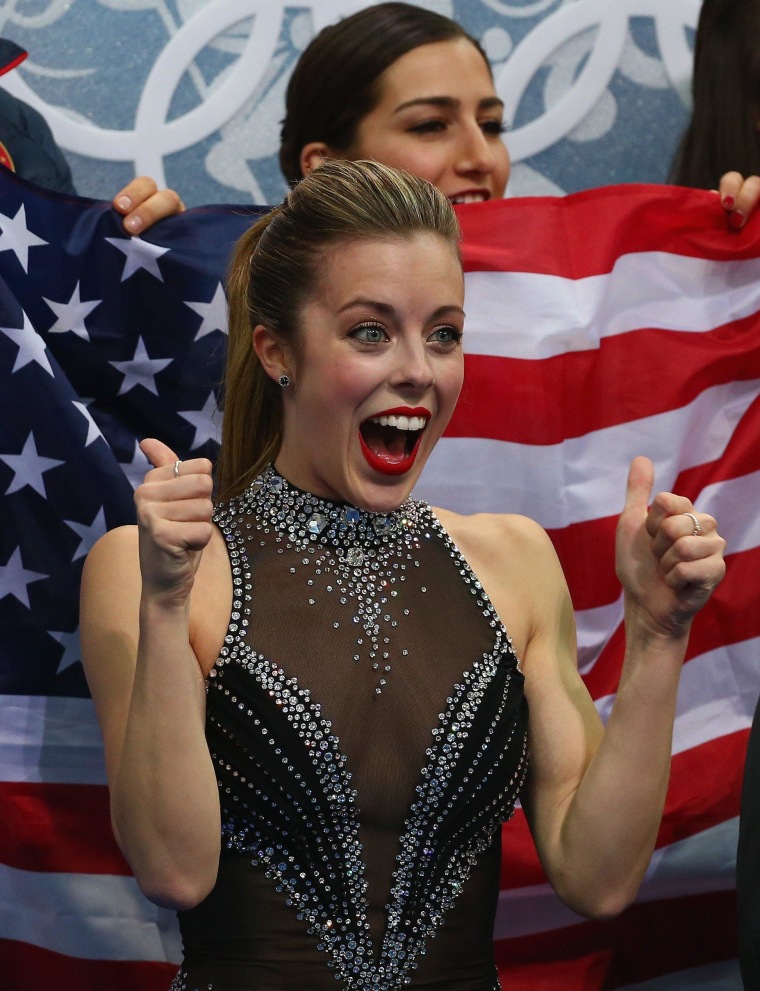 Wagner doesn't deny her competitive nature. "I love to win, honestly. ... If you love to win, you should say it. And honestly, I'm hooked on it," she said.
Wagner and Nicks said the move that gives the skater a completive edge at the Games is her triple-triple combination jump, but Wagner's joy when she is on the ice is also a huge factor to her success.
"She loved the ice the moment she stepped on it," James said.
"When you push and it's just effortless ... it's kind of like flying, in a way," Wagner said.
Wagner believes balance in all aspects of life is important, so she also pursues hobbies like yoga and paddleboarding.
"For me, that helps make competition so much easier, because I'm standing on the ice and I know that I have something beyond skating. And it just kind of keeps me calm," she said.
Wagner is also passionate about LGBT rights, and while she concedes she can't change the law of a country, she "would love to dedicate something to the LGBT community" during her time in Sochi.
But while Wagner plans to fight for her beliefs in Sochi, she will let few distractions get in her way. She has decided to sign off of all social media after Twitter backlash erupted when she was placed on the Olympic team after having fallen twice during Nationals.
Many felt Mirai Nagasu, who came in third, should have gone to the Games. But Wagner was chosen because of her solid previous record.
Wagner related her less-than-stellar Nationals performance to her skating journey as a whole — another reason for the audience to connect with her.
After the fateful competition and her selection for the Olympic team, she said, "I always have felt like I've had one of those careers that people can relate to.
"Nothing has been easy for me. ... I've always had to work for everything I've gotten and everything I've accomplished."
Elisha Fieldstadt of NBC News contributed to this report.