SOCHI, Russia — Oshie owns Sochi.
T.J. Oshie, barely out of diapers when the Cold War ended, slipped the puck past a Russian goalie Saturday for the fourth time in six attempts to deliver a heart-stopping win for the United States in Olympic hockey — with President Vladimir Putin looking on from the stands.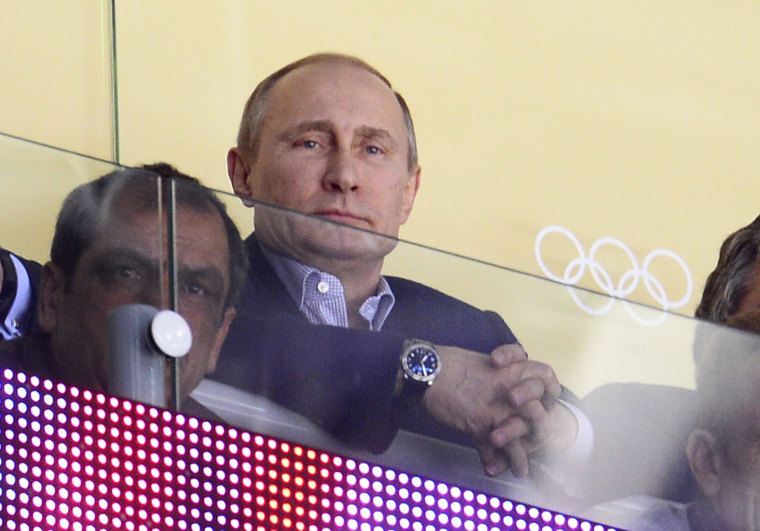 He was showered immediately with praise online — marriage proposals, pledges to name children after him, suggestions that he run for president. And then the real president weighed in with kind words.
The goal came on the eighth shot of a do-or-die shootout round that Oshie kept alive almost single-handedly. It came after a taut, five-minute overtime stalemate. It came after a dramatic regulation period in which a goal was disallowed because the goal itself had come dislodged.
It came 34 years after the United States beat the Soviet Union in the Miracle on Ice at the Lake Placid Olympics. And it came on a Saturday morning in the United States — with Americans just waking up as the tension of the game built over three hours.
After the winning shot, adulation poured out for the young star. He shot toward the top of the trending topics list on Twitter. And that was only the beginning of it.
Oshie himself gained thousands of Twitter followers by the minute.
By day, he is a 27-year-old right wing for the St. Louis Blues, playing in his first Olympics. He was born in Everett, Wash., but was raised in hockey-crazy Minnesota. He played three seasons at the University of North Dakota before he was drafted by the Blues.
"It was a lot of fun," he told NBC Sports Network after the game. "I was glad it ended when it did. I was running out of moves."
While the world watched, Oshie made sure to let one person back home know how he was playing.
"I texted my girlfriend and told her I was going to be at the office for a little while longer tonight," he told reporters. "She was awake, and watching the game."
It was exactly the opposite reaction at a pier in downtown Sochi, where 300 or 400 Russians had gathered to watch the game on two giant screens. When Oshie scored the game-winning goal, faces fell and the pier quickly emptied out.
— Lou Dubois and Irina Tkachenko of NBC News contributed to this report.