SOCHI, Russia — You can understand the appeal of speedskating. It's blade against ice, a mix of raw power and an odd grace. Or figure skating — impossible beauty, the suspense of the leap. Or the new extreme sports, which defy Olympic history and physics itself.
But curling. Let's talk about curling.
This is a sport that combines the excitement of rocks with the drama of Swiffering. A sport whose main contribution to cultural buzz in recent history has been not game action but the blinding pants worn by the Norwegian team.
And yet: Every four years, the sport of curling seems to gain a small cult following on cable during the Olympics. During the Sochi Games, it has been hotly discussed on Twitter.
And here in Sochi, at the Ice Cube Curling Center, thousands of people turn out to watch — stomping, cheering, chanting, waving national flags. Sometimes as early as 9 in the morning, and sober.
The Ice Cube seats 3,000. For the most part the crowds have been far short of capacity, but what they lack in number they more than make up for in cowbell. Always with the Swiss fans and their cowbells.
What could explain such devotion to a sport so genteel that it almost always polices itself, without referees? So serene and quiet, at least on the frozen, 150-foot-long playing surface known as the sheet, that it makes televised golf look like ultimate fighting?
"It's like bocce ball on ice!" Morgan Simms, who turned up for a morning session at the Ice Cube this week, explained, less than helpfully.
Simms is a construction worker from Edmonton, Alberta, and came to watch on a day when Canada was not even playing. There were three matches going on at once, and Simms was locked into a tight contest between China and Switzerland.
In Canada, he said, curling is available everywhere — it's televised regularly, and local curling clubs enjoy strong popularity. Demand for curling tickets was so high at the Vancouver Olympics that scalpers wanted $500 for a seat to the men's final.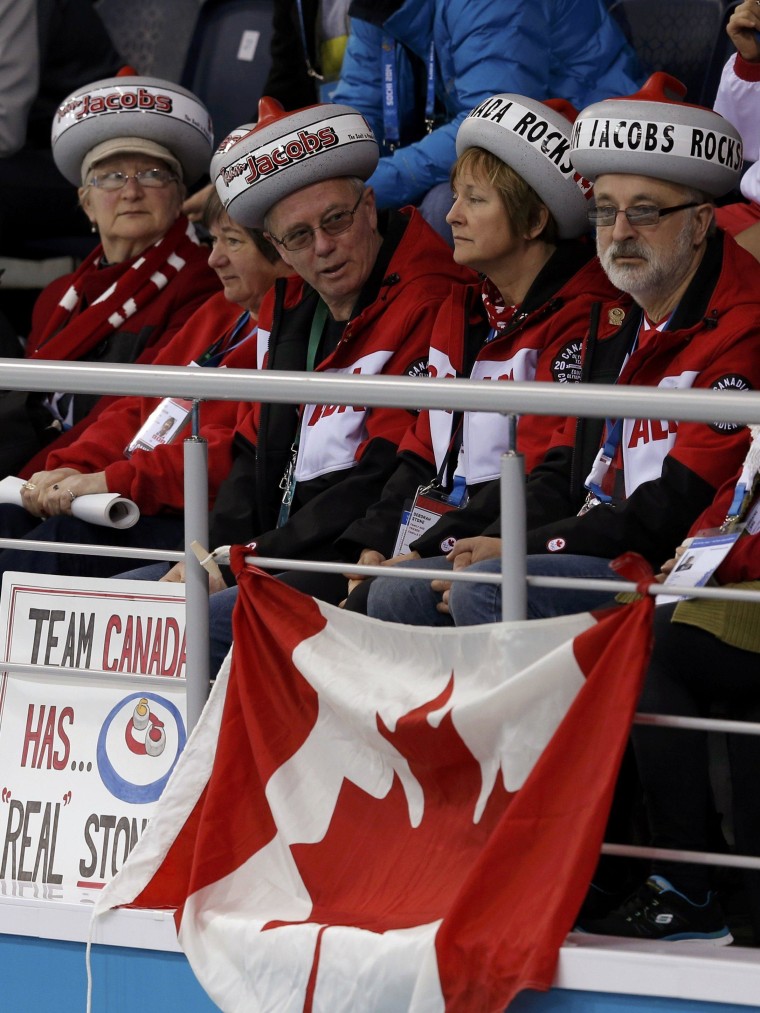 "You end up following it naturally," Simms said, likening it to baseball in the United States. "And it's a nice sport to turn on if you're doing something else. If you turn away, you probably won't miss anything."
A primer: In curling, teams of four players take turns pushing themselves off from a rubber block known as the hack and gently gliding polished granite stones toward a scoring zone of concentric rings at the opposite end of the ice.
In Sochi, the curling stones weigh 42 pounds and are supplied by a small family company in Scotland, which fashions them from a particularly durable, dense type of granite in rich supply on a small island there.
As the stone slides down the ice — which is pebbled, and produces the sound that gives curling its nickname of "the roaring game" — other players sweep the ice furiously with synthetic brooms to reduce friction and land the stone where they want it.
While this is going on, the team leader, or skip, shouts instructions to the sweepers. They were the inspiration for a video starring the U.S. womens' team that went viral, at least among curling fans, earlier this year:
The object is to get your team's stones closer to the center of the concentric circles, known as the house, than your opponents'. Eight stones per team make an end, similar to a baseball inning. Ten ends make a match.
There's plenty of strategy: Some stones are designed to land in the scoring zone, and others are designed to take out opponents' stones — producing a satisfying thwock. This was happening a lot to the United States early in a recent match against Denmark.
"Watch this. They're going to try to get us out of the way," Mike Wolf of Blooming Grove, Wis., who paid $57 for his curling ticket, said from the stands. "Yep. That's what they did. Beautiful shot."
The U.S. fell behind 3-0 but rallied to win the match, 9-5.
The curling fans who spoke to NBC News during the morning's matches — all happening at once, like a live NFL Red Zone channel for sliding rocks — grew serious when asked to explain the appeal of the sport.
"Anybody can just go out there and toss a rock," Steve Landsteiner of Mapleton, Minn., said during a break in the action. "But to do it accurately — that's really something. It's a chess game on ice."
"The ice changes constantly," added his wife, Cheri. "Reading the ice takes a lot of skill. And the sweeping of the rock is a tremendous workout."
They were part of a contingent of 10, laps draped in American flags, gamely trying to start a chant of "U-S-A! U-S-A!" As it happened, they were all friends or relatives of John Landsteiner, a 23-year-old civil engineer who curls for the American team.
"He's the best sweeper out there," his father said.
Steve Landsteiner has been curling for 39 years, and some curling fans at the Ice Cube said the availability was part of the appeal of the sport: While the stars of curling are increasingly athletic and decreasingly pot-bellied, you can play it forever.
"It's a very social sport," said Scott Simms, a geophysicist from Calgary, Alberta, and Morgan Simms' brother. "After a curling match, you always go for a beer with the team you played against. It's a big part of the community. People get married at curling matches."