SOCHI, Russia — The deputy prime minister of Russia said Thursday that gay Olympians and fans have nothing to worry about but added: "Please do not touch kids. That's the only thing."
Russia passed laws last year criminalizing the promotion of gay "propaganda" to minors and restricting gay adoption, and human rights organizations have described a pattern of oppression of Russian gays and lesbians, including videotaped beatings.
A new television documentary airing on Channel 4 in the U.K. Wednesday night showed graphic footage of violent homophobic attacks in Russia in the run-up to the Sochi Olympics.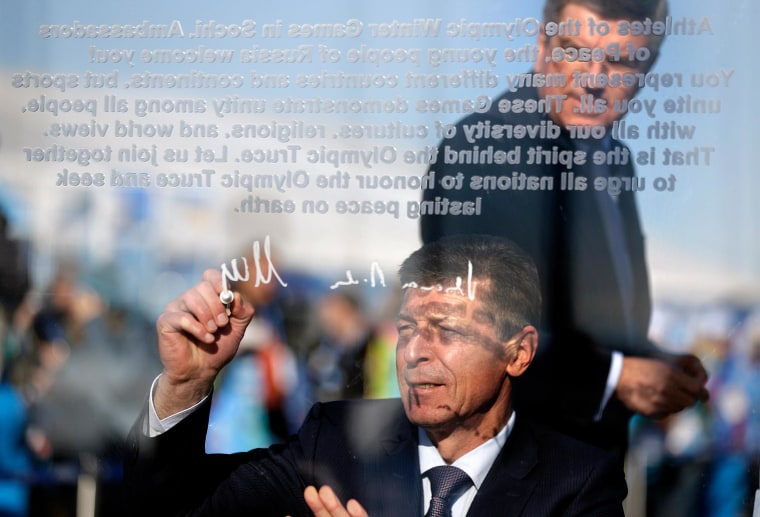 The deputy prime minister, Dmitry Kozak, told reporters in Sochi Thursday that Russia does not "differentiate between people depending on their religion or their sexual orientation." He spoke in Russian, and his remarks were simultaneously translated by Olympic organizers.
Kozak added: "We are all grownups, and any adult has his or her right to understand their sexual activity. Please do not touch kids. That's the only thing. During the opening ceremony, during the closing ceremony, during the sports events, I hope that we will not see such problems."
Russian President Vladimir Putin last month expressed a similar sentiment. He said that gays were welcome in Sochi, but urged them to "leave the children in peace."
Olympic competition began Thursday in Sochi, and the opening ceremony is Friday night.
U.N. Secretary-General Ban Ki-moon, addressing the International Olympic Committee on Thursday, said that the games show the power of sports to unite people regardless of sexual orientation.
"We must all raise our voices against attacks on lesbians and gays, bisexual, transgender, or inter-sex people," he said, according to Reuters. "We must oppose the arrest, imprisonment, and discriminatory restrictions they face."