An activist group in Russia is claiming that four people were arrested in St. Petersburg Friday as they tried to hang a banner protesting about the country's strict gay rights laws from one of the city's bridges.
Police swooped in as they got out of a car holding the banner reading: "Discrimination is incompatible with Olympic movement. Principle #6. Olympic Charter," said Maria Kozlovskaya, a program manager at the Russian Lesbian, Gay, Bisexual and Transgender (LGBT) network. They will likely face court tomorrow, she added.
Friday's arrests follow the detention of four more activists in the city on Wednesday after they unfurled banners comparing the Sochi Winter Olympics with the 1936 games in Nazi Germany, according to local media reports.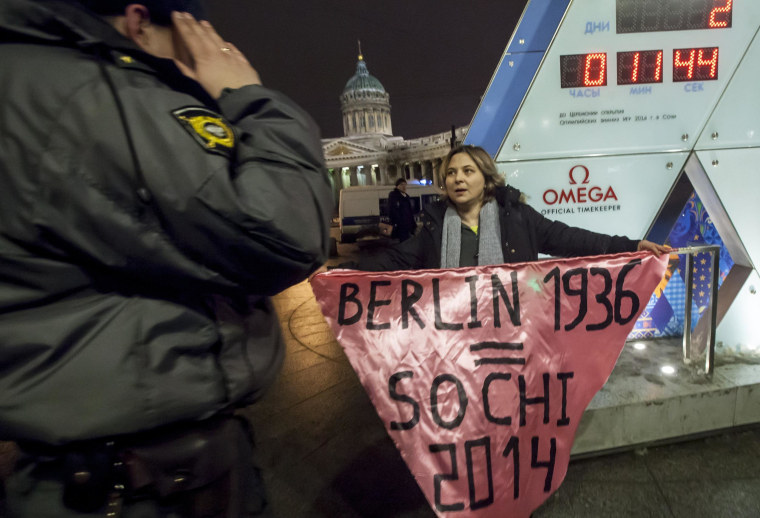 They had intended to hold up large pink triangles emblazoned with the words: "Berlin 1936 = Sochi 2014" at two of the cities subway stations, but after being stopped by police they held a brief demonstration at the city's Olympic countdown clock, according to the MR7 news website.
The pink triangle was intended to mimic the patches that homosexuals had to wear in Nazi concentration camps, the group said on their Facebook page.
Russia passed laws last year criminalizing the promotion of gay "propaganda" to minors and restricting gay adoption. Human rights organizations have described a pattern of oppression of Russian gays and lesbians, including videotaped beatings.
NBC News analyst and former Russia expert in the Clinton White House, Andrew Weiss said that these arrests were consistent with how Russia has responded in the past.
Police had not responded to repeated calls at the time of writing.