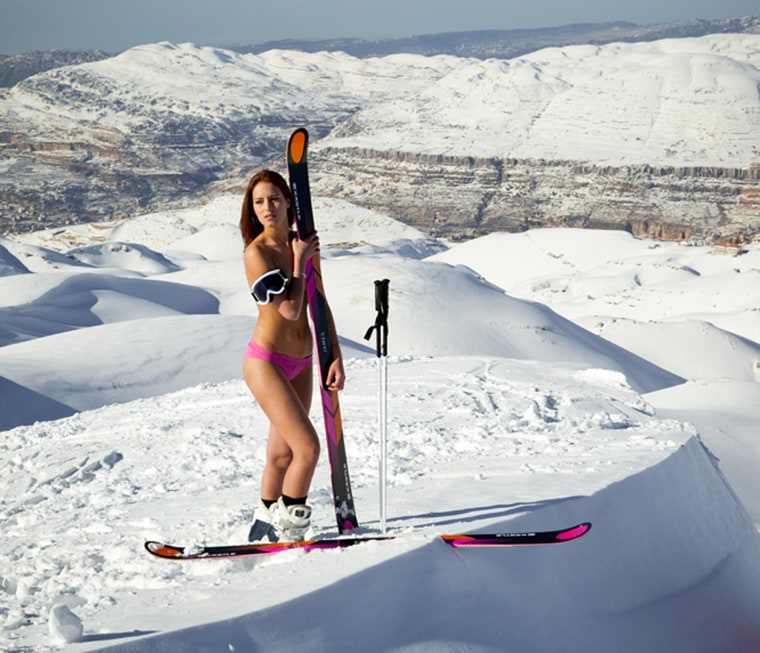 Lebanese are stripping down and taking social media by storm in solidarity with an Olympic skier who has come under fire back home for some racy photos.
The #StripForJackie social media campaign has unleashed a wave of funny, nearly-naked photos online in response to the backlash over sexy photos of Lebanese Olympic Alpine skier Jackie Chamoun.
Behind-the-scenes footage from a risqué calendar photo shoot three years ago show a scantily-clad Chamoun on the slopes of Lebanon's mountain resort Faraya. The photos just surfaced on the Internet ahead of the Sochi Winter Olympics.
While Beirut is known for its cosmopolitan high fashion, segments of Lebanese society are still extremely conservative by Western standards and some questioned whether Chamoun was properly representing the country at the Olympics.
In response, Lebanon's Sports and Youth Minister, Faisal Karameh, ordered an investigation into the photos to ensure "the protection of Lebanon's reputation," according to Lebanon's National News Agency.
In retaliation, a Facebook group called "I Am Not Naked - #StripForJackie" has offered free studio photo shoots for supporters in Lebanon and Paris.
Hundreds have opted to take selfies at home holding #StripForJackie signs. Corporations seem to be poking fun at the trend, such as Lebanon's local beer, Almaza, which tweeted an image of a naked beer bottle with a tagline in mock-frustration: "Don't make me remove my clothes!"
Chamoun, 22, spoke with NBC Olympics in January stating that she enjoyed doing the photo shoot and held no regrets, but appeared to balk in the face of the backlash this week.
She issued an apologetic statement on her Facebook page: "I know that Lebanon is a conservative country and this is not the image that reflects our culture. I fully understand if you want to criticize this."