SOCHI, Russia — The stray dogs meandering around this city have been as common a sight as the Olympic rings — trotting alongside transit buses, ambling outside the figure skating venue, even wandering into a hotel room or two.
But international concern for the strays is growing as Sochi cleans itself up for the games, which formally open on Friday night. Animal activists say hundreds of them have been killed in the days before the Olympics.
Two shelters have opened, one private and one municipal, but they are in a rural, muddy, hard-to-reach outpost. The private shelter has no running water, and the municipal shelter has no veterinarians on staff, animal rights activists say.
Meanwhile, dogs are disappearing from the streets. The government has declined to say how many have been captured or killed. People in Sochi say they have seen dogs killed with poison darts or eating poison off the street.
"Many people want them killed, because they are pests or because they think their children could be bitten."
Dina Filippova, an animal activist here, said that some were being injected with muscle relaxants powerful enough to suffocate them and stop their hearts. She and others have taken in dogs to save them.
"My friend and I are taking care of 18 dogs together," said Dina Filippova, an animal activist from Sochi. "I have four in my house. No one will ever take them."
Someone called her recently about a puppy that had been struck by a car and was lying in busy street, she said. A veterinarian found that the dog's legs were broken a week ago or more.
Thousands of people had walked by without reporting the animal, Filippova said. She said she had raised $330 for the dog online but already spent $200 on surgery, and she did not sound hopeful that the puppy would find a permanent home.
"People do not adopt from the street in this town," she said.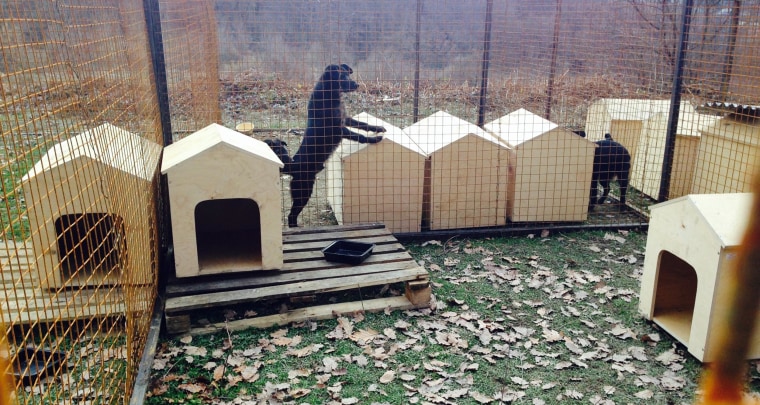 Concern for the strays of Sochi has grown as pictures of them have circulated online. The hashtag #dogsofsochi has gained popularity, and international animal rights groups have petitioned the Russian government to save the dogs.
One of those groups, Humane Society International, sent an open letter earlier this week to President Vladimir Putin, himself a known lover of dogs and other animals. Just the other day, he was photographed stroking a leopard.
"With the Olympics around the corner, a spotlight is shining unwanted attention on the brutal killing of dogs around Sochi," the letter said. It encouraged him to start a humane mass sterilization program, but noted that "sadly it is too late for many dogs in Sochi."
But the Western concept of controlling the pet population by sterilizing animals is unfamiliar here.
"Nobody talks about it," Filippova said. "It's do we kill them or do we not? And many people want them killed, because they are pests or because they think their children could be bitten."
A local pest control company, Basya Services, told The Associated Press that it had a contract for the "catching and disposing" of dogs during the Olympics.
The director general of the company, Alexei Sorokin, said the dogs had been biting children, and that one of them had walked in on a rehearsal for the opening ceremony, which is Friday night.
"God forbid something like this happens at the actual opening ceremony," he told the AP. "This will be a disgrace for the whole country."
The company did not answer repeated calls from NBC News on Thursday.
Olympic organizers, aware of a growing international outcry over the strays, said that no healthy dog would be destroyed.
"Those that are fully healthy are being taken away and released elsewhere," said Mark Adams, a spokesman for the International Olympic Committee. "If they are sick and dying, then, as with the vast majority of countries in the world, they will eventually be put down."
Many of the strays were left homeless during the enormous redevelopment project that has transformed Sochi, a quiet Black Sea resort, into a gleaming Olympic city in recent years, as organizers razed neighborhoods and raced to build facilities.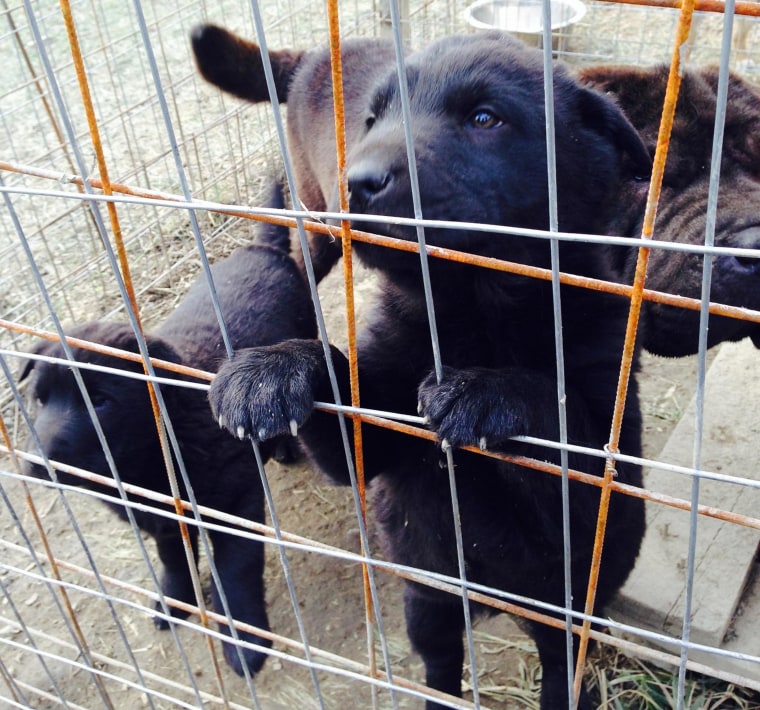 It was only this week that one of Russia's largest private charity funds, bankrolled by the oligarch Oleg Deripaska, announced that it had opened the first dog shelter in Sochi, called PovoDog.
But only 100 dogs had been taken there through Thursday, a small fraction of the number roaming the Olympic city.
And the facility is far from ideal: The head of the charity, Tamara Rumyantseva, said in a statement that there was no water and electricity, and that workers had to carry water in and rely on generators.
Shelter officials hoped to move to a new place soon, "with more comfortable conditions for animals," she said. A spokeswoman told NBC News on Thursday that reporters were not allowed to see the facility.
Deripaska is one of the major investors in the Sochi Games. His company, Basic Element, is also the developer of the Olympic village, a new highway connecting the coastal and mountain venues and a housing complex in the Olympic park.
"When the games are over, and the conversation shifts elsewhere, the animals will be forgotten again."
Pictures of the other shelter, the municipal facility, were posted on SochiBlog, a local site, by animal supporters. They show a muddy wasteland, soaked after a recent rain, with a few clapboard kennels encircled by a chain-link fence.
"I watched the first 15 dogs being delivered to the shelter on Wednesday," wrote Mariya Sutyrina, a local activist. "There was no staff to take them. The dogs and puppies were dropped off in the pens without food or water. Just left there in the cold surrounded by a rusty metal net."
Filippova said that international attention on the problem of the strays was helpful, but she said that businesses and Russian officials were not offering any meaningful, long-term help.
"The most we get is an ironic smile," she said. "And when the games are over, and the conversation shifts elsewhere, the animals will be forgotten again."