SOCHI, Russia — Two members of Pussy Riot, the Russian feminist protest band that gained worldwide attention for opposing President Vladimir Putin, were detained here Tuesday in the biggest political disruption of the Winter Olympics so far.
Police said that they were questioning the women, Nadezhda Tolokonnikova and Maria Alyokhina, about a theft at their hotel. The pair emerged from a police station near Olympic Park after a number of hours, wearing brightly colored balaclavas and singing. One defiantly raised a fist.
Both women said on Twitter that they had been roughed up during the questioning. Tolokonnikova said her arms were twisted and she was thrown on the floor, and Alyokhina said: "Dragged into the investigator's office along the stairway. Everyone has bruises."
The Sochi Interior Ministry said later in a statement that the questioning was over and "we have no issues with those questioned," according to the Russian government news agency Ria Novosti.
Tolokonnikova said the band members had also been detained seven hours on Sunday and "spent 10 hours" on Monday with the Russian security service.
In a phone interview with Radio Free Europe and Radio Liberty from inside a police vehicle on Tuesday, Tolokonnikova said that the women had been constantly tailed, both on foot and in their cars, by Russian authorities.
After they were stopped by traffic police, they decided to take public transportation, she said, "but they thought up a new thing — they accused us of a criminal offense."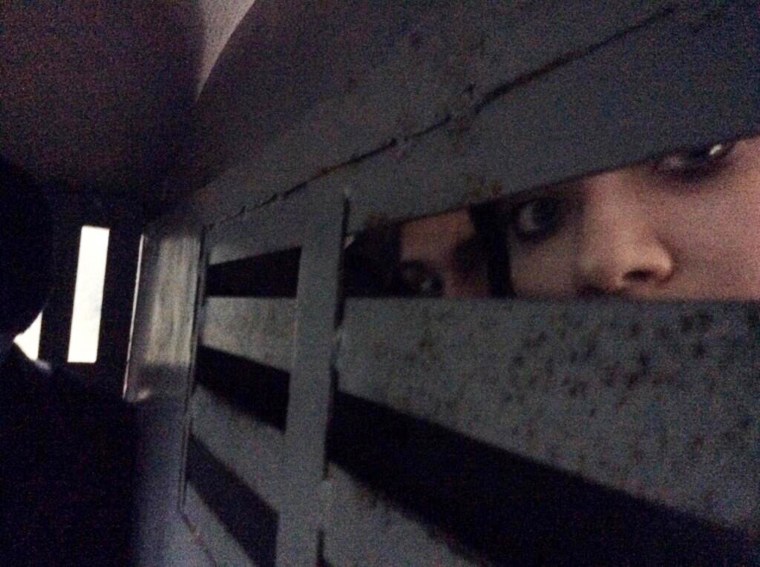 After their first detention, on Sunday, the women called a help line to complain that they were being illegally held, but they were told that they were on a "wanted list" kept by Russian security services, Tolokonnikova said.
"And today police officers, Cossacks, drove up to us and shoved us into this paddywagon," she said in Russian.
The women were questioned Tuesday at a police station in the Adler district, near Olympic Park and the arenas where figure skating, ice hockey and other events are taking place at the Sochi Games. Simyon Simonov, a local activist, said that nine people in all were detained in Sochi.
"We were walking on the street" when the police came and arrested them, he said. He said that police accused them of stealing from a hotel room.
In a statement, the Sochi police said that the women were being questioned "in connection with a complaint received from the hotel they are staying at, about a theft that occurred there. Along with Tolokonnikova and Alekhina all those staying at the hotel are being questioned as well."
Tolokonnikova and Alyokhina served more than a year in prison after they were convicted of hooliganism for staging a protest against Putin and the Russian Orthodox Church inside a Moscow cathedral.
They were granted amnesty by Putin in December, easing one point of tension between his government and the West as Russia prepared to host the Olympics. Putin said at the time that the women had engaged in "disgraceful behavior" that degraded women.
The women have continued to speak out against Putin. Tolokonnikova said on Twitter that the band in Sochi to work on a new song, "Putin Will Teach You to Love Your Motherland."
Putin's government considered banning protests during the Olympics but decided instead to relegate protesters to a park about miles from the Olympic Park and the cluster of venues hosting curling, ice hockey and other indoor sports.
But protesters have to apply for a government permit, and it is not clear that any have been granted. And perhaps as a consequence, the Olympics, which conclude on Sunday, have mostly been free of political disruption.
Vladimir Luxuria, a gay rights activist and transgender former member of the Italian Parliament, said she was detained by authorities after unfurling a "Gay Is OK" banner at the Olympic Park.
A gay rights organization said that Luxuria was detained again Monday, wearing a rainbow-colored outfit and a headdress, as she tried to enter the Bolshoy Ice Dome to watch a hockey match.
Human rights organizations have expressed outrage at what they describe as the systematic intimidation of Russian gays, and at a law passed by Russia last year making it a crime to spread gay "propaganda" to children.
— Irina Tkachenko of NBC News contributed to this report.