SOCHI, Russia — The two places Katie Uhlaender feels most at home couldn't be more different — a cattle farm on the flatlands of Kansas and the unforgiving, narrow, breakneck sheet of ice known as the skeleton track.
Yet Uhlaender, who will take to her bare-bones sled Thursday and represent the United States as she hurtles face-first down an Olympic course that drops 436 feet and takes 17 curves, sees similarities in her two passions.
For one thing, neither calling is exactly a 9-to-5 job. For another, her inspiration in both lines of work is her father, Ted Uhlaender, who played eight years as a center fielder with the Minnesota Twins, Cleveland Indians and Cincinnati Reds.
He taught her to love the farm, and he taught her to be fiercely competitive. She recalled with a laugh that he never seemed to let her win as a child, whether it was footraces or playing cards. She had to earn whatever she got.
He died five years ago after a diagnosis of multiple myeloma, a cancer of the plasma cells in bone marrow. His daughter still wears her father's 1972 National League championship ring around her neck.
"We had a mutual understanding on what it took to make it to the highest level in sport," Katie Uhlaender told NBC News on her family's ranch in Atwood, Kan., before she left for Sochi. "The sacrifice, the determination and the perseverance."
At the Sochi Games, Uhlaender, 29, will shoot down a track almost a mile long — the longest bobsled and skeleton course in the world — in hopes of becoming the first American skeleton medalist since 2002. Skeleton speeds can top 80 mph.
She will race four months after hitting her head on the track in Lake Placid, N.Y., a section known as the Devil's Highway. She didn't train or compete for six weeks, and spent a week at a Dallas brain center in December to recover.
Uhlaender, who has a shock of electric-red hair and a contagious laugh, isn't just looking to the medal stand in Sochi. She wants to compete in weightlifting at the Summer Olympics in Rio de Janeiro in 2016, and then in skeleton again at Pyeongchang in 2018.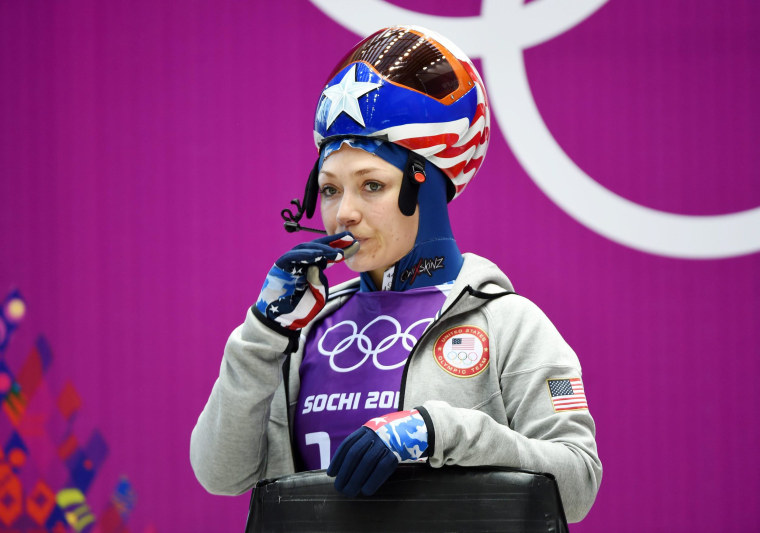 "I mean, does going head-first 90 miles an hour ever get boring? It's so fun. I love it so much," she said. "The aspect of being the complete jock athlete off the block having to be strong and powerful and then loading onto your sled and hitting zen. It's relaxed chaos."
She made her Olympic debut at the Torino Games in 2006, placed sixth and appeared to be on track for a medal the next time around. She won back-to-back World Cup skeleton titles.
Her father was diagnosed in 2008. Katie offered to scale back her World Cup competitions to be with him, but he told her it would be the wrong thing to do, so she pressed ahead. She later called those international races the hardest thing she ever had to do.
"I mean, does going head-first 90 miles an hour ever get boring?"
She looked after him when she could, and named his chemotherapy machine Dirty Harry. On the morning of Feb. 12, 2009, Uhlaender spoke to her father before a World Cup race in Park City, Utah. She finished second, and then found out after the run that he had died.
Two weeks later, she competed at the World Championships in upstate New York, figuring that was what he would have wanted. She finished in seventh, and in tears.
Heartbroken and recovering from knee surgery, she finished a disappointing 11th at the Vancouver Olympics in 2010. She talked there to Carl Lewis, the former Olympian, who had lost his father as a young man, and helped her learn to let go.
Uhlaender also took over her father's struggling farm to honor him.
"She really enjoys being around things that her dad had started," said her mother, Karen. "I think it's part of trying to keep ahold of her dad's memory."
Besides her mother, Uhlaender draws support these days from figures in baseball who were friends of her father's, like Charlie Manuel, the former manager of the Philadelphia Phillies. Manuel told NBC News that he thinks of Uhlaender almost as a daughter.
He recalled that Ted Uhlaender, as a minor leaguer, was told that he needed to be an overachiever — that he had to work on his speed and try hard to improve. He was determined, he would say, to be a good major league ballplayer.
"She has the same determination her father used to have," Manuel said. "She's got that same type of drive."
Her performance has improved after her grief-stricken run in Vancouver. Uhlaender won the 2012 world title at Lake Placid and finished third in the World Cup last year.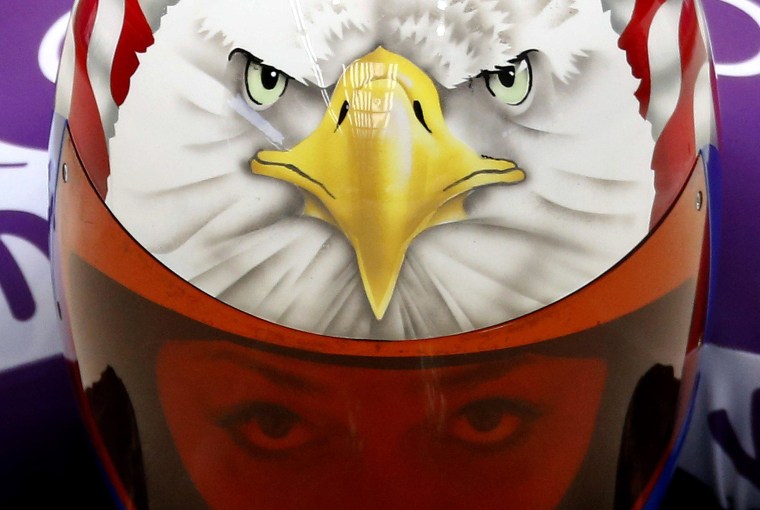 Back in Kansas, however, things aren't so good. The farm isn't turning a profit, and drought has killed grass in the pasture and raised the costs to feed her cattle. She has only a recently signed, relatively low-profile endorsement deal with Liberty Mutual insurance.
"That's the time I miss my father the most, is when there's trouble at home, or financial stress, or just, you know, life troubles," she said. "I'm just trying to uphold his legacy and take on what he left behind. I think that's what children are supposed to do."
The struggle is another reminder of the unexpected similarities she finds between farming and skeleton racing.
In both cases, she said, "You get up and you go what you got to do."