GWANGJU South Korea - Fifteen crew of a South Korean ferry that sank in April killing more than 300 people, mostly children, went on trial on Tuesday on charges ranging from negligence to homicide, with the shout going up of "murderer" as the captain entered the court.
Captain Lee Joon-seok, 68, and three senior crew were charged with homicide, facing a maximum sentence of death. Two were charged with fleeing and abandoning ship that carries a maximum sentence of life in prison. Nine were charged with negligence, which can also carry jail terms.
But family members appeared to have already convicted the crew who were caught on video abandoning ship, the captain in his underwear, while the children, obeying orders, waited in their cabins for further instructions.
As the defendants were led in, someone one shouted: "That guy is the captain, isn't he? Murderer!"
One relative held up a sign that read: "You are not human. You are beneath animals." An altercation arose between the relatives and security guards who tried to take the sign away.
The Sewol, overloaded and travelling too fast on a turn, sank off the southwest coast on April 16 on a routine journey from Incheon on the mainland to the southern holiday island of Jeju.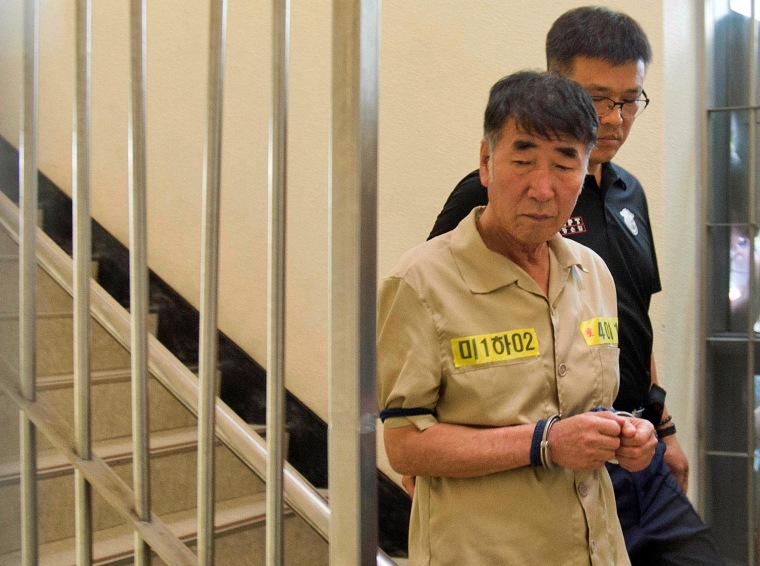 Of the 476 passengers and crew on board, 339 were children and teachers from the same school on the outskirts of Seoul. Only 172 people were rescued and the remainder are all presumed to have drowned.
Mourning family members packed the court in Gwangju, the closest city to the scene of the disaster, as the 15 were led in and seated in two rows of benches.
The 15 have been in detention since they were charged in May.
A Gwangju judge who handles media affairs, Hahn Jee-hyung, said the defendants were unlikely to get a full and concerted defense in the highly publicized case.
A panel of three judges presided on the first day of the trial, as the state called for justice to be served and the seven defence lawyers presented their case.
- Reuters