Angry family members shouted at South Korea's President Park Geun-hye and dismissed her apology about the ferry disaster on Tuesday after she visited a memorial set up for the students who died.
"What Park did at the memorial altar was like coming there to shoot an advertisement, surrounded by bodyguards," Yu Gyeong-geun, the father of one of the young victims, said afterwards.
Some grieving relatives shouted at Park as she visited Ansan city where the high school students are from, while others moved away condolence flowers sent by her and other top officials, according to South Korean media reports.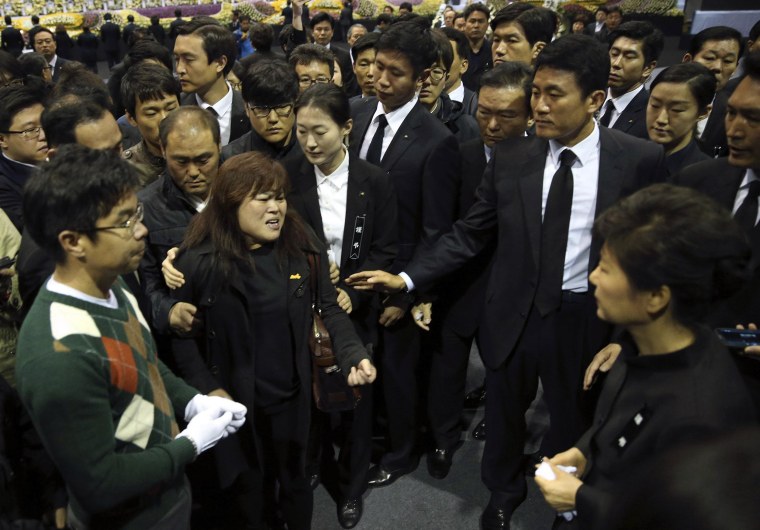 Park apologized for the government's inept initial response to the Sewol ferry's sinking but many of the victims' relatives have claimed that the government did not do enough to rescue or protect their loved ones.
Prime Minister Chung Hong-won has already resigned, criticizing the "deep-rooted evils" and "irregularities in every corner of our society" that had to be removed if another disaster like this is to be prevented, as he left office.
Two weeks after the Sewol sank off South Korea's southern coast, divers have recovered 212 bodies from the wreckage. They fought strong currents and floating debris inside the ship Wednesday as they searched for 90 passengers still missing.
The ship carried 476 people, which many of the passengers students on a field trip. Only 174 people survived, including 22 of the 29 crew members.
All 15 crew members of the Sewol involved in navigating the ship have already been formally arrested. The seven surviving crew members who have not been arrested or detained held non-marine jobs such as chef or steward, according to prosecutors.
The Associated Press contributed to this report.
- Henry Austin