One championship team faces allegations of cheating. A growing number of retired players are reporting severe brain damage. And criticism over the mishandling of players' off-the-field conduct is mounting.
But the National Football League rolls into Super Bowl XLIX with brand loyalty as rabid as ever.
Based on viewership and sponsorship interest, the NFL is flourishing through a series of highly-publicized fiascoes that would have wreaked havoc on many organizations with weaker brands, experts told CNBC.
"Just the strength of that product and fan loyalty and fan interest is so great that it's really kind of bulletproof at this point," said Michael Lewis, a marketing professor at Emory University who specializes in sports.
Ahead of the league's biggest game, attention has shifted to whether the pass-happy New England Patriots intentionally deflated game balls in order to gain a competitive advantage in Sunday's AFC championship victory. The story follows Commissioner Roger Goodell facing backlash throughout the fall for his discipline—or lack of it—of Baltimore Ravens running back Ray Rice, who was charged with assault, but avoided trial, after he struck his then-fiancee in an Atlantic City casino last year.
The NFL faced more media scrutiny this fall than at any time in recent memory, David Carter, a professor of sports business at the University of Southern California, said in an email to CNBC. The fervor of a 24-hour news cycle intensified questions about the NFL's integrity, leaving the league under a constant microscope.
"Issues related to image and credibility have surfaced periodically over the years, but they lacked the accelerant that is today's media—including social media," Carter said.
While Rice coverage still circulated in mid-September, former league Most Valuable Player Adrian Peterson became embroiled in his own legal problems over physically punishing his 4-year-old son. He wasn't allowed back on the field for the rest of the season. The troubles hit while the NFL slogged through disagreements over a settlement deal with thousands of former players who sought compensation for health ailments stemming from injuries suffered on the field.
"The product is so powerful that it can kind of wash away some of these effects."
The NFL did not respond to CNBC's requests for comment. But by most indicators, the league has persisted or grown despite those and other public relations fires it had to extinguish."The product is so powerful that it can kind of wash away some of these effects," said Ross Steinman, chairperson and associate professor of psychology at Widener University who has studied fan psychology.
Take Super Bowl ticket prices, which seem resistant to any negative NFL coverage. Resale ticket vendor TiqIQ notes that the average ticket sat above $4,400 on Wednesday, nearly $400 higher than on Monday, the day after the Patriots and Seattle Seahawks won their conference championship games and "deflategate" headlines first started to surface. Wednesday's "get-in" price sat at $2,125, more than $100 higher than the year before.
An average of 17.6 million viewers watched NFL games during the 2014 regular season, the highest since 2010, according to Nielsen.
Fans tuned in with even more fervor in the playoffs. More people watched the divisional playoff games this month than in any season before, according to a release from the NFL. Even though that number was down from the year prior, viewership for Sunday's NFC Championship game, with an average of 49.8 million viewers, still topped every U.S. TV event, sports or otherwise, since last year's Super Bowl, according to NBC Sports.
(NBC News Digital's sister company, NBC Sports, will be broadcasting the Super Bowl.)
The media and advertising frenzy surrounding the Super Bowl has shown no signs of slowing down, either. Super Bowl ads this year hit a record rate of about $4.5 million for a 30-second slot and at least 95 percent of ads sold out earlier this month, NBC Sports announced.
"Importantly, the owners back the commissioner and the league's TV partners and sponsors appear, at least on the surface, satisfied with league matters. The NFL, its brand, and America's obsession with it continues unabated," USC's Carter said.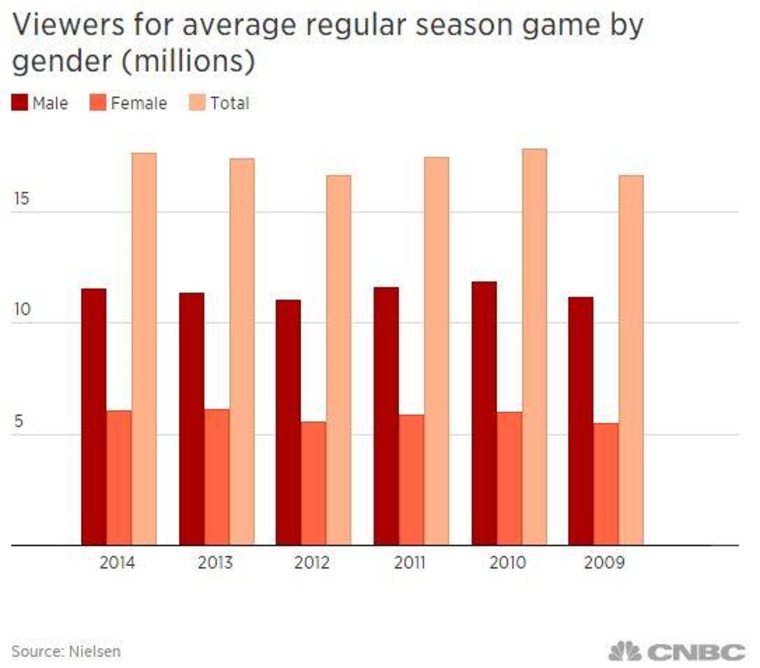 Why bad PR doesn't hurt
Sports leagues can tolerate greater levels of bad press than companies can because consumers generally show less loyalty than fans. The psychological bond fans form with teams, which can take hold over a lifetime, can easily overrule hits to a league's image, Widener's Steinman said.
And when teams play every week, it allows the league ample opportunity to shift attention back to the product.
Public relations issues that have inflicted significant damage on sports leagues have typically involved credibility issues with the product on the field, Emory's Lewis argued. He noted that steroid use in baseball in the late 1990s into the 2000s—which led to one of the longest periods of scrutiny a sports league has ever seen—tarnished the fundamental game, while the Rice and Peterson incidents did not do the same to football.
"I'm sure something could actually harm that brand, but nothing that we've seen yet," Lewis said.
Ongoing player health concerns could become an issue that hurts the NFL, Widener's Steinman said. The NFL has adopted rules on hits to the head and mandated protocols to determine whether players have suffered concussions, but safety remains a delicate area for the league.
Moving forward, if evidence shows that teams have put players back on the field knowing that they were seriously hurt, more fans may start to think less of the brand. Still, even that would likely do minimal damage to the juggernaut brand, not "take it down," Steinman said.