YouTube has its own half-time show, the FAA went out of its way to point out that drones aren't allowed at the Super Bowl, and Facebook will target ads to people logged in during the big game. The NFL experience is getting pretty high-tech -– for everyone, that is, except players on the sidelines.
Russell Wilson might pick up a tablet on the sidelines in Super Bowl XLIX, but he won't be able to use it to check his email, play "Angry Birds" or take a selfie. It's a Microsoft Surface Pro 2 handicapped to perform one function and one function only: display photographs.
Specifically, photographs of previous drives. It's a function that before this season was fulfilled by binders full of black-and-white photographs. (Microsoft reportedly paid $400 million for the privilege).
NFL players and coaches are allowed no other tablets or smartphones on the sidelines. (Recently, the Cleveland Browns were accused of breaking that rule with texts from the press box to the field). In the coaches' booth, no computers are allowed. Aside from the Microsoft tablets, Vince Lombardi could time-travel to coach the Patriots or Seahawks on Sunday and not find himself at a terrible technological disadvantage.
What is going on? In an era where pro athletes tweet constantly, why are the sidelines so old-school?
"I don't know," Brian Burke, founder of Advanced NFL Stats, told NBC News. "I think there is something to be said for making it a contest of coaching intuition and skill, and not letting it become dictated by computers."
To be clear, Burke supports teams having access to real-time stats during games. He consults NFL teams on how to utilize complicated statistics and, obviously, it would be good for business if the league changed its rules.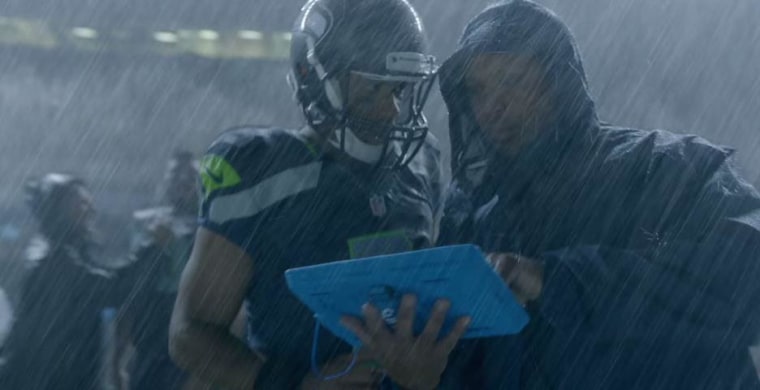 But he is a sports fan, so he gets the objections. Allowing more technology — wearable sensors, tablets running algorithms with real-time stats, etc. — on the sidelines could fundamentally change the game.
That is something lifelong fans might be worried about. Same thing for the people who run sports leagues.
"Whether it's baseball, soccer or the NFL, if they implement something new, everyone is watching," Steve Haake, director of the Centre for Sports Engineering Research at Sheffield Hallam University, told NBC News. "If they cock it up, then everyone says, 'You made a right mess of that' and they could lose their jobs."
Obviously, the British Haake grew up with a different kind of football. But Haake heads a group that does research and consults for sports leagues around the world. And to him, many of the concerns that the NFL has with technology are shared by officials who head professional soccer leagues, the Olympics and other sports bodies.
Changing the game
Before and after the whistle, the NFL is as technologically advanced as ever. Teams like the Pittsburgh Steelers have HD camera-equipped helmets that helps them analyze practices. NFL players obsessively watch game film on their iPads (well, the younger ones do). This season, more than 14 teams experimented with GPS technology that allowed them to measure things like how fast their players were running and how hard they got hit in practice — something they hope will lead to fewer injuries.
NFL coaches have an abundance of stats to pore through before big games. Having those same stats during the game, however, is a completely different animal.
Today, if a coach has the ball on fourth-and-two on his own 49 yard line with three minutes left in the game while trailing by a touchdown, he has to trust his gut and his staff's research to make the right decision.
"There are literally billions of possible situations — combinations of downs, distances, scores and time — to consider," Burke said.
Now imagine the coach has an unrestricted tablet. He could, theoretically, tap into a system that is running an algorithm considering all of those factors. How well does this exact mix of linemen defend against the run in exactly this situation? What is the percentage chance that a punt from this part of the field to this offense with this much time on the board will result in a score?
Football is such a complicated game, it might be easier to envision the same principle with tennis.
In most big tournaments, like the U.S. Open and Wimbledon, players aren't allowed to consult with coaches in-between points. Right now, someone like Rafael Nadal or Novak Djokovic relies on skill, athleticism, preparation and their understanding of the game to win.
Let them consult with a computer-equipped coach and suddenly they could get feedback on where exactly to hit the ball based on how their opponent is performing during the match.
"It's still tennis, but it's a very different version of tennis," Haake, a member of the technical commission of the International Tennis Federation, told NBC News.
Instead of Nadal versus Djokovic, games could come down to teams of tech-savvy experts trying to outdo each other, much like Formula One crews determine races as much as drivers do.
Football is already a team sport with plenty of coaching. But its incredibly complicated nature — 22 players set up in elaborate schemes on every single down — would make software that can break down complicated scenarios in real time very attractive to NFL teams.
The future of football
The fact that coaches and players can use the Microsoft Surface Pro 2, even a limited one, on the sidelines is a sign that the NFL is not averse to change. It used to seem strange to watch referees consult video footage during a coach's challenge. Now it's just part of the game.
As more tech-savvy officials join the NFL, things could change. It's easy to imagine a less spontaneous game filled with number-crunchers feeding coaches exactly what they should do in every situation.
But Burke says that NFL coaches today are already too predictable and conservative and that advanced, real-time stats could actually make the game more exciting.
"What you would see is more going for it on fourth down, more two-point conversions, more high-leverage, high-stakes gambles," Burke said.
"There is a heavy dose of risk aversion in the NFL," he said. "The numbers help us overcome that."