In a divided America, Super Bowl Sunday holds a special place in the national psyche. Even people who don't like the New England Patriots or Philadelphia Eagles will tune into the game tonight, more than 100 million in total.
And yet, poll numbers show the National Football League and, more broadly, the game of football itself facing some real questions coming into 2018, according to the January NBC News/Wall Street Journal poll. The number of people following the NFL closely and the number who want their children to play football is declining.
Overall, the poll found, the number of people who say they follow the NFL has declined sharply since 2014. In January, 49 percent of those polled said they follow the league closely. In January of 2014, the "follow closely" figure was 58 percent. That's a 9-point drop.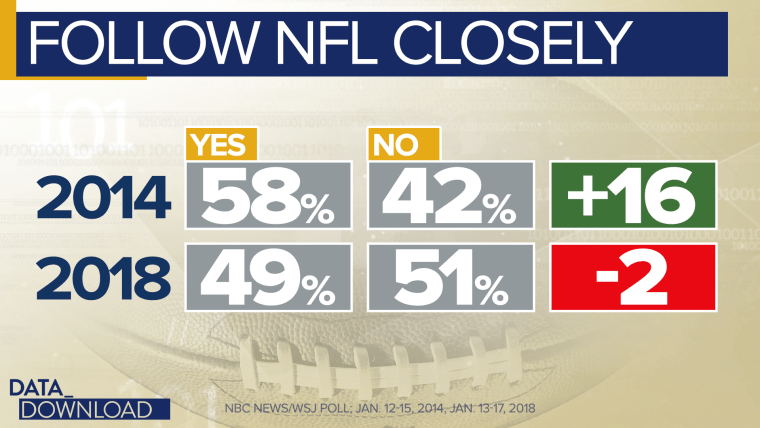 But look closer at the numbers and there is a strong racial component to the decline: it's being driven by white Americans.
Since 2014, the number of African Americans and Hispanics saying they follow the professional football closely has remained flat, according to the poll. But among whites, the number is down 12 points from 59 percent in 2014 to 47 percent in 2018.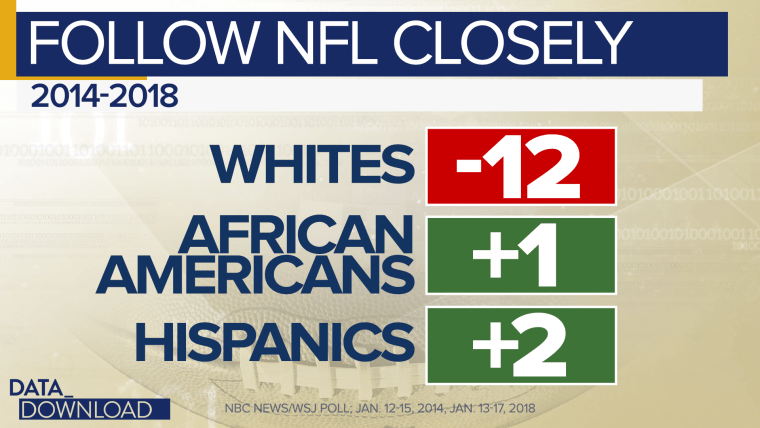 And digging deeper, gender plays an enormous role. Among white men, the "follow closely" number has declined an astonishing 22 points, from 69 percent in 2014 to 47 percent in 2018. Over that same time the "follow closely" number among women was unchanged at 47 percent.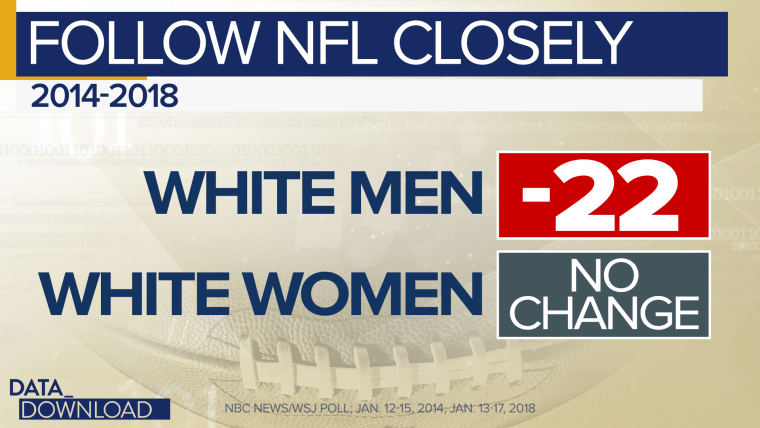 So, in a sense, the NFL's viewership/popularity problems seem to boil down to a problem with white men. That demographic group that has long been a crucial component of the league's fan base, as anyone who watches the string of beer, pizza and car commercials during an NFL game might guess.
But, it's interesting to note, even in the divided political landscape of 2018, the league's slippage among white men seems to reach both sides of the partisan political spectrum.
The 15-point drop among Republicans who say they closely follow the NFL was the steepest among partisan groups. The NFL also saw an 8-point slide among Democrats who say they closely follow the league. And independents, with a 4-point dip, declined as well.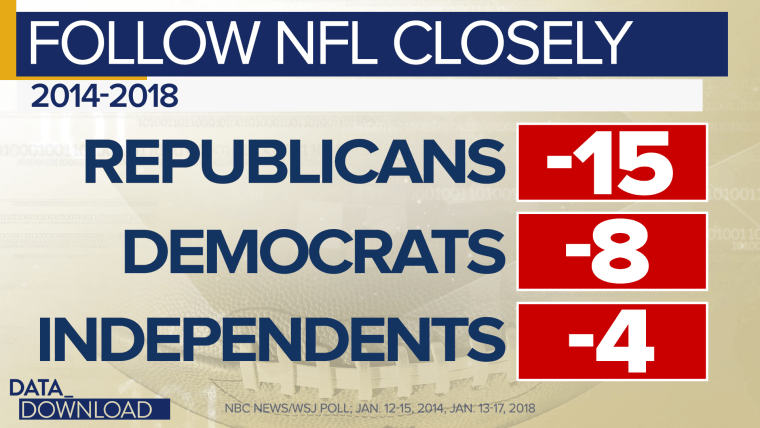 It's hard to know what's driving those numbers lower for certain.
For Republicans, one issue may be may be this fall's protests by NFL players, who took a knee during the national anthem. President Donald Trump made his displeasure with that practice clear on social media and in speeches. In fact, Trump alluded to the national anthem protests at this year's State of the Union speech.
For Democrats, the key may be a feeling that the league has not done enough to battle the concussions that often come with playing football. The NBC/WSJ poll showed Democrats were far less likely than Republicans to say the NFL had "taken meaningful action to reduce and prevent concussions."
And outside the NFL, the concussion issue may be having an impact on who is actually playing organized, tackle football. The NBC/WSJ poll showed a big increase in worry among parents about letting their children play football.
Overall, 48 percent of those polled in January said they would encourage their child to play a sport other than football out of concussion concerns. Four years ago, only 40 percent said they would do that. That's an 8-point shift in four years.
Among mothers, 53 percent said they would encourage their child to play another sport; that was up from 40 percent in 2014 – and increase of 13 points. With fathers, 39 percent said they would encourage their child to play another sport; that was up from 33 percent in 2014 – a 6-point bump.
In other words, fewer adults are watching the game on Sundays and fewer are encouraging their children to take the field.
None of this changes the fact that the NFL still rules the roost of American sports.
The 2017 World Series averaged 19 million viewers. Tonight more than 100 million people will watch Superbowl LII. Some will watch for Justin Timberlake at halftime. Some will watch for the commercials. Some will watch just because they are at a Super Bowl party.
But that's the spectacle. The real question for the NFL is how many tune in Sunday to watch the game – and how many tune in on Sundays next fall.