The idea of helping sex-trafficking victims came to Theresa Flores when she was naked and freezing on the floor of a motel bathroom, after being gang-raped by at least 10 men, maybe more. She says she lost count when she passed out from the pain.
Decades later, Flores, a sex trafficking survivor, has made good on her promise to herself. The founder of SOAP, or Save Our Adolescents from Prostitution, is trying to make at least a small dent in a national problem this week with a modest act: distributing bars of soap with the National Human Trafficking Hotline number on the wrapping to hotels and motels in New York and New Jersey.
"There are three things in every motel: a Bible, toilet paper and soap," said Flores. "Every girl cleans up after every man and it's often the only time she's allowed alone. Who knows? The soap could be the difference. I wish there had been one in that motel room all those years ago."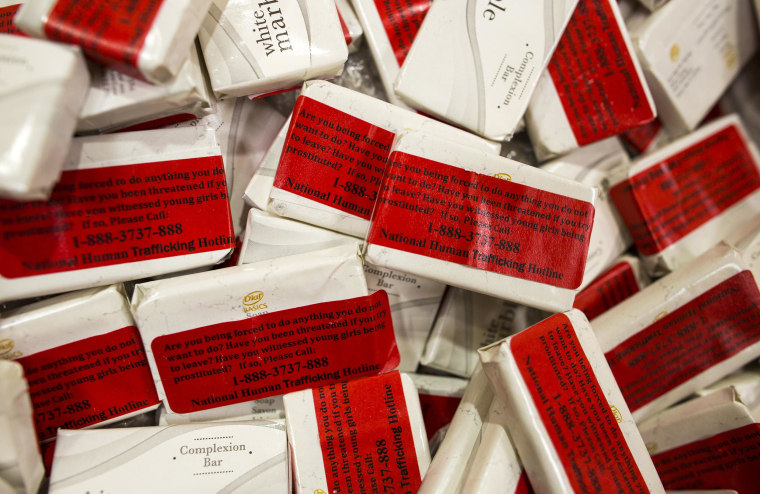 Flores, 48, is making her rounds because the Super Bowl will be held on Sunday in East Rutherford, N.J., and many of the fans will stay in New York before and after the game. Her presence is just one indication of the unwelcome role football's marquee event has assumed in the debate over sex trafficking and prostitution.
Some experts and organizations that advocate for sex trafficking victims and/or prostitutes say that big sporting events like the Super Bowl provide a major boost to the illicit businesses by providing a ready-made customer base. That view gained ground after Texas Attorney General Greg Abbott labeled the game the "single-largest human-trafficking incident in the United States" in 2011, when it was held in his state.
New Jersey Gov. Chris Christie indicated on Wednesday that the law enforcement is taking seriously the possibility of an influx of prostitution and sex trafficking surrounding the game.
"We are only a few days away from the Super Bowl. A time, where sex trafficking is at a high risk," he said in the first of a series of tweets, shortly before appearing at an anti-sex trafficking news conference in Bergen County, N.J., with Cindy McCain, wife of 2012 GOP presidential nominee Sen. John McCain, and others.
"So to anyone out there that is even thinking about it. Don't even try it. We have eyes and ears on the ground and on the web."
And finally:
"If you do try it, expect to be caught. And when you are caught, expect to be prosecuted."
But other victim advocacy groups reject and resent this characterization. Among them is the Global Alliance Against Traffic in Women, which produced a 2011 report that concluded there is no evidence indicating that major sporting events result in increased sex trafficking. On the contrary, it speculated that anti-prostitution campaigners were actually promoting the connection to force authorities to crack down on the sex trade.
Many advocacy groups draw a sharp line between prostitution and sex-trafficking, referring to adult prostitutes working on their own as "sex workers" and contrasting them with those pushed to provide commercial sex through force, fraud or coercion.
Flores is among those who believe big sporting events do draw more sex trafficking victims and that Sunday's game provides an opportunity to reach at least a few who may find the soap she and others leave behind and call the hotline to be rescued.
Flores started SOAP decades after her ordeal in the motel room, which occurred when she was just 16.
"What many people don't realize is that it's not your body that's enslaved. It's your mind."
Flores tells a familiar story about her descent into the trade. She said it began when she was date raped at 15 by a classmate in an upscale suburb of Detroit, who drugged her and took illicit photos. He then blackmailed her by telling her she would have to have sex with other men to buy back the photos, she said. Flores said she never told her family or police during the two years she was forced to have sex for money, because she worried that she would get in trouble. By the time she did tell, the statute of limitations to prosecute any of her assailants had long since expired.
Toshia Kimbler, a SOAP volunteer and herself a sex trafficking victim, said she understands Flores' silence, since she, too, was trafficked by someone she knew and initially trusted. Later, though there were chances to escape or call the police, she thought her captor would kill her if she did.
"What many people don't realize," Kimbler said, "is that it's not your body that's enslaved. It's your mind."
Kimbler, who was trafficked for almost 10 years, said she also knows first-hand that the sports-sex trafficking connection is real, as she was shuttled around to big events in cities such as Chicago, Boston and New York.
"For all I know, I could have been at a Super Bowl, but we were rarely told anything," she recalls.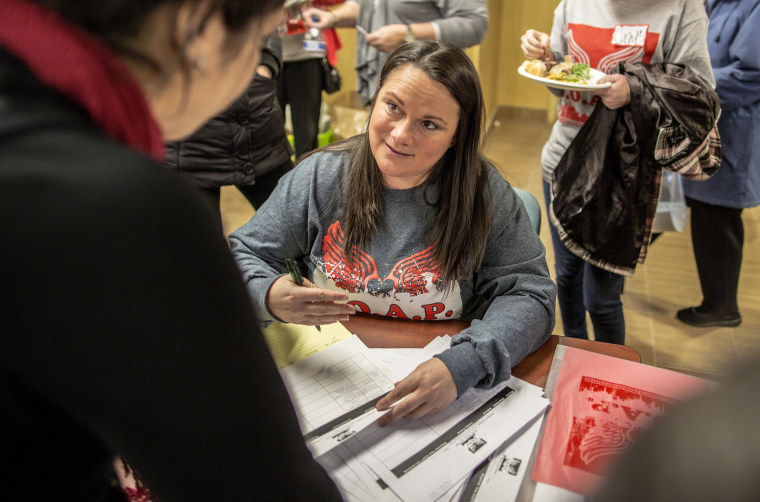 Now, Kimbler, a former SOAP employee who now volunteers while attending college fulltime, and Flores travel all around the U.S., canvassing events such as the Detroit Auto Show, the Final Four, NASCAR races and the national Democratic or Republican Conventions. Flores will also be traveling to Rio de Janeiro, Brazil, in June for the World Cup, marking the organization's first international outreach effort.
On Sunday afternoon, Flores, Kimbler and hundreds of other volunteers gathered in the frigid cold in Paramus, N.J., before fanning out to distribute thousands of bars of soap to hotels and motels, along with missing children posters and pamphlets outlining the telltale signs of human trafficking. That way, even if a sex trafficking victim doesn't call the hotline, a hotel or motel owner might call if they witness any suspicious activity when guests check in – like someone who doesn't speak for themselves, isn't in control of their own identification or has no luggage.
More soap and posters will be distributed in New York hotels and motels this week and by game time, Flores estimates, 100,000 bars of soap will have been handed out in the two states.
But if past Super Bowls are any indication, the dividends from their efforts at outreach will be small.
At the 2012 Super Bowl in Indianapolis, SOAP distributed 40,000 bars of soap at 200 hotels.
Meantime, back-page ads for commercial sex in local alternative newspapers went from an average of 22 before the event to 269 the week of the game, it said. And only two trafficking victims were identified and recovered, according to the Indiana Attorney General's Office.
But the increase in awareness that comes from efforts like SOAP's is worthwhile, said Clemmie Greenlee, a sex-trafficking survivor who now works at Eden House in New Orleans, site of last year's Super Bowl.
"I don't have anything against the Super Bowl. I'm a football fan myself but I need people to know this is one of the greatest activities going on at the Super Bowl," said Greenlee, who says she also remembers being moved around for large events, including doctors and lawyers conferences.
"If people are more likely to get involved through the catalyst of some large rallying point like the Super Bowl, I think some good can come out of that."
And the awareness may also keep some traffickers at home, said Rachel Lloyd, who runs a New York nonprofit called GEMS.
"Pimps read the news and watch TV too," said Lloyd, who also is a sex trafficking survivor. "When you start talking about thousands of law enforcement out there, pimps know there's a lot of increased focus on the Super Bowl, so can people then point to a lack of numbers as being prevention? Not really. They just didn't come to your city."
Bradley Myles, the CEO of the Polaris Project, a nonprofit founded to combat human trafficking and "modern-day slavery," said better data is needed to establish the scope of the problem – both in the U.S. and around the world. But he said no one should think that human trafficking is only a problem at big events like the Super Bowl.
"I think that it's important to strike a balance. On the one hand, it's absolutely true that this is a 365-day-a-year issue and community preparedness and community mobilization needs to happen 365 days a year," he said. "On the other hand, if people are more likely to get involved through the catalyst of some large rallying point like the Super Bowl, I think some good can come out of that."
The national human trafficking toll-free 24-hour hotline is 1-888-373-7888. Authorities urge those who suspect trafficking to also contact local police.