With the flash of a black flag, the siege playing out in a Sydney coffee shop shot from isolated hostage incident to an international terrorism event — one of the sort Australia has long braced for amid a rising tide of Islamist extremism.
The Islamist standard in the window of the Lindt coffee shop appeared to be the Tawhid Banner, with the writing of the Muslim Shahada on it, "There is no God but Allah, and Muhammad is the Messenger of Allah," said Laith Alkhouri, director of research and analysis for Middle East and North Africa at Flashpoint Intelligence — a global security firm and NBC News counterterrorism consultant.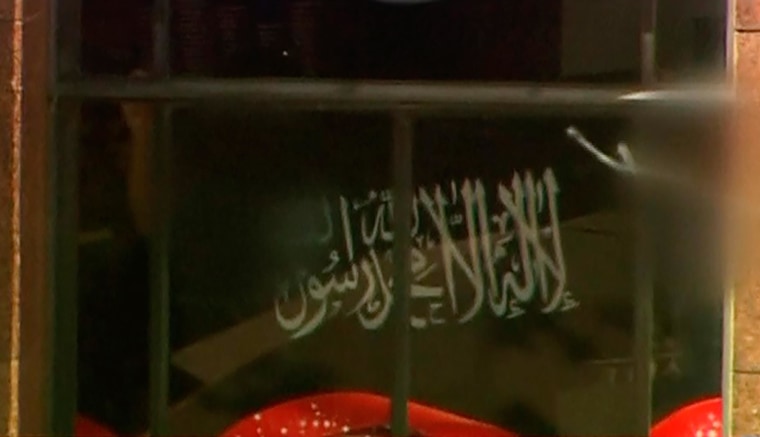 While the flag is "not exactly the ISIS banner," according to Alkhouri, its use by other Islamist extremist groups operating in the Middle East is long established.
Australia is one of the nations to have committed military forces and aircraft to the U.S.-led coalition against ISIS, a move Prime Minister Tony Abbott called a "prudent and proportionate" contribution.
That's because Australia, like many Western nations, has seen a number of its citizens travel to the Middle East to take up arms for ISIS. The government has said there are around 60 Australians currently fighting for ISIS in Syria and Iraq. Their posterboy was Khaled Sharrouf. His name became synonymous with ISIS terror when he posted a photo on Twitter of his 7-year-old son holding a severed head.
"There are a disproportionately large number of Australians fighting in Syria and Iraq," said James Brown, a fellow at Sydney's Lowy Institute for International Policy. "They're inside what is sort of a terrorist university learning new skills, and we've been concerned in official agencies and departments about them bringing those skills back."
The Australian Security Intelligence Organization said in a recent report to Parliament that was aware of 14 Australians who had died in Syrian and Iraq for the year — including the first known Australian suicide bomber in Syria in September 2013.
"The number of Australians training and fighting with, or otherwise assisting, groups involved in the conflicts in Syria and Iraq increased across the reporting period and is at an unprecedented level," said the report, which covered 2013 to June 2014. "Australians are also likely to have been directly involved in the murder of civilians and prisoners in Iraq."
Since then, other Australians have carried out suicide bombings in the region — including a July 2014 attack near a Shiite mosque in Iraq.
Australia raised its terror alert level from "medium" to "high" in September, saying the move was in response to a "body of evidence that points to the increased likelihood of a terrorist attack." The prime minister at the time stressed that did not mean an attack was imminent.
That same month, an apparent plot to publicly behead a random civilian on the streets of Sydney in support of ISIS sparked Australia's largest counterterrorism operation ever in September. Police arrested 15 people in the raids, in which around 800 officers searched more than a dozen properties in Sydney. Officials at the time told reporters that intelligence had indicated a random and violent attack was being planned. Abbott said "exhortations" had been made by an Australian senior in the ISIS movement to support networks in the country to "conduct demonstration killings."
The raids were believed to be tied to Mohammad Ali Baryalei, Australia's most senior reported member of ISIS. Baryalei, a 33-year-old credited with recruiting many of Australia's ISIS fighters, was reportedly killed in Syria in the fall.
Shortly after, ISIS' spokesman urged supporters in Australia to carry out lone-wolf terror attacks against civilians. In a Sept. 21 audio tape, Abu Muhammad al-Adnani urged Muslims to "not let this battle pass you by" and to kill an Australian civilian or soldier — or "any other disbeliever" — in "any manner or way."
Days later, an 18-year-old alleged ISIS sympathizer stabbed two counterterrorism officers in Melbourne.