The United States is on the verge of ending its Syria discussions with Russia over continued bombing of the besieged city of Aleppo, Secretary of State John Kerry said Thursday.
The U.S. and Russia have been trying to negotiate a cease-fire in the war-torn nation, but Kerry said "the bombing of Aleppo right now is inexcusable" and that around 400 civilians have been killed there in the last eight days.
"I think we're on the verge of suspending the discussion because it's irrational in the context of the type of bombing taking place," Kerry said at an event in Washington, D.C. sponsored by the Atlantic magazine.
Kerry on Sept. 9 announced that the U.S. and Russia had reached a cease-fire agreement that could lead to joint military coordination between the two nations against terror groups like ISIS if the cease-fire held for seven days.
"What Assad and Russia are doing in Aleppo is soul-shattering"
Under the agreement, Russia was to ensure the Syrian government of President Bashar al-Assad stuck to the cease-fire, Kerry said at the time.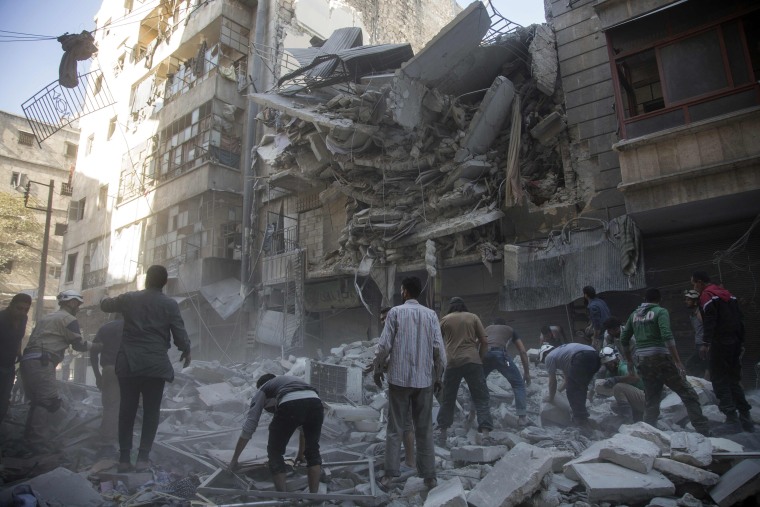 But the cease-fire has been repeatedly breached, and Syria's military has launched a massive new offensive to take back control of rebel areas.
Related: 'Destruction Is Everywhere' After 2 Aleppo Hospitals Hit By Airstrikes
On Wednesday, two hospitals in rebel-held Aleppo were hit by airstrikes, killing at least two people and knocking out desperately-needed medical services, medical officials said.
There are now no more than 35 doctors attending to a population of at least 275,000, Deputy U.N. Special Envoy for Syria Ramzy Ezzeldin Ramzy said Thursday.
Kerry in a phone call to Russian Foreign Minister Sergey Lavrov Wednesday warned the U.S. needed to see "immediate steps to end the assault on Aleppo" or the U.S. would start "making preparations to suspend the US/Russia bilateral engagement on Syria," State Department spokesman John Kirby said.
Kerry also spoke with Lavrov Thursday morning and was "just as candid and blunt today," Kirby said.
Related: War of Words Between Russia, West Is Worst in Decades
Kerry on Thursday seemed to indicate that deal with the Russians and coordinated military action was not being entirely written off.
"It's one of those moments where we are going to have pursue other alternatives for a period of time barring some clearer indication by the warring parties that they are prepared to consider how to approach this more effectively," he said.
U.S. Ambassador to the the U.N. Samantha Power said Thursday that "what Assad and Russia are doing in Aleppo is soul-shattering."
She said air strikes have targeted rescue workers and said there have been 1,700 air strikes in just the eastern section of the Aleppo.
"Assad and Russia are unleashing a savagery against people they call terrorists. Children are not terrorists. Breadlines — and the individuals within breadlines — are not terrorists. Rescue workers are not terrorists. Hospital workers are not terrorists," Power said.
Lavrov, Russia's foreign minister, on Wednesday said the U.S. needs to fulfill its role under the deal of ensuring moderate opposition groups stick to the cease-fire.
Related: No Sign of Cease-Fire or Humanitarian Aid in Aleppo
"Quite a few anti-government units that Washington calls 'moderate' have not merely refused to carry out the September 9 Russian-US agreement on consolidating the truce … but are merging with Jabhat al-Nusra and continue fighting against the Syrian army side by side with this al-Qaeda affiliate," Russia's Foreign Ministry said in a statement.
Syria's government has ignored calls to halt its offensive in Aleppo. The bruising campaign has been called the worst bombardment since the civil war erupted.
At least 96 children have been killed in Aleppo since last Friday and 223 have been injured, UNICEF said Thursday. Some estimates say the death toll in the 5-year civil war is as high as 470,000.
United Nations Under-Secretary-General for Humanitarian Affairs and Emergency Relief Coordinator Stephen O'Brien said at a U.N. Security Council Meeting Thursday that the world cannot afford to wait.
"Let me be clear, east Aleppo this minute is not at the edge of the precipice. It is well into its terrible descent into the pitiless and merciless abyss of a humanitarian catastrophe unlike any we have witnessed in Syria," O'Brien said.
"It is now a legitimate question to ask whether there is any level of disaster and death that can be visited upon the Syrian people that might prompt the parties to this conflict, and by extension the international community, to identify a red line that will not be crossed," he said.