Government troops and insurgents fought in several parts of Syria on Sunday, apparently seeking to strengthen their positions on the eve of a cease-fire that Free Syrian Army rebels said they would observe but with major reservations.
The Free Syrian Army groups wrote to the United States on Sunday about the deal it agreed on with Russia, saying that while they would "cooperate positively" with the cease-fire, they were concerned that it would benefit the government.
Although the letter didn't explicitly say the groups would abide by the cease-fire, two rebels who confirmed its text to Reuters said they would respect the cease-fire when it comes into force on Monday evening.
Related: Kerry: Deal With Russia Could Be 'Turning Point' in Syria War
But according to the letter, the groups are worried by the absence of enforcement mechanisms, a lack of provision for besieged areas and clauses letting army jets fly for up to nine days after the deal goes into effect.
The influential hard-line Islamist rebel group Ahrar al-Sham issued a statement late Sunday attacking the deal but stopping short of explicitly saying it wouldn't abide by its terms.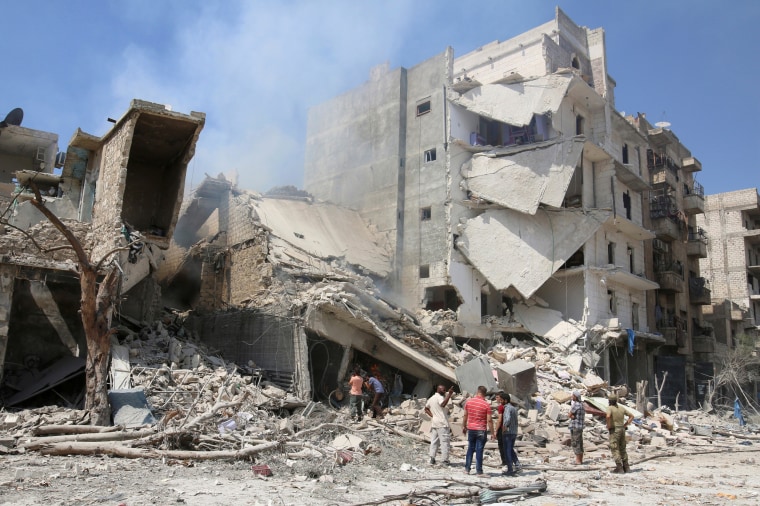 A war monitor reported clashes around Aleppo and Damascus, but pushes by the government in the mountainous northwest and rebels in the southwest indicated an effort to improve their positions before fighting is due to stop Monday.
Syria's five-year civil war has killed hundreds of thousands of people and displaced 11 million others — half the country's prewar population — causing a refugee crisis in the Middle East and Europe and inspiring jihadist attacks around the world.
Underscoring the war's global impact, President Bashar al-Assad is backed by Russia's air force, Iran's Revolutionary Guards and Shiite militias from Iraq and Lebanon, while the rebels are supported by the United States, Turkey and Gulf Arab states.
Previous peace agreements crumbled within weeks, with the United States accusing Assad and his allies of attacking opposition groups and civilians. On Saturday, air strikes on rebel-held areas killed scores of people.
Syria's government hasn't issued an official comment on the truce, but Syrian state media quoted what it called private sources Saturday as saying the government had given its approval. Iran welcomed the deal Sunday.