To live in a besieged Syrian town means lying to your children and feeding them morsels of false hope — because there's nothing else to give them.
Mothers, fathers and uncles lie to their sons, daughters and nephews. Older siblings keep up the lies in front of the younger ones.
"Food is coming tomorrow," they lie.
"Daddy is out right now getting ice cream," they lie. "Daddy will be home soon."
The International Committee of the Red Cross (ICRC) and the Syrian Arab Red Crescent this week were finally able to bring some food to the Syrian town of Moadamiyeh outside Damascus. But local activists said the food never reached the town and a spokesperson for the ICRC confirmed to NBC News that "the food delivery was made to the buffer zone."
Activists have posted videos like this one, which they say prove that the food was delivered to people described as "regime supporters."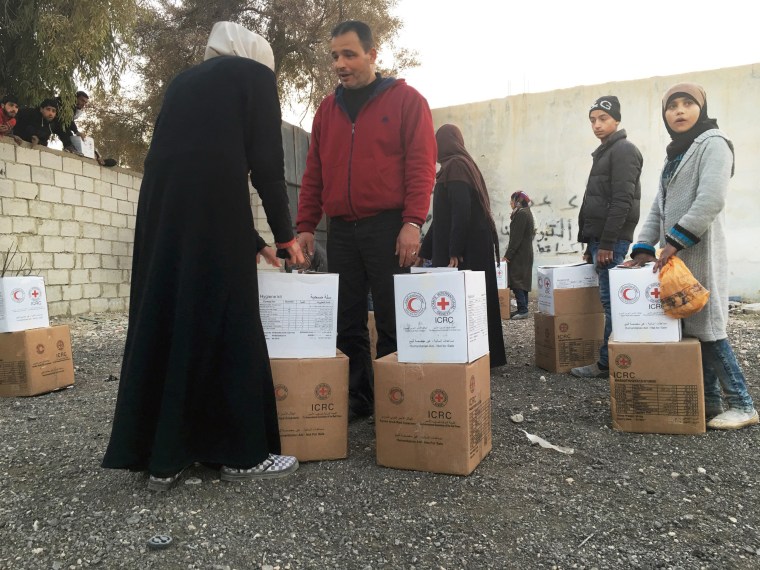 NBC News has been following Moadamiyeh for over a month, and interviews and videos from inside paint a picture of a town that is slowly being exterminated.
Dani Qappani, a 27-year-old anti-regime activist in Moadamiyeh, speaks fluent English, wears blue jeans and has a light beard. As we spoke, on a series of patchy Skype calls, I couldn't stop thinking that Qappani looked like he'd fit right in at a hipster café in Brooklyn.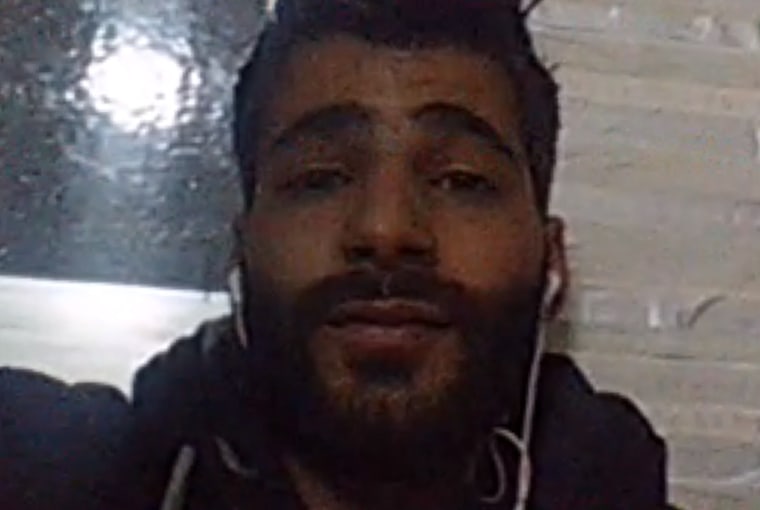 But his descriptions made Moadamiyeh sound like a death camp.
The town has been under attack for years by Syrian President Bashar Assad's forces, yet the rebel fighters in Moadamiyeh won't give up; so the whole town is being punished.
Pro-regime checkpoints ring Moadamiyeh, preventing food and medicine from being brought in. Cut off, the town has become filthy. Locals say disease is spreading. The power is dead.
There's no fuel for heating, and when residents try to go to their farms on the edge of town to collect fruit or firewood, they risk being shot or bombed.
Siege warfare is an ancient tactic. Christian crusaders did it to Muslim towns and cities. Muslim armies encircled and strangled Christian holdouts. Kings, dukes and princes besieged each other's town all across Europe.
Now, in Syria, this medieval form of warfare is making a bitter comeback. And it's not just the regime's forces who use the collective punishment of innocent civilians to achieve their military goals. Rebel forces are guilty of the same crimes.
Just this week, forces loyal to the Syrian regime finally managed to fight their way into two villages that rebels had cut off from the world. Images on social media showed villagers cheering and blowing kisses.
At least two pro-regime villages, Foua and Kefraya, remain besieged by rebel fighters.
Siege warfare is — and has always been — a horrific way of fighting, erasing the distinction between fighters and the civilian population, starving both into a slow submission or death.
"Now there is no food at all," Qappani said of Moadamiyeh. "People live on cat and dogs, herbs and boiled water only. There is no food."
One day, Qappani said, he had only eaten a few olives since the day before.
A woman in another besieged town told me she'd been feeding her children a broth of salt, spices and grass, but that it wasn't nourishing enough to keep her son from collapsing in exhaustion.
She said she worries one day that he'll just drop and die in front of her.
I asked the woman, who requested that I not use her name, what she had in her refrigerator. She seemed surprised by the question. She'd been without power for over a year. The fridge was used for storage, she said.
I felt embarrassed for asking the question. She was the first person in the besieged towns who told me about the lying. She said she lied to her three children every day — it started with white lies about how help was coming, then she moved on to the big fat lies about how dad was out buying cakes and cookies at that very moment, when, of course, he wasn't.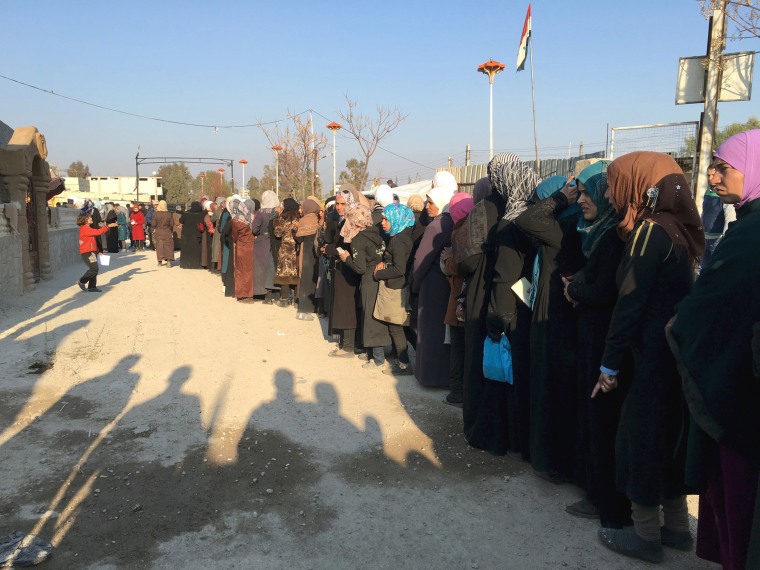 Once you start lying, she said, you can't stop. She was sobbing on the phone as she told me that.
Qappani claims representatives from the Assad regime offered Moadamiyeh a stark choice: hand over all the rebel fighters and their weapons, or else "the city will be starved to death … annihilated by all means, by hunger, by bombing, by airstrikes, everything," he said.
Moadamiyeh is still holding out — and it's paying a heavy price for it.
Qappani says nearly 2000 people have been killed over the last five years in the town of 45,000 residents, with another 1,500 "detained" by the regime — their fates unknown.
Qappani also had a lot to say about lying. He brought it up, and says he constantly lies to his three young nephews.
"Every day when I come back home, they tell me, they scream and say, 'We want biscuits,' 'We want you to bring us some chocolate!' I tell them 'OK, I will bring you tomorrow.' But I can't bring them anything, I just promise," he said.
I asked what he says to the children when he shows up empty-handed, day after day.
"It happens daily, and actually sometimes they call me a liar," he said. "I feel sorry for them, but this is the only way to make them, to give them hope. The chocolate and the biscuits is their hope."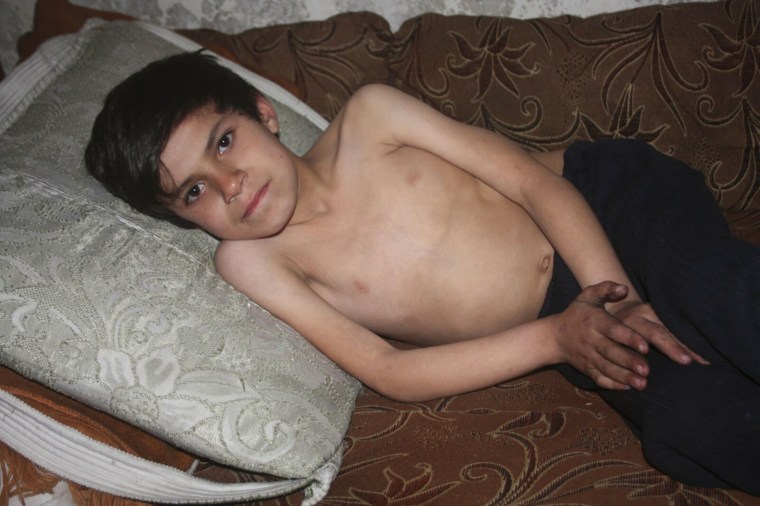 Qappani provided NBC News a series of videos documenting life in Moadamiyeh.
One video showed a boy named Mohammed, shirtless, thin and lying on his back. His father says the boy is too weak to walk.
Another video shows men digging for scraps of food in garbage piles.
A third shows a 5-year-old girl crying inconsolably for her mother, who says she has no food, medicine or milk to give.
International aid agencies estimate that about 400,000 Syrians are now living like Qappani and his nephews — living on the hope and the lies.