LONDON — A retired U.S. general has likened the war in Syria to the nursery rhyme "Humpty Dumpty," saying that he was "not sure you can piece it back together."
David Petraeus, a four-star general and ex-director of the CIA, told NBC News in an interview that he wasn't confident the country could ever be reunified.
"It's increasingly appearing likely that Syria may not be able to be put back together again," Petraeus said on Wednesday. "Humpty Dumpty has fallen and again I'm not sure you can piece it back together."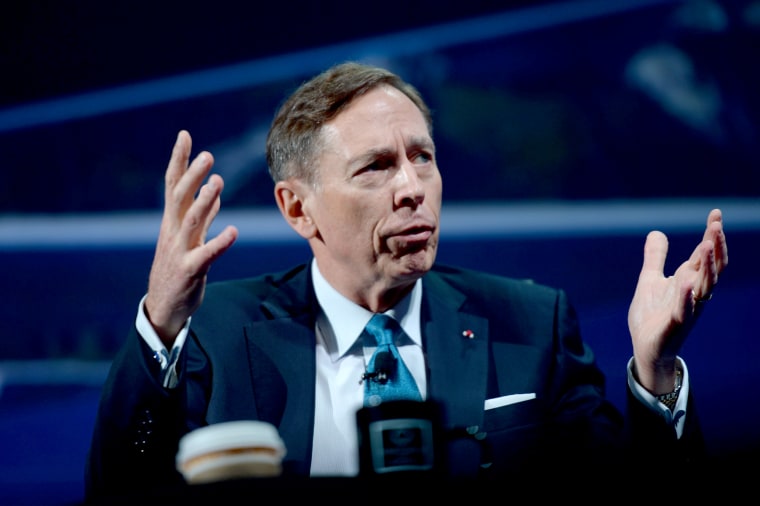 After retiring as an Army general who commanded coalition efforts in Iraq and Afghanistan, Petraeus resigned as CIA director in 2012 when it emerged that he had shared classified information with his mistress.
Petraeus said a "de facto partition" of Syria was likely in the long run, with Alawite Muslim President Bashar Assad's regime controlling most of the country, and the Kurds and Sunni Muslim Arabs governing other areas.
He said the tragedy in Aleppo — the Syrian city at the heart of the conflict — threatened to dwarf the 1995 Srebrenica massacre in which 8,000 Muslim men and boys were slaughtered by Bosnian Serb forces.
Petraeus' comments came a day before Syria's military said it would scale back the bombardment of the rebel-held eastern half of Aleppo to allow civilians to evacuate.
On Thursday, the United Nations Special Envoy for Syria Staffan de Mistura offered to go to eastern Aleppo and escort up to 1,000 Islamist fighters out of the city for the sake of a halt to the bombardment by Russian and Syrian forces.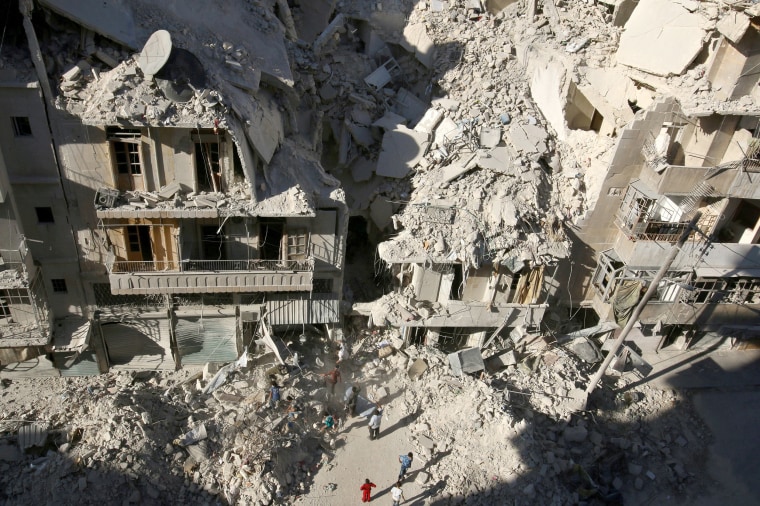 Following the breakdown of a U.S. and Russia-brokered cease-fire, the past two weeks have seen an intensified bombing campaign that has damaged hospitals and infrastructure and killed more than 370 people in opposition-controlled neighborhoods, according to the World Health Organization.
Assad has denied reports that his government is targeting hospitals and civilian infrastructure.
Petraeus said Syrians were essentially "trapped and being bombed in a very indiscriminate manner."
"There's been targeting of a hospital and other civilian facilities, which really leads us to believe that ... Assad wants to depopulate that part of the city, if he can't get it to capitulate," he added.
Related: 7-Year-Old Share Battle to Stay Alive in Aleppo
Advocating a no-fly zone over the country, he said that there was "going to have to be some degree of firmness" shown by the U.S. toward Syria and Russia if negotiations to stop the violence had any chance of working.
"I think that most people would consider it a Herculean effort if we could just reduce the violence and bloodshed and indeed achieve a cease-fire while still being able to go after" ISIS and other extremists, he said.
"But ... I think that the prospects for that are unlikely," added Petraeus, who gave the interview after holding a discussion at the Royal United Services Institute, a London-based think tank where he is senior vice president. He is also a partner with global investment firm KKR.