A young child lies on a hospital bed, the small body floppy on the right side. The 19-month-old, a refugee from the conflict in Syria, has not been vaccinated, and polio is suspected.
The child has been isolated with polio-like symptoms, NBC chief medical editor Dr. Nancy Snyderman said Tuesday. Dr. Zaher Haider, a pediatrician at the hospital filled with Syrian refugees in Taanayel, Lebanon, and officials from the World Health Organization have sent throat and stool samples from the baby to Cairo for confirmation of the deadly disease. A spinal tap for meningitis was negative.
If tests come back positive, this will be Lebanon's first documented case of polio among Syrian refugees in Lebanon, a great concern because the disease can spread quickly, especially in crowded refugee camps, Snyderman said.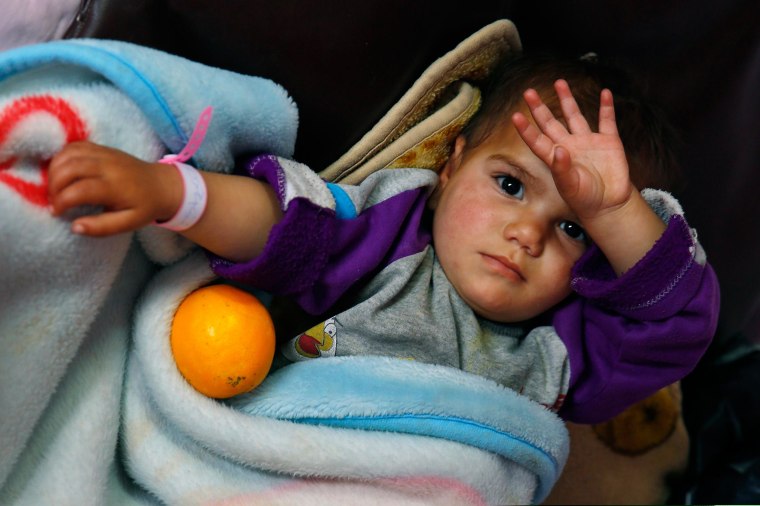 As the conflict enters its fourth year, millions of children in war-torn Syria and in refugee camps in neighboring countries are suffering from a severe lack of medical care. One in 10 children — more than 1.2 million — has fled Syria; there are over 500,000 Syrian children living as refugees in Lebanon. Since an outbreak of polio in Syria last year, world health officials have rushed to vaccinate children in the camps against the paralyzing disease.
Polio, a disease that has been mostly eradicated in most of the world, returned in Syria in October of 2013. Vaccination rates in Syria have fallen from 91 percent in 2010 to just 68 percent in 2012 — and the number today is most likely much lower. Twenty five cases of polio have been confirmed in Syria, in addition to 84 cases of measles in the first week of 2014, according to the World Health Organization.
This week, NBC News is featuring "Forgotten? Syria's Children of War." The live documentary will unfold on Tuesday and Wednesday, following the lives of Syrian children over 48 hours on NBCNews.com, TODAY and Nightly News.
In the Taanayel hospital, with just 37 beds, the patient load has quadrupled, mostly due to an influx of pregnant women. One of them, 18-year-old Ahed, arrived just before sunrise, seven months pregnant with twins.
She is typical of the refugee women who arrived at the hospital, having received little or no prenatal care.
Doctors quickly realized Ahed's case is dire. She was supposed to have a routine Cesarean section, but her delivery suddenly became a hurried, vaginal birth without pain medication, Dr. Nancy Snyderman said in a TODAY report on Tuesday.
One twin was born, but she was not breathing. Doctors tried to save the baby, as her twin's birth was delayed and Ahed's anxious family waited outside.
The hospital scene came as the conflict in Syria has taken a heavy toll on the country's youth. The war has left more than 5.5 million Syrian children deprived of food, medical help, schooling or safety, according to UNICEF statistics.
The United Nations estimates that more than 10,000 kids have died because of the violence. But a report from Save the Children found that Syrian children are also perishing due to a lack of health care.
As many hospitals have been destroyed, doctors have escaped the country and supplies have grown scarce, the report found that families are unable to get their children vaccinated, leading to a rise in polio, meningitis and measles.
To find out how to help children in Syria, see this list of organizations working in the region.
Follow the series with the hashtag #SyriasChildren.