The World Health Organization has confirmed a case of polio in Iraq, a sobering development that officials said may be linked to the war in Syria, where war has led to a resurgence of the crippling and deadly virus.
The 6-month-old boy near Baghdad tested positive for the same strain of the virus found across the border in Syria, where 37 cases have now been reported, WHO said on Monday.
Earlier this month, NBC News followed a little girl who was suspected to have the first case of polio among Syrian refugees in Lebanon. Nevine Mohammed Almasre was just 19 months old when NBC News met her during the live documentary "Forgotten? Syria's Children of War," which followed the lives of Syrian children over 48 hours.
On Tuesday, some positive news: Nevine tested negative for polio, a narrow miss for her and for the refugee camps as the disease continues to spread.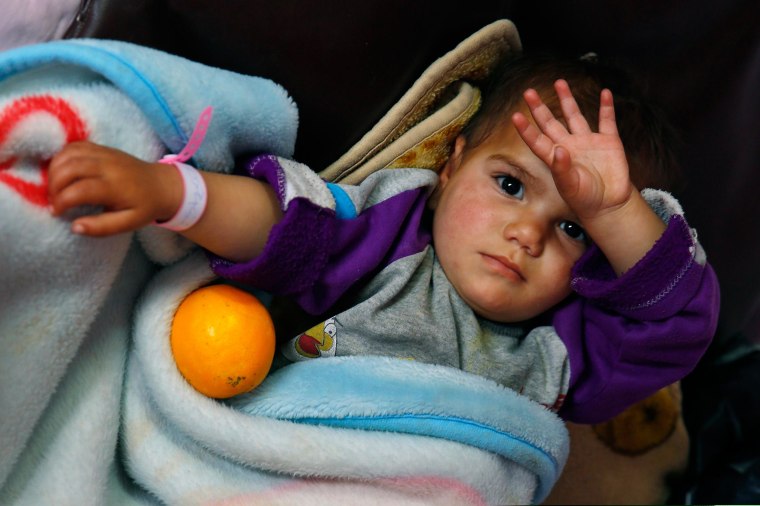 Nevine arrived at Taanayel Hospital partially paralyzed and was isolated from other patients for having signs of the highly infectious disease. Tests were sent to Cairo as officials from the World Health Organization and others examined her. Doctors later found bleeding in her brain and suspected that could be the cause of her paralysis.
Although Nevine's case is still serious, a polio diagnosis could have been devastating. Polio, a disease that has been mostly eradicated in most of the world, resurfaced in Syria last year. There is no cure and usually no way to reverse any paralysis it causes.
And officials are worried about any indication that anyone among the millions of refugees fleeing Syria may be carrying the virus.
WHO said displacement caused by ongoing violence in Iraq and Syria may be to blame for the disease's spread to an Iraqi infant.
The case also comes on the heels of a murder of a polio worker in Pakistan, where polio remains active. WHO is helping several groups working to eradicate polio, but war and conflict have kept the virus circulating in Nigeria, Afghanistan and Pakistan. Violent attacks on health workers have further hampered the global campaign.
In Syria and in neighboring countries, millions of children are suffering from a severe lack of medical care. Vaccination rates in Syria have fallen from 99 percent pre-war to just 52 percent in 2012, according to a UNICEF report — and the number today is most likely much lower.
For Nevine, recovery has come slowly as she has returned home to her refugee camp in Lebanon's Bekaa Valley and recovers function in her limbs. She begins physical therapy Tuesday and Dr. Zaher Haidar, a pediatrician at the hospital, says Nevine will have a follow-up MRI next week to check the status of the small bleed found in her brain.