In small voices, they tell of grandmothers killed by shells, brothers who died fighting. They sleep on concrete floors in tents with plastic siding, in muddy camps packed with refugees.
And yet amid the suffering of the children of Syria now living in Lebanon's Bekaa Valley, there is, improbably, laughter. Soccer. Special necklaces. Favorite school lessons.
Childhood goes on even in the harshest settings. Children need to play even — and perhaps especially — when they endure tragedy. It is that routine and structure that can help kids overcome trauma, says Dr. Kerry Ressler, a Howard Hughes Medical Institute researcher at Emory University.
"There is something about a sense of stability, a sense of predictability, that can add a lot to an otherwise difficult world," says Ressler, a psychiatrist who studies trauma and abuse.
And so the children here in the refugee camp in Bekaa Valley have created a makeshift soccer field on a dirt lot. They don't have many toys, but Maha, 6, has a jump rope fashioned out of two electrical cords. One young boy passed some time doing increasingly intricate jumps off of a cinder block. Bands of youngsters tore through the narrow alleys between the tents brandishing sticks, plastic poles or anything else that could remotely pass for a sword. Behind the tents, groups of boys huddled together on piles of rubble, absorbed in a game of marbles.
"You try to let them have as normal as possible lives, says Ressler. Going to school doing homework and even having chores can help kids deal with the uncertainty, he says.
These are the stories of a few of the 5 million Syrian children affected by the violent clashes between the government and rebel forces in their home country.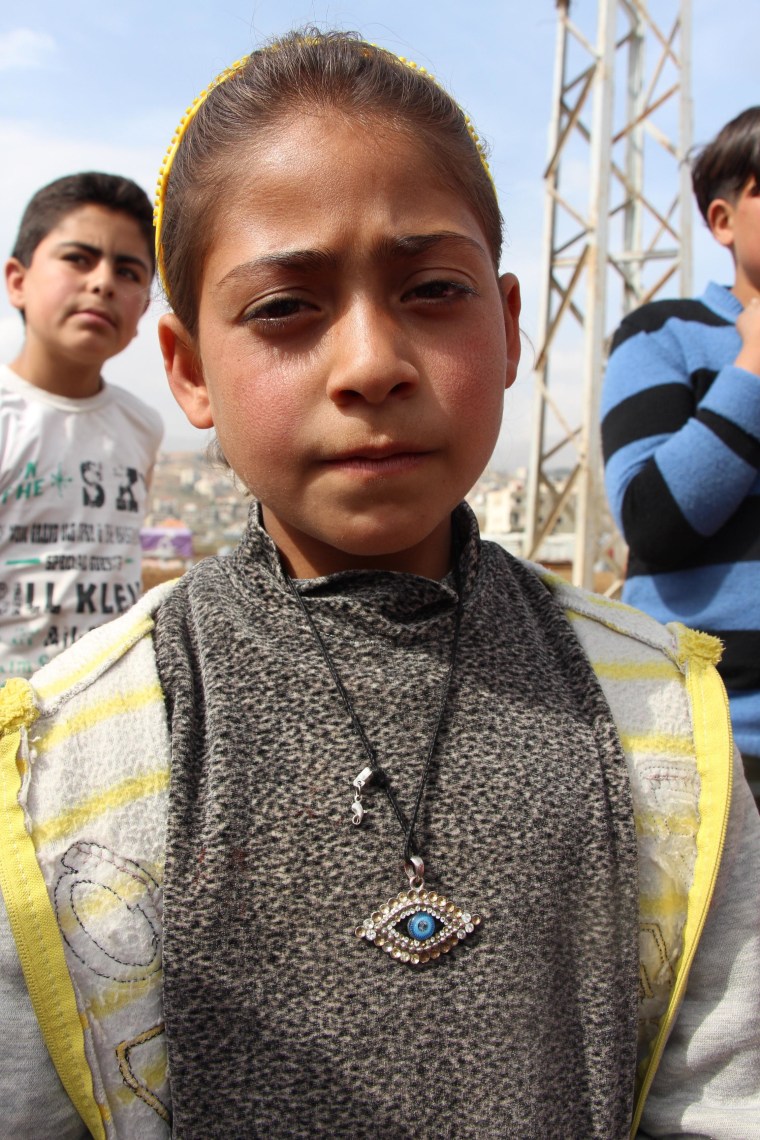 'Studying is the fun part'
Although small for her age, 10-year-old Rane has a big personality. Climbing all over her 14-year-old brother Hassan, Rane is eager to show off her English.
"Hello my name is Rane! How are you-I am fine-I am 10 years old," she gushes in one breath. When her brother attempts to say something, she playfully covers his mouth while giggling and smiling at her friends.
Rane maintains her smile while talking about her home in Aleppo, Syria. While she speaks, she fingers her necklace — a large amulet on a black cord around her neck. Her pride in showing off her treasure is obvious as she holds it up for closer inspection — an enamel pendant in the shape of an eye. It was a gift from her grandmother who was killed by shells in Syria. She wears it for good luck and to remember her home.
"I used to love to play with my friends back home," she says in a quieter voice. She doesn't know what happened to those friends when she left with her parents, Hassan and four sisters. She understands why she had to leave, though: "There was no one there to protect me except God."
She is wistful for the school she left behind. Studying is her passion, and there was no school when she arrived. But now that lessons have started, she says she is much happier. And although many children in the U.S. go to great lengths to avoid going to school, Rane never takes a single lesson for granted.
"Studying is the fun part," she says, a smile plastered back on her face. She wants to grow up to be an advocate to defend people's rights. Why? "I like to help people," she explained with a small shrug before running off to catch up with her big brother and head back to their tent.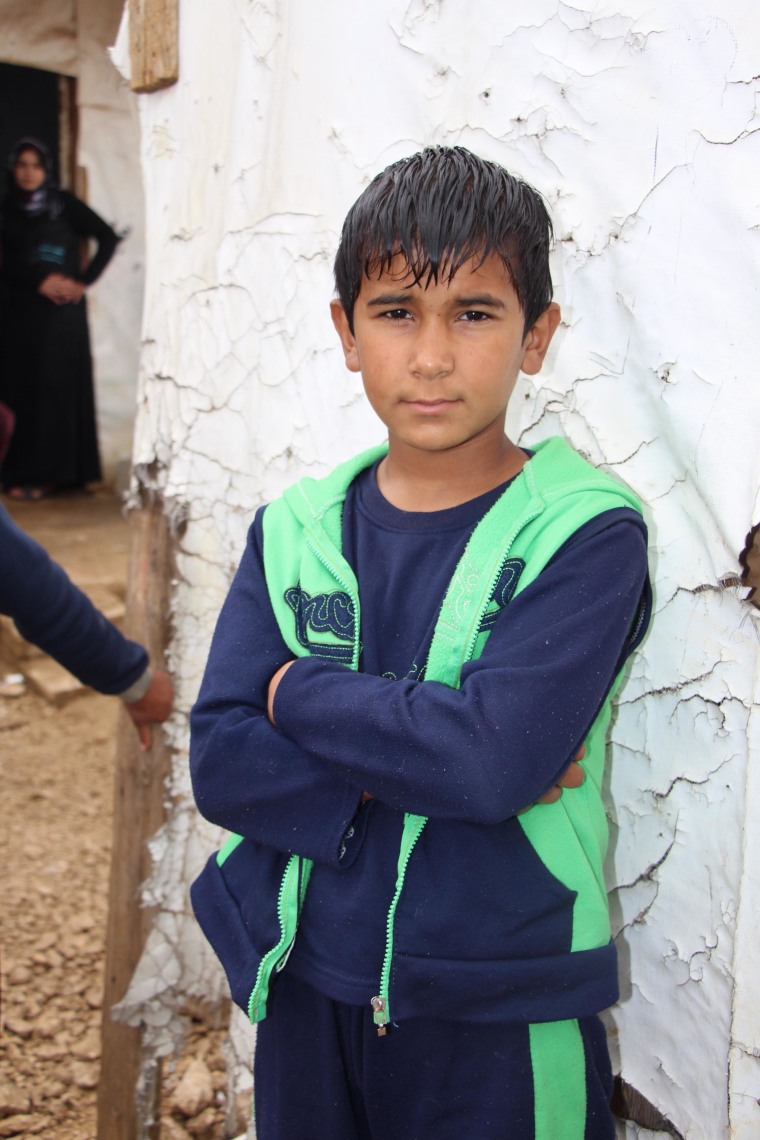 'I am happy because there is no war here'
Like many little boys, 10-year-old Ahmed loves planes. "I had a whole bunch of toy planes," he explained, "but I had to leave them at home."
By home, Ahmed is referring to Syria, a country ravaged by an internal conflict since 2011. Shy at first, Ahmed's voice gets louder as he proudly describes his old home and details how his family was building a second story on top of the house.
"There was a playground near my home where I could play football easily," he explains with a smile. Now he lives in the refugee camp — in a tent with plastic siding along with his parents and two brothers. Missing is his older brother who, at age 21, died in Syria while fighting in the army. Ahmed reports that fact without any apparent emotion, giving the sense that it's a story he's told many times.
Despite this, Ahmed remains hopeful. He wants to be a dentist when he grows up. Although there is no playground in the camp, he and his friends still play soccer every day. He attends school whenever he can and looks forward to math lessons, especially.
And while most cannot even imagine the hardship he has suffered, he says that he is happy. "I am happy because there is no war here," he said. "It is safe."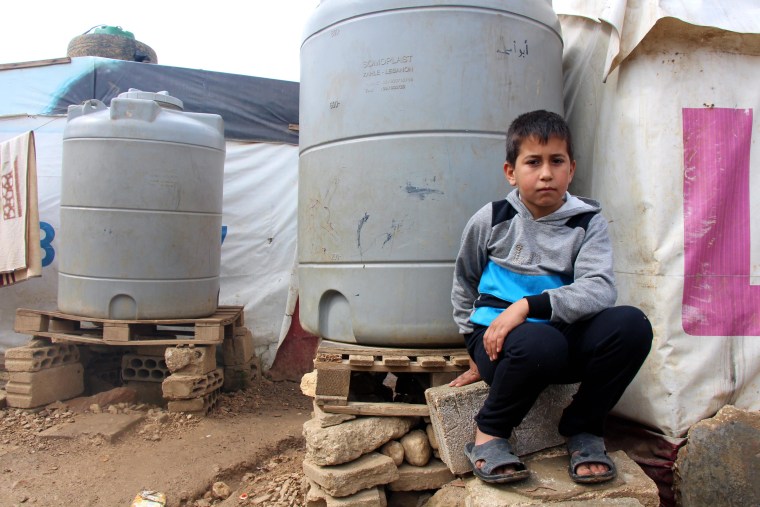 'He asks a lot of questions'
At 8 years old, Maher is the baby of his family, but he has no trouble keeping up with his three older siblings.
They live in a two-room tent with concrete floors and plastic siding. The kitchen also serves as a washroom, with a hose snaked into a corner providing a water source. The small sleeping room is warmed by a wood-burning stove and carefully decorated with red hangings, Christmas lights and a carpet over the concrete.
Maher's ambition is to follow in his father Obeid Issa's footsteps as a tile layer, and already he has begun to accompany his dad and help on some jobs. "He's different than other children," said Mr. Issa, "I'm proud of him. He asks a lot of questions."
Some of those questions are about the cousins he left behind in Syria. "He talks about them constantly," explained his father. He is able to speak on the phone with his aunt periodically, so he knows that his cousins are doing well.
But he has made many friends at camp — including Ahmed and Ali. The boys are rarely separated and share a passion for soccer on the dirt lot behind the camp, where Ahmed excels as a goaltender.
His father smiles as Ahmed explains his love of soccer, but when the boy is out of earshot he speaks softly about his concerns for the family. Work is scarce and he is lucky to bring home even $20 a day. Mr. Issa tries to shield his children from his financial worries or talk about the war at home in Syria. "We will explain it to them when they are grown up," he said. "Now they are still young."