A top United Nations official has called upon the Security Council to stop playing politics with the lives of Syrians and do everything in its power to bring an end to the violence in Aleppo.
UN Emergency Relief Coordinator Stephen O'Brien cast aside diplomacy Monday to speak bluntly about the rapidly deteriorating situation in Aleppo, which he described as a "slaughterhouse."
O'Brien said he was at his "wit's end as a human being" in the face of continued violence in Syria and questioned the purpose of UN meetings on the conflict, if the international body was unwilling to act.
"Shame on us all for not acting to stop the annihilation of eastern Aleppo and its people and much of the rest of Syria too," O'Brien said.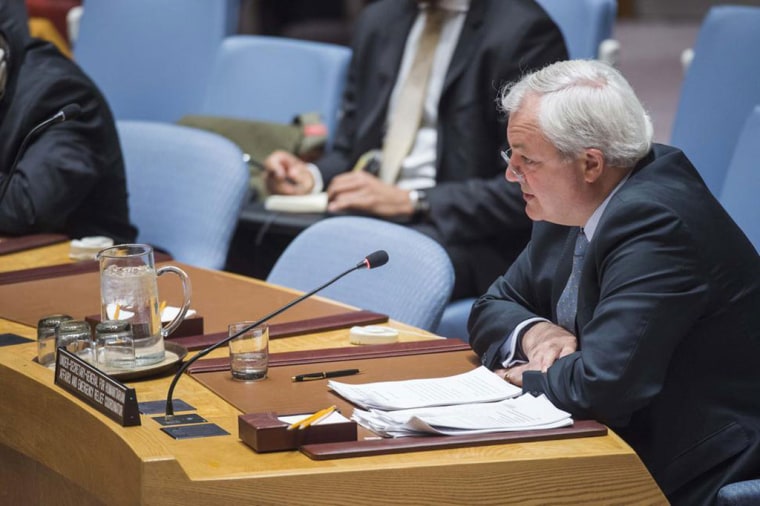 "If the Council can't come together to bring an end to sieges, then you and we must all ask ourselves: why are we having this session here this morning?"
Related: Bombing in Syria's Aleppo Kills 20, Knocks More Hospitals Out of Service
Nearly a million Syrians are living under siege in cities like Damascus, O'Brien said — and that is a dramatic increase from just months ago.
"This time last year, the number of besieged people stood at 393,700," he said. "Six months ago it stood at 486,700. Today, I have to report to you that, following a comprehensive review, we estimate that a total of 974,080 people — nearly one million Syrians — are living tonight under siege.
To compound the crisis, the last food rations from World Food Program were distributed on Nov. 13. In the past week, Syrian officials said all hospitals in besieged eastern Aleppo had been destroyed.
"Let me be clear: we are not just seeing a resumption of violence in Aleppo, this is not business as usual," he said. "What has been unleashed on civilians this past week is yet another low in an unrelenting inhuman onslaught — It is civilians who pay the price."
O'Brien suggested that members of the Council seemed to expect this kind of violence to be routine in Syria, and scolded the body for not taking more aggressive steps to end the civil war.
Resigned and visibly frustrated, O'Brein concluded his speech by dismissing the Council's position that passing a resolution on Syria would be "premature."
"It is never, never too premature to save a life," he pleaded. "It is never too soon for you to find a solution to this conflict and end the suffering of the Syrian people."