The 10,000th Syrian refugee will arrive in the United States on Monday — meeting a humanitarian goal the Obama administration set last year.
"On behalf of the President and his Administration, I extend the warmest of welcomes to each and every one of our Syrian arrivals, as well as the many other refugees resettled this year from all over the world," Susan Rice, President Barack Obama's national security adviser, said in a statement.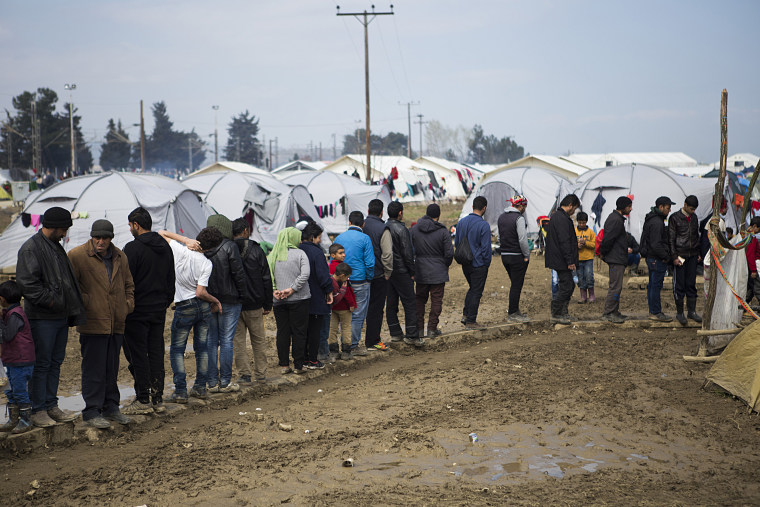 Rice did not announce the name of the refugee or where that person will be resettled. But she said the feds reached Obama's goal to admit 10,000 Syrians this fiscal year — a month ahead of deadline.
"The President understood the important message this decision would send, not just to the Syrian people but to the broader international community," Rice said. "Millions have been displaced by the violence in the region, but this decision still represented a six-fold increase from the prior year, and was a meaningful step that we hope to build upon."
Over at the White House, spokesman Josh Earnest said that the 10,000 figure was a compromise goal and that the president would like to increase that number by "a few thousand more" next year.
"The president would like to see a ramping-up of these efforts, but he's realistic," said Earnest.
In the coming weeks, Earnest said, Secretary of State John Kerry is expected to make the administration's pitch to boost the number of Syrian refugees allowed into the country to a skeptical Congress, where some members of the Republican majority are opposed to any increase.
More than 4.8 million Syrians have fled since a civil war began tearing their homeland apart — but just one-fifth of 1 percent of them have landed in the United States, according to the State Department.
Almost half of the new Americans are 14 and under, and 62 percent are under age 20, the feds said. Their top two destinations are Michigan, which has long been a destination for Syrian immigrants, and California.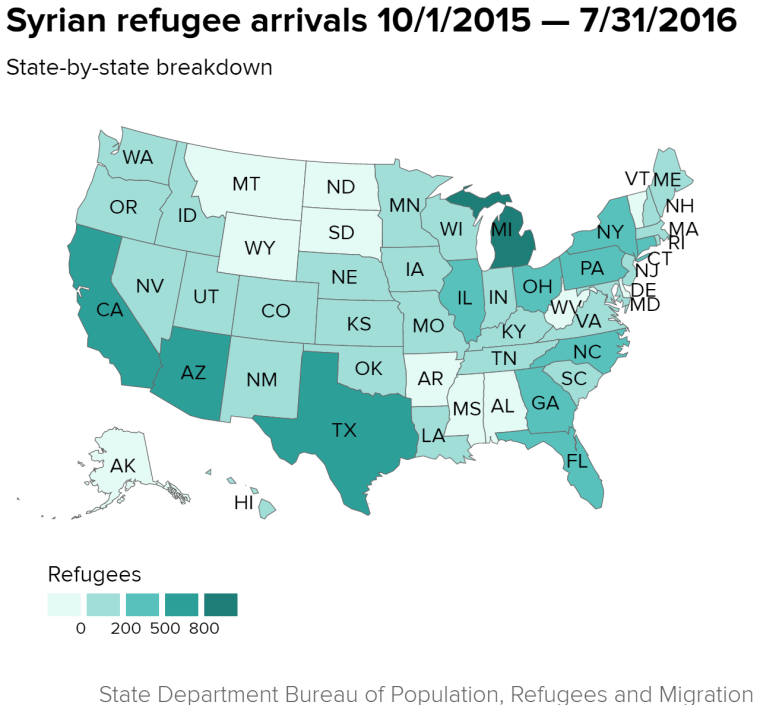 "Thousands of families from Syria have found safety on our shores, and that is a wonderful thing," said Tarah Demant, senior director of the Identity and Discrimination Unit for Amnesty International USA. "But so many are still trapped in horrific conditions in refugee camps or war zones. The U.S. must do more to uphold its responsibility to do all it can to protect those fleeing human rights abuses."
Lina Sergie Attar of the Karam Foundation, a Chicago-based Syrian support organization, agreed.
"I hope that the United States will continue to welcome thousands more Syrian families who are fleeing the brutal war and are determined to rebuild their futures," she said. "Unfortunately, I'm not optimistic about the current political climate."
Obama's decision to admit any Syrian refugees has been opposed by Republican presidential nominee Donald Trump and many Republican lawmakers, who have stoked fears that terrorists might be in their midst.
Alice Wells, the U.S. ambassador to Jordan, told The Associated Press on Sunday that "the immediate goal of resettling 10,000 Syrian refugees did not come at the cost of our comprehensive, robust security measures."
Back in April, it didn't appear that the United States would reach it's goal of resettling 10,000 refugees. At that point, just 1,285 new refugees had made it here, according to data released by the State Department.
And that was after Kerry pledged that the Obama administration would step up its commitment to protect families fleeing from Syria's six-year civil war. The brutal conflict hasckilled hundreds of thousands of people.