Relative calm fell on eastern parts of Aleppo Friday after Russia announced a pause in fighting to allow rebels and residents to leave the area. The U.N. estimates 275,000 people are trapped in the rebel-held part of the divided city, which has been cut-off since July.
The Associated Press cited activists from the British-based Syrian Observatory for Human Rights as describing a break in major military action by Syrian or opposition forces.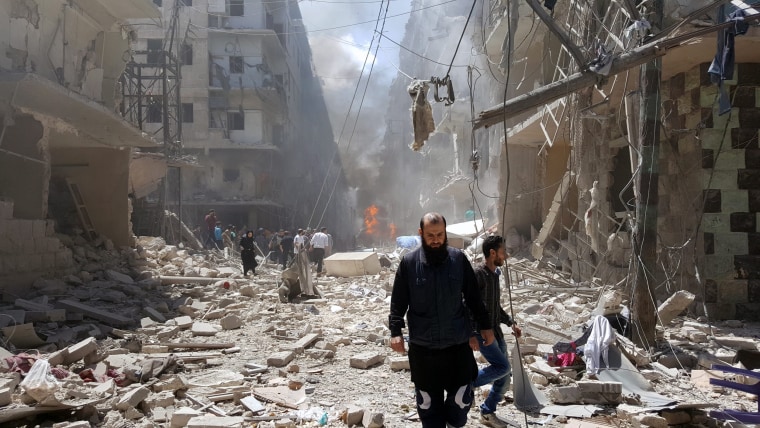 The Russian Defense Ministry, which is aiding forces loyal to President Bashar al-Assad in their attempts to retake full control of Aleppo, said rebels would be allowed to leave the city unharmed and with their weapons between 9.a.m and 7 p.m. local time Friday.
Two special corridors have been designated for their exit. One leads to the Turkish border and the other to the city of Idlib, according to the ministry.
A pro-government Facebook news platform, Aleppo Shahba News Network, said Friday the designated corridors have been opened for the fighters and civilians but the Observatory says no one has used them so far, Reuters reported.
Related: Russia Tells Syria Rebels to Leave Aleppo by Friday Night
On Thursday, insurgents stepped up their offensive on regime-held parts of the city, detonating three car bombs and firing shells that killed civilians, according to Reuters.
Syrian state media also reported Thursday that 12 people were killed and 200 injured from what it described as "terrorist attacks" on government-occupied areas.
Rebel groups in the city reportedly dismissed Russia's latest offer of safe corridors when it was made Wednesday, with the Associated Press quoting one of the groups as saying it was a media stunt for "public consumption."
Russia and its Syrian allies said they halted air attacks on Aleppo on Oct 18.
Western governments claimed that the strikes were killing civilians in large numbers, an allegation Moscow denied.